As I've mentioned in other posts, I used to be pretty much an airplane guy up until last year (until I found this excellent forum!!!)

Below is my "History of Presidential Aircraft." All are 1/144 except the VC-25A which is 1/200:

That first Presidential flight was on January 11, 1943, FDR's 61st birthday, was aboard the "Dixie Clipper," a commercial Boeing B-314 flying boat transferred to the U.S. Navy and redesignated C-143 and given a dazzle-like camouflage paint scheme. The flight, deemed safer than a journey by ship due to German submarines prowling the Atlantic, was from Miami, Florida to Bathurst, British Gambia and was the first leg of a trip to Casablanca, Morocco to meet with Winston Churchill to plan the Allied European invasion.

Shortly after the Casablanca trip, the need for a specific military aircraft dedicated to presidential travel was recognized. The Army Air Force worked secretly with Douglas Aircraft Company to modify a C-54 Skymaster, redesignated VC-54. Note, it even has a custom elevator to accomodate FDR's wheelchair. Dubbed the "Sacred Cow" by the White House press corps for its distinguished purpose, President Roosevelt, just prior to his death, made his first and only flight aboard this aircraft in February 1945, traveling to Yalta in the USSR for a wartime conference with Stalin and Churchill.
President Harry S. Truman continued to use the Sacred Cow until 1947. And in July of that year, in a ceremony on board, he signed the National Security Act which created the United States Air Force as a separate independent branch of service, making the Sacred Cow the "birthplace" of the US Air Force.

Later in July of 1947, President Truman began to use a new U.S. Air Force presidential airliner designated VC-118, based on the Douglas DC-6 Liftmaster, and it was named "The Independence," after the President's Missouri home town. With the war over and secrecy no longer a major concern, its rather ostentatious eagle design was adapted from a rejected airline color scheme. President Truman relished the plane as a symbol of American prestige, often using it as a backdrop for speeches and press conferences.

Having used Lockheed Constellations has his personal transport while Supreme Commander Allied Powers Europe, Dwight D. Eisenhower continued to use the type in a third incarnation, "Columbine III," when he became president in 1954. Named for the state flower of Colorado, his wife's birthplace, the VC-121E became the first plane officially designated "Air Force One" due to a strange coincidence. After take-off from Washington Airport, the air traffic controller called on the Columbine by her USAF serial number. Seconds later, the pilot of a commercial airliner in the area with a matching flight number responded to the call as well. At that time it was determined that any aircraft carrying the president, and only that aircraft, would be designated "Air Force One."

The VC-137C was a modified version of the Boeing 707 Stratoliner intercontinental jetliner and served as the presidential aircraft for Presidents Kennedy, Johnson, and Nixon, in tail number 26000, and for Presidents Ford, Carter, Reagan and Bush, Sr., in tail number 27000. The first jet aircraft to be specifically purchased for use as "Air Force One," tail number 26000 entered service in October 1962. The distinctive two-tone design, which has since become the standard for presidential aircraft, was suggested by Jacqueline Kennedy and created by Raymond Loewy, a famous American industrial designer.

In the 1960's many airports could not yet accommodate large jet powered aircraft such as the VC-137. For trips into these smaller airports, the President used a VC-118A transport, known by its tail number "3240." Having previously served as transport for President Eisenhower's Secretary of Defense, during the Kennedy administration it received the same presidential paint scheme as the VC-137.

In 1990, the presidential air transport fleet took delivery of two Boeing 747-200B's, designated VC-25A, tail numbers 28000 and 29000. 28000 first carried President George H. Bush on Sept. 6, 1990, on a round trip from Washington, D.C to Kansas, then Florida, and back. While aerial refueling capabilities and anti-aircraft missile countermeasures provide airborne security, the aircraft's capabilities as an airborne military command center were enhanced following September 11, 2001, when President George W. Bush found he was not adequately able to monitor events and coordinate with officials on the ground. The planes' communications centers now enable the President to coordinate with military and civilian authorities, hold video conferences, and monitor news coverage while in flight. The VC-25A is expected to continue to provide presidential travel well into the 21st century.

When the venerable 707-based VC-137 aircraft were finally retired from the VIP transport fleet, four C-32As, the military version of Boeing's 757-200, joined the 89th Airlift Wing in 1998. Dubbed "Air Force Two," and officially taking on that callsign when the Vice President is aboard, its duties also include air transport for cabinet secretaries, heads of state, and various dignitaries.

"Marine One," VH-3D, is a twin engine, all-weather helicopter flown by Marine Helicopter Squadron One (HMX-1) and supports the executive transport mission for the President. Sikorsky delivered the VH-3D to HMX-1 in December 1974 as a replacement for the VH-3A, which entered service in 1963. By the end of 1976, the VH-3A had been completely replaced by the VH-3D.
Attachments:
File comment: C-143, a converted Dixie Clipper
C143.jpg [ 96.36 KiB | Viewed 1817 times ]
File comment: FDR's "Sacred Cow"
Sacred Cow.jpg [ 94.78 KiB | Viewed 1817 times ]
File comment: Truman's "Independence"
Independence.jpg [ 92.28 KiB | Viewed 1817 times ]
File comment: Ike's "Columbine III"
Columbine.jpg [ 93.93 KiB | Viewed 1817 times ]
File comment: VC-137C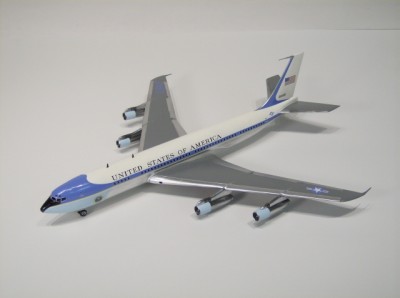 VC137.jpg [ 94.54 KiB | Viewed 1817 times ]
File comment: "3240" Supplemental Transport
3240.jpg [ 94.88 KiB | Viewed 1817 times ]
File comment: VC-25A, the current Air Force One
VC25A.jpg [ 95.5 KiB | Viewed 1817 times ]
File comment: C-32A, "Air Force Two"
C32A.jpg [ 95.41 KiB | Viewed 1817 times ]
File comment: VH-3D, "Marine One"
Marine One.jpg [ 158.84 KiB | Viewed 1817 times ]
_________________
John
Currently on the bench:
- Revell 1/720 USS Enterprise CVAN-65 ca.1968
http://www.shipmodels.info/mws_forum/viewtopic.php?f=59&t=146736