Thank you, Tom!
Here are some photos of the conning tower and funnel painted in Measure 32 11a consistent with photos of the ship taken in September, 1944 appearing in
USS Saratoga Squadron at Sea
by David Doyle. There is still some adjusting and tweaking of the pattern to be done but generally it is ready for additional detailing.
The colors are acrylic PolyS Light Gray 5-L, Ocean Gray 5-O and Grimy Black as a substitute for Dull Black, all applied with a 38 year-old Badger 200 airbrush. Deck Blue 20-B was applied by hand (brush) on the decks. Masking was done with Tamiya masking tape (wonderful stuff). The colors applied thinly, opaquely and adhered well. There was only some minor lifting of the 5-O by the Tamiya tape probably due to finger oils left on the plastic, all easily corrected by hand using a small brush.
The splinter shielding interiors have been initially painted Light Gray 5-L as I can't yet determine what color they actually are from photos. Normally, they are only visible from above on this ship so 20-B is a possibility. In some photos they appear quite light, in others darker than 5-L which might be 5-O, 20-B or they are just in shade. Cant be sure yet. I may repaint them something else (5-O or 20-B) if the preponderance of photos supports that. As you know, there was a lot of variation in painting the splinter shield interiors ship by ship, yard by yard, at this time in the war. For example,
USS Missouri
BB-63 had Deck Blue 20-B (or possibly Navy Blue 5-N) carried up onto the splinter shielding interiors. Other ships did not.
Your thoughts?
The conning tower levels are not yet cemented together in order to ease painting and further detailing. They may appear a bit askew in the photos but they'll be straight and plumb when cemented.
Attachments:
File comment: An overall view of the model so far. The colors are not lightened for scale effect and appear a bit dark. In this scale, it is less necessary than for 1/700, but will help. I'll do that through weathering techniques. I decided this would be best since Saratoga only wore this scheme for some weeks before it was painted out. Therefore, it should look rather new and stark with only mild weathering and no fading.
1-350 CV-3 Larsen 2015.03.27.f.jpg [ 199.82 KiB | Viewed 2833 times ]
File comment: Dull black needs some adjustment, but pretty close. The lower section of the foremast is installed. The foremast is an Evergreen styrene tube filled with an Evergreen styrene rod, and tapered on each end by turning in a drill against some fine sandpaper. It leans forward a bit here but that will be fixed later.
1-350 CV-3 Larsen 2015.03.27.a.jpg [ 140.47 KiB | Viewed 2833 times ]
File comment: The model takes up half our kitchen table in length. Some sources indicate that Saratoga was the longest aircraft carrier in service in any navy during World War II, even longer overall than a long-hull Essex. With the conning tower and funnel in place, it's easy to imagine the hull camouflaged. The model is so long that it is difficult to photograph well without significant distortion in the photos. Too often, the ship looks bowed in photos when in actuality, it is not. All of these photos are somewhat distorted, but give a good impression of how the model looks generally.
1-350 CV-3 Larsen 2015.03.27.e.jpg [ 195.37 KiB | Viewed 2833 times ]
File comment: The dull black on both conning tower and funnel needs some adjustment, but you get a feel for how the pattern looks. Some countershading is visible here. The Navy specified White as the color for countershading but I think in this scale that is too stark so I chose to use 5-L instead which matches photos of the ship better. When painted, the flight deck (visible here) will be overall blue, replicating a stained appearance, with black numeral "3"s at each end. When set next to a 1/350 scale Trumpeter Yorktown for comparison, Sara's flight deck looks decidedly narrow, lending to her fast look. In practice, I imagine that an Essex class flight deck was much more practical because of its wider size and more uniform shape. But I just love the look of this ship.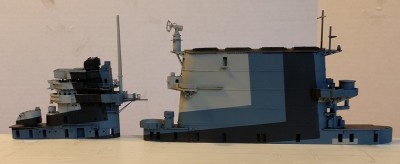 1-350 CV-3 Larsen 2015.03.27.b.jpg [ 119.76 KiB | Viewed 2833 times ]
File comment: Photos of the ship clearly show that the Dull Black is carried under the various deck overhangs (no countershading) while the Ocean Gray and Light Gray are not carried under. Details of the SM radar dish show up pretty well in this photo. You can also see that the barbette for the Twin 5-inch mount by L'Arsenal needs to be enlarged and moved forward. The L"Arsenal gunhouse itself looks very good. The bell-shaped object suspended from the front of the Navigating Bridge venturi is, yes, the ship's bell, filed and hollowed out from some stretched sprue to match drawings.
1-350 CV-3 Larsen 2015.03.27.d.jpg [ 159.78 KiB | Viewed 2833 times ]
File comment: Official US Navy drawing for Ms. 32.11a. Photos indicate that yard personnel matched this drawing very closely. They did a great job painting the ship.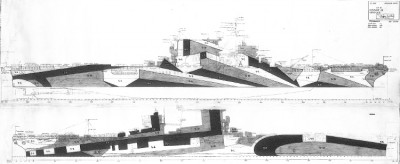 11A CV3.jpg [ 136.64 KiB | Viewed 2735 times ]
File comment: A beautiful painting of the ship wearing Measure 32 11a.
CV-3 020336.jpg [ 131.87 KiB | Viewed 2734 times ]