PICKETBOAT wrote:
David

Many thanks for the knowledgeable hint.

Looking at the model I did think it should be connected to the stern planes, but I'm sure the stability unit instructions said connect to the bow? The bow planes are slightly larger but are obviously not in the prop thrust. I will be relying on "dynamic diving" to get the last bit of the submarine underwater so the main motor will be running pretty much all the time she is submerged. I will go with your suggestion (you have far more experience on this than me).

Again many thanks.
I may be mistaken as to what you meant by 'automatic stability control unit' -- I assume this is an angle-keeper, not a depth-keeper. They work on different principles:
The angle-keeper senses the gravity line, using that as the sensors reference plane. The angle-keeper circuit directs the servo to work the horizontal control surface(s) to maintain the boats longitudinal center line perpendicular with the gravity line. The angle-keeper is best employed to tend the stern planes as they tend to have the greater effect on the boats pitch than bow or sail planes -- hence the use of the stern planes as the force element of the control loop for control of boat pitch angle.
However, a depth-keeper senses the pressure of the surrounding water; water pressure a direct function of depth. The depth-keeper works those horizontal control surfaces best suited to effect a vertical force to the submarine -- typically bow or sail planes.
An r/c submarine absolutely requires the use of an angle-keeper or you'll porpoise all over the place -- no fun at all! However, the depth-keeper is a lazy-mans, show-off luxury (why not just hire a kid to drive your sub?)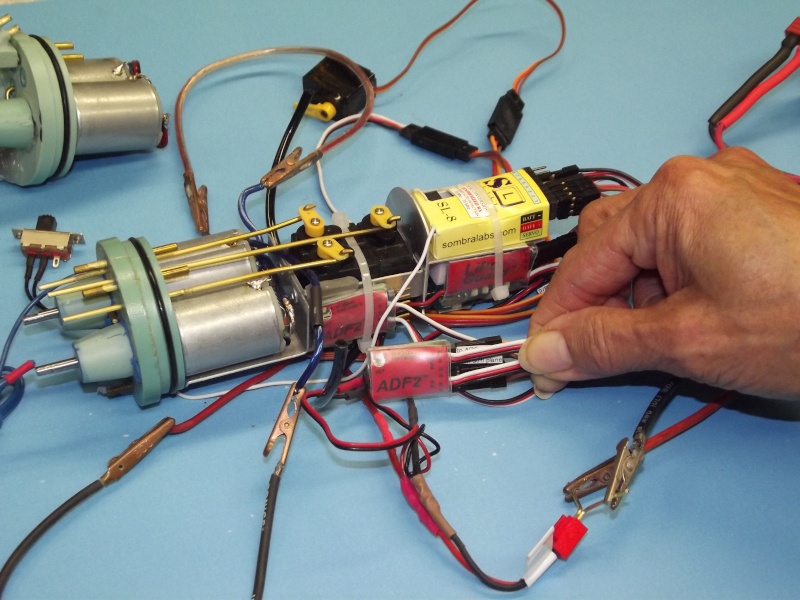 This show's the typical angle-keeper size -- this unit the excellent KMC ADF-2 (combined angle-keeper and fail-safe) device as installed in one of my smaller WTC's. These things used to be big, klunky things as the next shot illustrates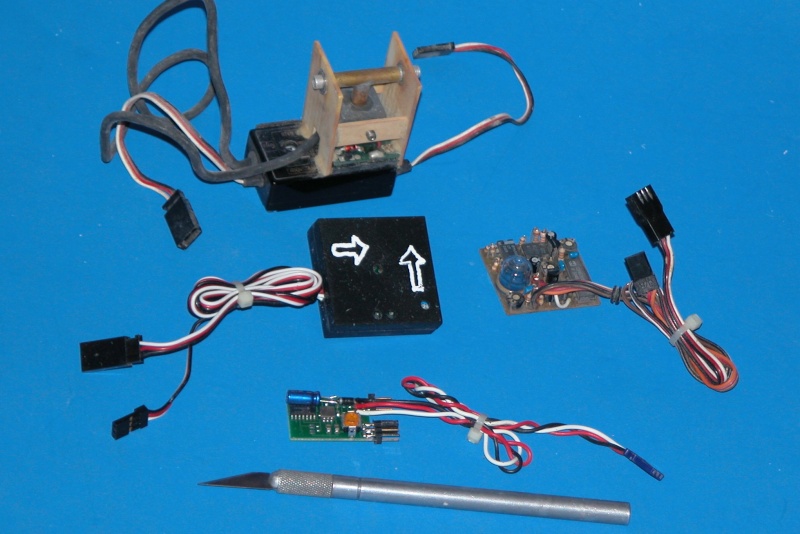 The ugly fellow atop is a modified helicopter rate-gyro converted to a gravity sensor. The solid state units below it employed liquid based sensors -- this is old-school stuff used in a time when the earths crust was still warm. Fortunately today'sangle-keepers are small enough to work in boats of just about any size.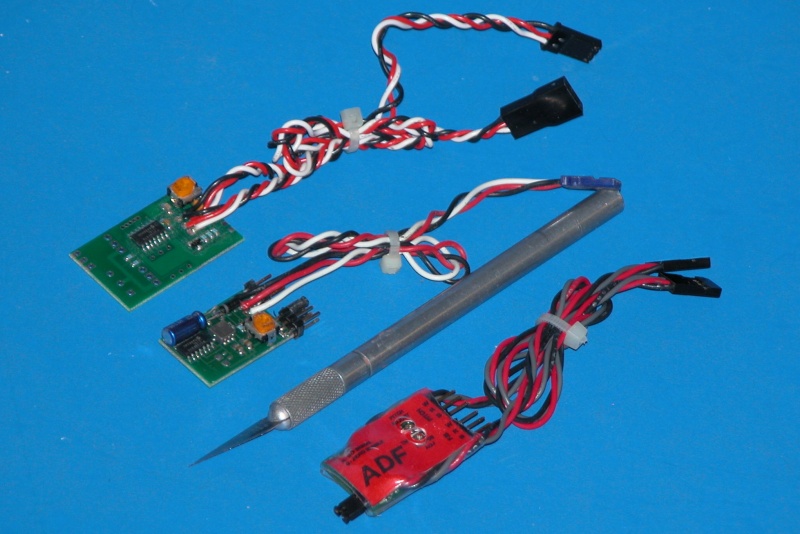 The recommended ADF2 pictured below. Again: these are angle-keepers. They not only automatically tend the stern planes, they also allow you in the control loop as well. This device is a MUST HAVE aboard your r/c submarine.
So, all that school-housing out of the way: what 'automatic stability control unit' are we using here?
David