Hi,
yes, a new one from Omaha Beach (Normandy, France) again, alongside the "1/72 Rodney with artistic licence" in progress elsewhere. As you can see I need to have several models in progress, the aim being to avoid boredom and disinterest on the long term (quite a risk with large scale scratchbuilt warships !). Plastic kits are also in progress but that's another story of course.
This time, and in the same spirit as the "fantasy cruiser" I've shown in another post, my latest delirium to date is some kind of modern tribute to the traditional destroyers : fast, heavily weaponed attack ships.
Main "caracteristics" are :
- a fast ship with matching lines
- a wide array of modern weapons, but including traditional automatic guns for close protection
- propulsion is via a separate rear power module, just a rough block here for the time being, to be detailed later on
Again the same philosophy : modern lines and equipment yet with all the intricacy of details that were part of the charm of ships of the past, and a static model, yet this time with full hull (HMS Rodney is waterline).
As you can see on the photos it's fully in progress with many various states of detailing or finishing : I sometimes push a bit further just for the pleasure of seeing something detailed, and almost completed... Some other parts are completely in progress (you can see rough wood blocks in many places) but of course everything will reach the same degree of detail in the end.
Building techniques are always the same, as on the 1/72 HMS Rodney : wood base and structural bits, all surfaces panelled with styrene sheet, many bits duplicated at home with silicon moulds/PU resin from a scratch-built master, and a few bits and accessories from the trade (missiles, ladders, etc.).
The general workshop view is just to show the size, and the 1/48 scale of course allows easy use of a few bits from the trade.
I will post progress in the future but you have understood that it will be in alternance with other projects, HMS Rodney not the least !
Attachments:
DSC05734.JPG [ 284.03 KiB | Viewed 1508 times ]
DSC05735.JPG [ 292.69 KiB | Viewed 1508 times ]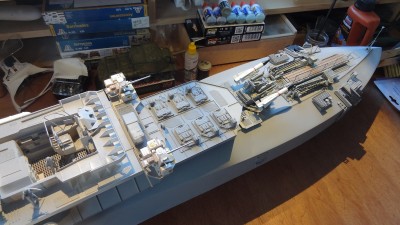 DSC05736.JPG [ 313.04 KiB | Viewed 1508 times ]
DSC05737.JPG [ 311.42 KiB | Viewed 1508 times ]
DSC05738.JPG [ 249.87 KiB | Viewed 1508 times ]
DSC05739.JPG [ 250.68 KiB | Viewed 1508 times ]
DSC05740.JPG [ 253.26 KiB | Viewed 1508 times ]