Hi Norberto. Your build of Bismarck is amazing. Your precise approach to every cut, every part, piece and sub-assembly is at the same time awe-inspiring and intimidating. Also a bit frustrating for those of us who lack the time to devote to such meticulous work. Thank you for sharing so many photos of the progress!
I'm trying to finish my 1:144 scratch-built Bismarck. It's nowhere near as detailed as yours, because it's an RC combat model (fires steel balls in battles with other warships). However, I've tried my best to make the basic structures as historically accurate as I can. For this, I have relied primarily on Hans Gally's drawings (which I recognize in some of your photos), photos from the Bundesarchives, films, undersea photos and video of the wreck, John Asmussen's fine website and books, Anatomy of a ship, builder's threads such as this one, the shipyard model at Blohm & Voss, and - where appropriate, documentation of Tirpitz. I've been working on this model, off and on, since 2003. But now I'm getting close to completion, as far as launching it at the local RC boat lake is concerned.
I've spent the past two days downloading all of the photos of your Bismarck build, including those that you posted on Modelismo na Net. I've arranged all of the photos in categories, since by its nature, the build thread is linear, meaning that you post photos of what you happen to have been working on at that time, but you often work on several unrelated sub-assemblies at the same time.
(For those reading this who may be new to scale warship modeling, an accurate build - especially one as complicated as a German battleship - will take years to accomplish. For example, this build thread started in July of 2009, and the project's not finished. This may seem like a long time, but not when you consider how complex the Bismarck was. In addition to multiple redundant fittings and equipment, the Germans never made a simple rectangular structure when they could make it asymmetrical, curved or angular. It takes multiple views to get a clear idea of how a particular sub-assembly or individual structure actually looked. Added to the fact that Bismarck lived only a week after committing to battle for the first time, that makes it extremely difficult to know if the particular piece you're working on is, in fact, accurately scaled and drawn. If it isn't, then successive parts and pieces you build that relate to that piece, or fit into that piece, will be wrong as well. Each part of an accurate scale model of Bismarck requires research from several sources, prior to building and installing it on the model. Some models, such as Josef Kaiser's 1:100 Bismarck, have taken well over 20 years to build, and are still undergoing modifications.)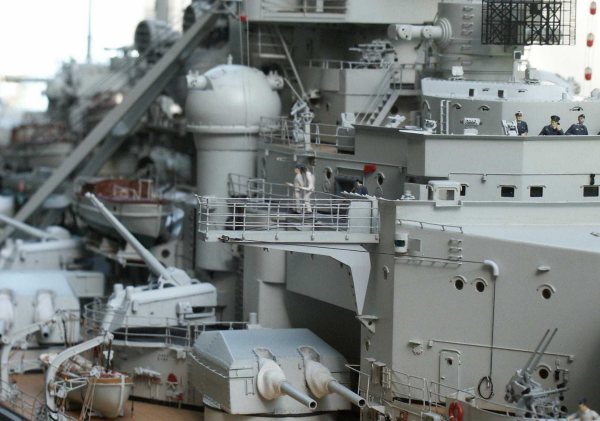 Josef Kaiser's 1:100 Bismarck
Here's my current problem:
The aircraft catapult has an inclined ramp on either side of it, sloping down to the front of the funnel hangars leading forward, and sloping aft to the front of the main hangar doors. This makes perfect sense, since the railings the Arado was launched on had to rise above the deck. But because the deck must therefore slope up to the catapult rails on both the aft and forward sides, and because the deck camber arcs from beam end to beam end, it follows that the deck must at some point begin to angle away from the catapult on the beam ends, at the same time that it curves due to camber, and at the same time sloping down to meet the hangar doors. I have no clue how to build this. Do you have any ideas?
It's supposed to look like this, I believe (from Gally's drawings. I added red lines to accent the point):
I can also see it in the undersea photos of the wreck (I added red lines to accent the point):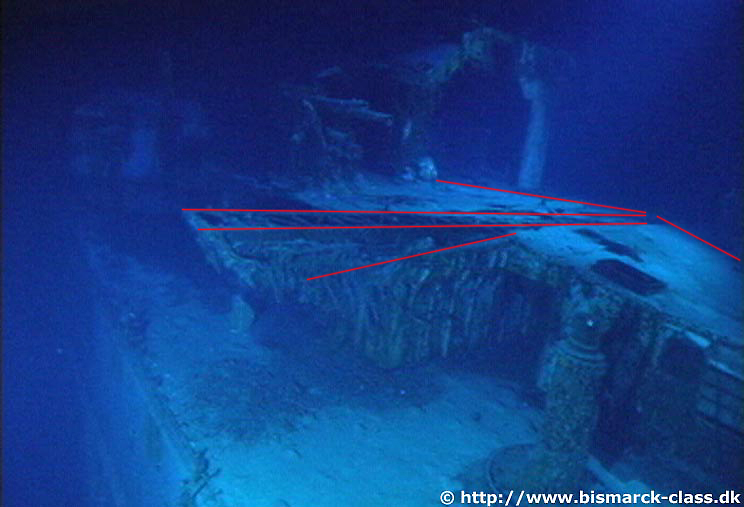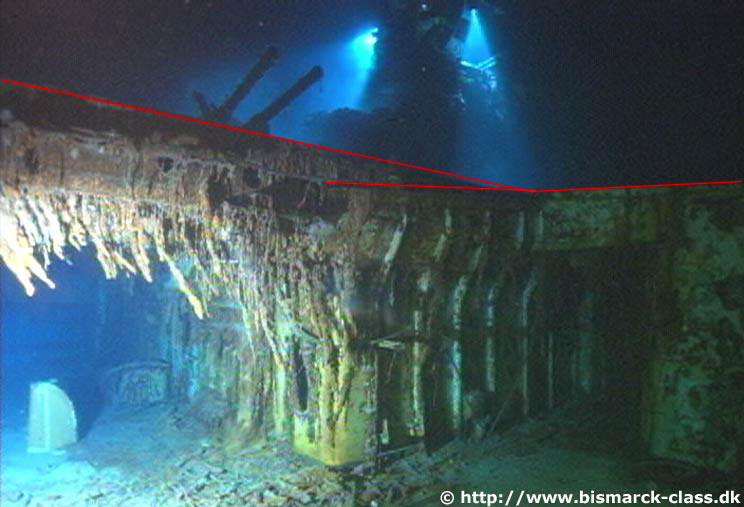 You can also see it clearly in this shot taken from above: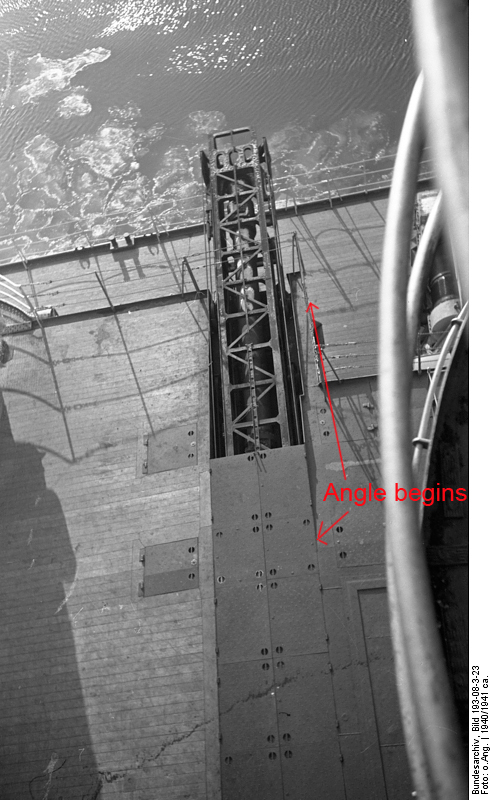 Finally, you can see a bit of the slope from the funnel hangars to the catapult here, in a Tirpitz photo I was lucky enough to find on eBay:
But, I have no plans that clearly show how to build this compound curving, angular structure. Do you? (or does anyone?)
Thanks,
Rob