Hello fellow Forumites...
Against my better judgement I have yielded to my inner 12 year old and begun yet another project in 1/700th scale.

I know I already have an active thread, as well as two others that are not exactly dead, but, on the other hand, I have seen guys do blogs here that span a year or more, and sometimes pick up a thread that is already two or three years old, not to mention lots of guys who start things and never finish them.

For the record, I
do
plan on wrapping up the
Solferino
within the next six months or so, the Carracks before the end of the year, and the Colossus within a year...

So, hopefully I won't be accused of flooding the forum with projects that never reach fruition.

However, I thought it might be fun to try a change of pace. And, just to warn you, this is a BIG change of pace. The 'O.D.E' in the title refers to '
Off
the
Deep
End
.'

So... Is anyone out there a fan of the
Mega
Yacht
?
Know what I mean?
Here's a few samples:
Attachment: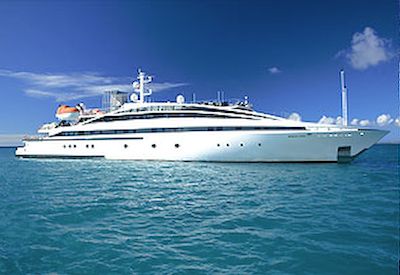 Q&T11.jpg [ 24.88 KiB | Viewed 1293 times ]
Attachment:
Attachment:
Attachment:
Attachment:
Q&T15.jpg [ 15.09 KiB | Viewed 1293 times ]
I'm not what you'd call a 'society type,' but I do think these boats (ships?) are cool. From a purely aesthetic point of view I find them appealing and graceful. They make me think a little bit of space-ships, and they also make me think a little bit of James Bond thrillers...
I never developed my skills at painting or drawing, and have no expertize with 3-D design, so the easiest thing for me to do in pursuing a fascination with such vessels is to actually build models of them.
That's the thing about scratch building. Once you've taken the plunge, you realize you really can model whatever you want to; and the more you think about it, the wider the horizons become. I look back on the days when I was wishing for this or that kit to come out (most of which are now announced) and I remember the nail-biting anxiety of being dependent on an amorphous model company to deliver me my next dream-build. Things are so different now. It's sort of like the difference between being a zoo-lion and a lion in the wild.
And while we're at it, why not design our own? That would be more fun than trying (probably unsuccessfully) to track down the hull lines and specs for one of the above beauties. As I am waiting for a number of parts for the
Solferino
and
Magenta
, and the Carrack PE situation is still unresolved for the moment, I thought, why not? Let's take the plunge! Once I actually started it, I began to realize that I might possibly be able to build these rather quickly, as they are not generally studded with details the way a typical (pre stealth) warship might be. BTW, I haven't lost my taste for warships, just want to throw some variety into the mix.
I actually got the idea for this right after I got back from the Nats in Omaha (still intoxicated with inspiration) did a google search, got very excited, and immediately made the following sketches.
Attachment:
Hmmm, not too inspiring, actually.
Attachment:
This is better. It looks 'yachty...'

Attachment:
Went ahead and sketched an overhead view, just to be clear in my mind.
Attachment:
This one got me really excited. What if we had a
yacht
where there was a kind of suspended superstructure pod with clear windows showing the interior, and the whole thing supported by two arches that rise from the stern and come down at the bow? And what if these arches were to continue through the form of the hull, right down to the waterline? I couldn't decide if I wanted an extreme clipper bow or a ram bow... and finally decided on both... sort of. The bow would be raked like that of a clipper, but there would be a centerline plate stem that would project out from the bow down into the water, supported by a substantial bulbous forefoot beneath the waterline. This would help support the weight of the fore-arches. As a further bizarre touch, the centerline stem plate would have one or more lightening holes in it, to add to the organic quality of the whole. The transom stern would be split in the back to accept a personal submarine bay, which will be serviced by launching and recovering cranes. The entire superstructure pod would be suspended above deck by the arches, with only an access ladder underneath to permit access. The whole thing looks crazy and bizarre and... well, I kinda liked it. It will (probably) scale out to less than 300ft, and believe it or not, there are actually yachts built and building that are substantially bigger than this.
I will attempt to make the pod with open windows at the top and with open galleries on the side, and also to create an interior for the pod, including bridge and lounging areas, etc. I will also be building a submarine, which will be roughly ovoid in shape with (hopefully) manipulating arms at the front. The bow of the submarine will be made from the vacuform plastic bubble borrowed from a discarded pack of vitamin pills or aspirin or something of that sort. There will also be two or more 'oculi' mounted horizontally from the middle of the pod from the same material, and perhaps a bubble-topped pilot house made from the same.
I mean...it's crazy, and I
know
it's crazy, but it kinda looks cool. I don't think anyone would ever build such a boat, but, at the same time, I don't think it's absolutely impossible, maybe very improbable... anyway, what the heck?

All in all, it should be a fun build... or an embarrassing admission of failure if I am unable to pull it off. Wish me luck!