NEW 1/350 Warehouse and Dock Sets now available for orders at BACK-AFT Models.
http://shop.back-aft.com/1-350-Dockyard-Accessories_c10.htm
I need one of these warehouse docks for the diorama that I am planning for my USS Barnegat class AVPs.
This kit depicts the Pier 2 warehouse dock at Norfolk Naval Base. It was built during World War II and still existed as late as the mid 1990's. I'm not sure if it still stands, today. My diorama will be dated about 1953.
I've designed this 1/350 model warehouse in resin and below is the test-fit of the first casting of parts.
The warehouse is designed to be built to any desired length ranging from 10" to 34" or more. For my diorama I'll only need about 15".
I plan to create the instructions for the warehouse's assembly while building the warehouse intended for my diorama. The kits will be available some time after that.
_________________
Carl Musselman
(Formerly Back-Aft Models)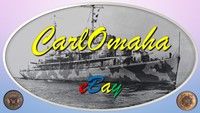 Photobucket
https://app.photobucket.com/u/carlomaha
YouTube Channel:
https://www.youtube.com/channel/UCcH4XXgrwKkhbIHgFtIYhAg