Hi all
Today I noticed that there is another wrong design for this Hood set.
So I will start make the Second correction parts and distribute these to anyone who asked to me or to our dealers.
Following two correction PE are needed to your final works.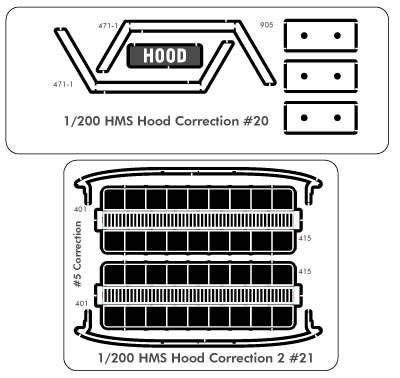 And maybe from November 2017 some modification of PE #5 will be corrected with #5-2 and this new version need not correction PE.
So if you don't have PE #5-2 you should ask these two correction PE frets of above from us directly(this is better way) or from your dealer.
It is the best and fast way to my email directly as with Subject title : Hood Corrections
I may miss to reply to so please email with
your postal address information
for getting this correction parts.
I think we can start to ship this from November.
Generally it will take 7-10days to Eurpe or US continental.
Thank you for your purchasing our sets again and we will do our best until your finishing your work.
Thank you
Keumho Kim