Pontosmodel wrote:
Following two correction PE are needed to your final works.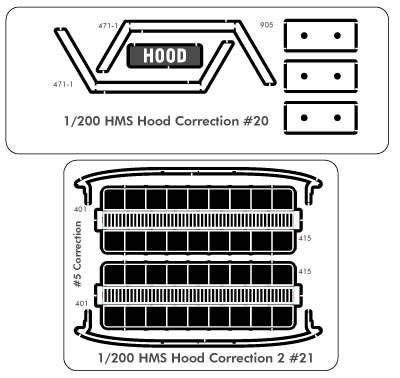 And maybe from November 2017 some modification of PE #5 will be corrected with #5-2 and this new version need not correction PE.
So if you don't have PE #5-2 you should ask these two correction PE frets of above from us directly(this is better way) or from your dealer.
Hi everyone. We received a shipment from Pontos today and as well as getting more of the basic 23009F1 HMS Hood detail sets, we have also received a healthy supply of the above correction frets.
These will remain available for the cost of small letter postage to customers who have supported us with their business for the detail up set itself. Some have contacted us and (I trust!) received them but many have not.
If not one of our customers already but for any reason you're struggling to get hold of these frets give me a shout.
In the interests of fairness and getting through each day though I'd ask that people avoid both the scatter gun approach of asking Kim, your own dealer and myself for frets and ending up with 3 of each which could have ultimately been distributed amongst your fellow builders instead. I'd also kindly request avoidance of carpet bombing me with messages via email, then email to ask if I got the last email then PMs on forums asking if I got the last 2 emails etc etc... It just slows me down overall