Happy to announce that highly detailed and very accurate islands for USS

Yorktown

CVS-10 as she appeared circa 1968-1970 are being released this week.
It's features are considerably different in detail than all preceding Model Monkey Essex class designs, including
Yorktown
-specific bridge window configuration, wedge-shaped SPS-30 radar platform, deck and catwalk shape, deck houses, and exterior piping.
Based on several customer requests, this Essex class model island has most doors open, with 5-bar door fixed to bulkhead (no need to add photo-etch doors).

First scales ready are 1/530 for Revell and 1/500 for Renwal.

1/530 scale: http://shpws.me/P6Li
1/500 scale: http://shpws.me/P6Pm
Attachments:
1-530 Yorktown CVS-10 1968 Island.jpg [ 38.9 KiB | Viewed 1659 times ]
CV-10 1969.06.01 021009.jpg [ 60.72 KiB | Viewed 1659 times ]
Model Monkey 1-530 Yorktown CVS-10 island 1968.a.jpg [ 178.35 KiB | Viewed 1659 times ]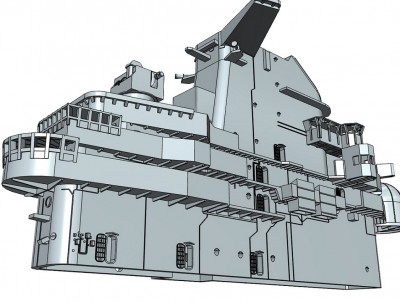 Model Monkey 1-530 Yorktown CVS-10 island 1968.e.jpg [ 198.11 KiB | Viewed 1659 times ]
Model Monkey 1-530 Yorktown CVS-10 island 1968.k.jpg [ 168.96 KiB | Viewed 1659 times ]
CV-10 2014 patriots-point-naval (3).jpg [ 36.2 KiB | Viewed 1657 times ]
CV-10 2014 6848031074_6a887119d9_z.jpg [ 191.08 KiB | Viewed 1657 times ]