Thank you, Len!
Yes, the photos posted are of the very models you ordered and were sent to you. Very happy that you are pleased with them!
And for
Titanic

and

Lusitania

fans
, here are
Stothert and Pitt cargo and baggage handling cranes
and their associated pedestals in 1/350 scale. They are also available in 1/400 scale and 1/200 scale.
The cranes and pedestals are followed by a
1942 aircraft hangar for the German battleship

Gneisenau
in 1/350 scale. The hangar is also available in 1/400, 1/570, 1/600 and 1/700 scales. The photo seen at bottom of
Gneisenau
scuttled at war's end as a block ship can be found in Steve Wiper's "Warship Pictorial 39, German Battleships 1939-1945". Highly recommended.
Attachment:
Attachment:
Attachments:
Model Monkey 1-350 Titanic and Lusitania Cranes c.jpg [ 160.9 KiB | Viewed 900 times ]
Model Monkey 1-350 Titanic and Lusitania Cranes d.jpg [ 130.84 KiB | Viewed 900 times ]
Model Monkey 1-350 Titanic and Lusitania Cranes b.jpg [ 121.02 KiB | Viewed 900 times ]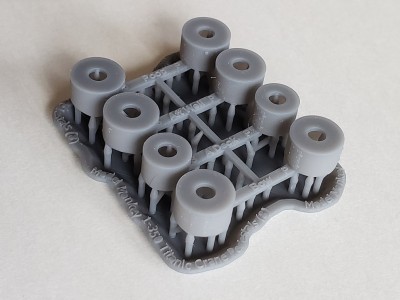 Model Monkey 1-350 Titanic Crane Pedestals c.jpg [ 175.71 KiB | Viewed 900 times ]
Model Monkey 1-400 Titanic Crane Pedestals c.jpg [ 143.46 KiB | Viewed 900 times ]
Model Monkey 1-350 Gneisenau Hangar 1942 a.jpg [ 124.91 KiB | Viewed 900 times ]
Model Monkey 1-350 Gneisenau Hangar 1942 c.jpg [ 122.65 KiB | Viewed 900 times ]
Gneisenau wreck small.jpg [ 393.9 KiB | Viewed 893 times ]