Merry Christmas and Happy Hanukkah!
Another 100 nameplates for ship, submarine, armor, fixed-wing aircraft and helicopter models have been added to the catalog.
There are now more than 750 nameplates to choose from. Nameplates are available in your choice of
real metals
or inexpensive, paintable
acrylic plastic
. Nameplates feature raised lettering and a decorative rope border.
Link:
https://www.model-monkey.com/nameplates
Available metals include brass, bronze, silver, gold-plated brass and rhodium-plated brass. If budget permits, consider choosing rhodium-plated brass. Rhodium is a platinum metal that does not tarnish.
Here are a few of the new 100:
Attachments:
HMS Colossus.jpg [ 30.75 KiB | Viewed 1826 times ]
USS Monssen DD-436.jpg [ 40.44 KiB | Viewed 1826 times ]
HMCS Warrior.jpg [ 39.84 KiB | Viewed 1826 times ]
USS Bataan LHD-5.jpg [ 40.32 KiB | Viewed 1826 times ]
HMS Campbeltown.jpg [ 40.41 KiB | Viewed 1826 times ]
Blanco Encalada.jpg [ 40.34 KiB | Viewed 1826 times ]
USS Ronald Reagan CVN-76.jpg [ 40.39 KiB | Viewed 1826 times ]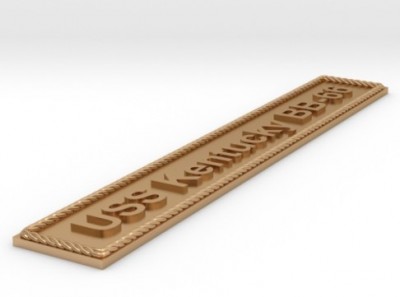 USS Kentucky BB-66.jpg [ 40.23 KiB | Viewed 1826 times ]
Takao.jpg [ 27.4 KiB | Viewed 1826 times ]
Izumo.jpg [ 37.46 KiB | Viewed 1826 times ]