The Polish Navy used only a handful of vessels during WWII and most of them (if not all) are available in resin in 1/700 scale.
The fact that the number of ships is limited is one of the reasons why I chose this theme for my 1/700 "collection".
I intend to post the models I have; we have been discussing the actual ships for a while, but I thought it is time to show what is actually out there.
This first post contains images of my kits from HP Models. Some ships are also made by Niko, and I wanted to avoid doubles, so I did not buy those particular ships from HP Models.
Nevertheless, here are the models of Polish ships from HP Models:
ORP Krakowiak
Box:
Box contents:
ORP Slazak
Box:
Work in progress (WEM pom pom and O-Class etched radar):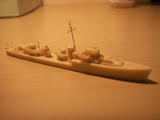 ***note: even if these two kits both are the same class (ex-British Hunt class), the kits are different in layout and also in details.***
ORP Dragon
Box:
Box contents:
Image with Niko ORP Conrad in the background:
//Magnus