Rob-UK wrote:
gordonf35 wrote:
Thanks you everyone for your inputs! Rob, what do you mean by "finer layers", do you mean using low pressure plus thinned paint applying close (or far?) to the surface multiple times to obtain an opaque layer?

Just asking, how come using much thinner paint could avoid bleeding? I suppose the bleeding would be less obvious as it is thinner but you still get an obvious bleed after the colour has built up layer by layer.
It's not really about making the paint thin, only thin it to ensure it works ok. The trick is to lower the compressor pressure (might need a bit of turning up and down to get it just right) and make quick passes over the subject with a light paint spray to get a fine coat on the subject so it looks like it hasn't fully covered it in solid colour (that's what I mean by opaque) - the advantage is it dries almost immediately and there is no excess paint to run, so it's almost impossible for bleeding to occur. After going over two or three (or more if needed) times the colour quickly builds up to give the full colour coat. It takes a bit of practice to get the technique right, and needs concentration on applying all spray lightly and sparingly, keeping the airbrush moving at all times (as even a slight pause can cause paint to accumulate and running/bleeding to occur).
I think this is exactly what the other responses are describing too - hope this helps

I'll endorse Matt's method here. It's exactly what I do too.
I
used
to flood the model with paint, but even without bleeding that tends to give ridges along masking lines and the like. It's not really the way to go.
Each type of paint is different, but personally I will tackle this (using my internal mix, suction fed Badger 150 with 0.3mm needle) at around 18psi and with my paint thinned 50/50 with my thinner. The latter point is that you need to get a good paint & thinner combination. For enamels, that may not be any old cheap spirit for cleaning household paint brushes and for acrylics it may not be tap water.
As Matt says, you simply dust the paint on with the needle cracked open at close range. At low pressures, the paint spray doesn't deflect and get blasted everywhere. The liquid content is so low that it flashes off very quickly and has minimal opportunity to migrate under your masking - there isn't enough liquid to get any capillary action and it's not wet long enough besides.
You can get the colour built up very quickly in a single sitting with these very light coats, and you tend not to get masking problems. For example, this Hellcat I'm working on now had Insignia White applied as per the above in a few minutes on top of a gloss black base coat and it was ready to handle inside 30 minutes (most people will tell you enamels need days to dry, right?)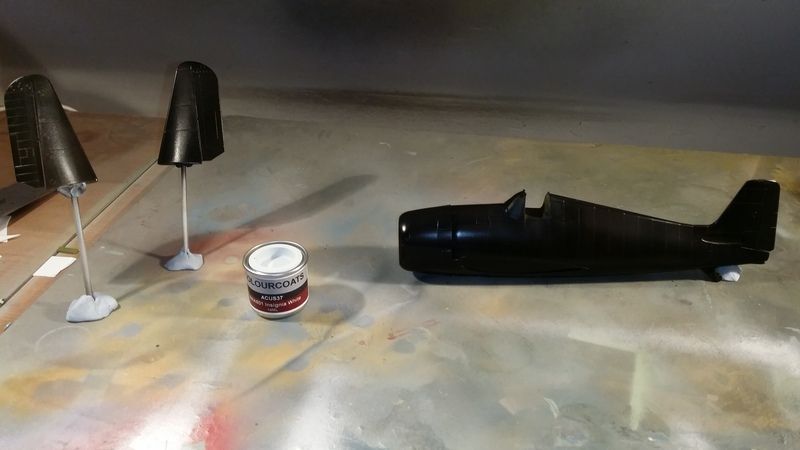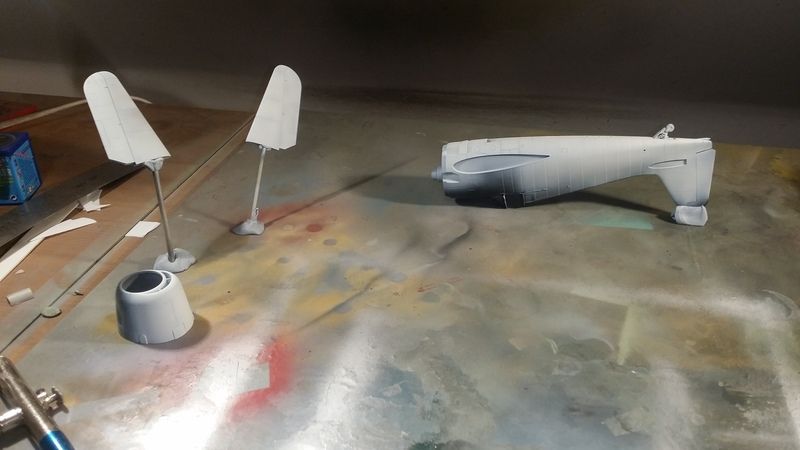 All the markings were masked and sprayed on