CAD modeling of the USS Monitor is almost a genre. Here are links to three significant efforts.
http://www.maritime.org/conf/conf-jons-fig7.htm
http://www.pbs.org/wgbh/nova/monitor/tourmaking.html
http://www.pbs.org/wgbh/nova/monitor/tour01.html
http://www.scifi-meshes.com/forums/atta ... 1269901772
http://www.scifi-meshes.com/forums/atta ... 1269901772
There is a picture of the galley on the Nova version of the USS Monitor that is similar in perspective to the cartoon like Harpers' Weekly sketch shown in an earlier post in this thread. The Nova CAD illustration shows the boilers well, along with some artfully hung pots and pans. However the online tour does not show the turret engines. Evidently they were working from Capt. Peterkin's book, and this book does not include a crisp representation of the turret engine.
The CAD work presented in San Francisco actually depicts the turret engines, in a schematic way (no valve gear, no steam chest). But there is a mechanically implausible connecting rod between the portside turret cylinder and the crankshaft axle.
Attachment: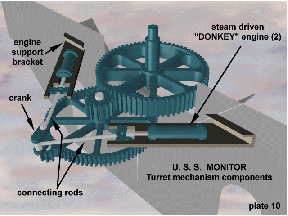 conf-jons-fig10.gif [ 31.72 KiB | Viewed 9098 times ]
Maybe the CAD artist saw the crankshaft as a bicycle type, but it seems clear from published drawings that it had just a single throw.
V-configured engines are such a commonplace of internal combustion that we barely notice them, but in the age of steam it seems a V-twin engine was an unusual choice -- not at all typical. Some of them had a quite specific purpose.
I have learned that V-twin steam engines were, in the 1850s and later, a favored choice for powering the rolling mills in an iron works. (Imagine an iron plate rolling back and forth and back and forth.) Apparently this was because the V-twin steam engines were readily reversible, and could be made to run without a flywheel. The two cylinders would never hit bottom dead center or top dead center simultaneously. The V-twin could not stall for any geometric reason.
It was said of John Ericsson that his "second home" was the Delamater Iron Works in New York. He was building propellor driven iron vessels (barges, tugs, and Hudson riverboats) from 1839 on, and when he wasn't at the drafting board he was prowling the iron works. Rolling mills and their V-twin engines were clearly in his technical repertoire.
Here is an illustration from a handbook of steam engine practice published in the late 19th century.
Attachment:
From a 1927 patent (Helena) describing an improved rolling mill engine, there is critical description of V-twin steam engines typically used in rolling mills.
Attachment: