SCB bows do make for a very interesting discussion and as you pointed out, they were not all the same. Tracy White may have some information on how
Hornet
's bow was altered and why it is differently shaped from
Essex, Intrepid
and other ships of the class.
The Navsource photos below show
Lexington
receiving her new hurricane bow. Note that a very large portion the original bow was cut away. The original open space between the forecastle and the flight deck was not simply plated over, the existing bow was in fact replaced.
Two
entirely new bow sections were created on shore then attached to the ship. Yard photos call these new structures "Section No.1" and "Section No.2". The two sections are essentially (1) an extension of the hull and (2) a rounded cap. The first photo shows the new bow extension being fit to the hull. The next three photos show the rounded cap. The extension was attached to the hull and the cap was attached to the extension, completing the enclosure (fifth photo).
Compare
Lexington
's bow to
Hornet
,
Intrepid
and
Yorktown
(last three photos). All of these ships are "short-hull" Essex class carriers, yet their new bows are all different to some degree.
Attachments:
CV-16 1954.04.13 021624.jpg [ 54.29 KiB | Viewed 886 times ]
CV-16 1954.09.22 021632.jpg [ 45.05 KiB | Viewed 886 times ]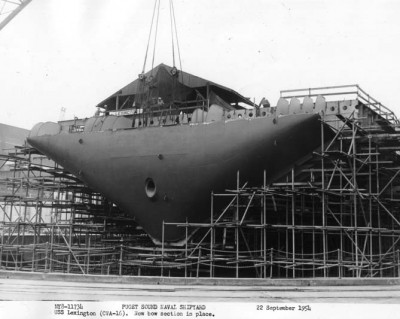 CV-16 1954.09.22 021633.jpg [ 50.81 KiB | Viewed 886 times ]
CV-16 1954.09.22 021634.jpg [ 58.04 KiB | Viewed 886 times ]
CV-16 1955.09 021637.jpg [ 168.91 KiB | Viewed 885 times ]
CV-12 2015 Bow.jpg [ 19.51 KiB | Viewed 885 times ]
CV-11 2012 intrepid-nyc.jpg [ 146.07 KiB | Viewed 885 times ]
CV-10 2010.07.25 by Richard Leonhardt 021057b.jpg [ 115.51 KiB | Viewed 885 times ]