Many thanks for your insights Dan! Very much appreciated!
I think I'll go with what I can see on the color footage available in this case, and I don't see any grey... But as you write, and since the color footage is limited indeed, that is just a choice.

Now, since you mentioned the subject of camouflage to make the carriers look like extensions of the island...

The report of the technical mission to Japan reports clearly how Amagi and Katsuragi were camouflaged with that goal in mind. The report describes in a fair amount of detail how this was done to Katsuragi, down to drawings of het camo at two different points in time.
I quote a small part:
"roads ran up the to the ship and continued across the flight deck. At first these 'roads' were merely bare intervals between the branches and leaves which covered the flight deck, but later they were more elaborately made with yellow sand of the same color as the roads ashore."
I think no photo shows these "roads" more clearly than this aerial shot:
Magnified, it provides a beautiful view of Katsuragi camouflaged with nets, fake structures, trees, and indeed "roads". This would make a wonderful diorama too…

The roads are clearly lighter than the rest of the flight deck. There is a more detailed view of her like this, but this shot shows the "roads" in a better contrasted way. Between shore and ship, the roads seem to be cloth hung on the camo nets.
In this post-war shot of Katsuragi, I think I can still make out traces of these "roads", faintly present over the painted camo pattern. I guess the dust was ingrained in the surface enough for it to leave visible trace?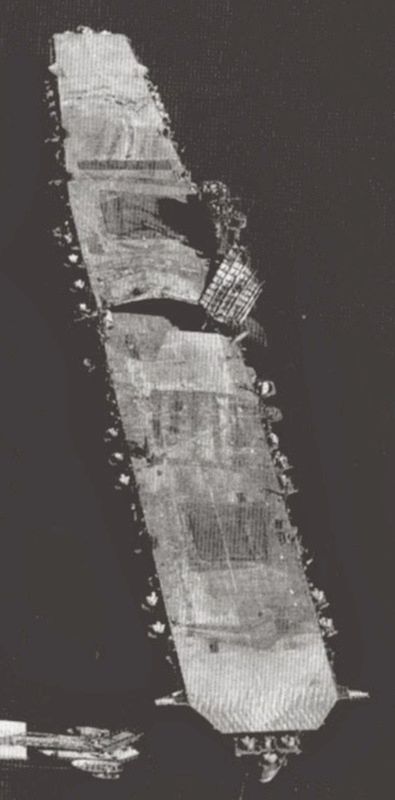 Now Amagi! She also clearly shows "roads" on that aerial shot. Unfortunately, there is only a small part of her in the photo, but luckily it is the most important part (for me).
On the footage of Amagai's flight deck after capsizing, a lighter shape shows up on the aft part of the flight deck. This nice new shot I recently found on the net shows it pretty clearly. I don't mean the very light vertical stripe, I mean the wide V-shape to the right of it, and maybe also the faint oblique line to the right of that and parallel with it.
It seems to coincide with (part of the) road pattern in the above aerial photo?
This is how it looks in the color video (sand tone indeed):
So I'm guessing this is the remains of the fake road camouflage, in the form of dust ingrained in the surface of the flight deck.
Or maybe (part of) these roads on Amagi were actually painted on top of the original camo pattern, instead of or together with the use of sand?
Any thoughts?
Cheers,
Marijn