As far as I could determine, IJN battleships (all major warships in general, I imagine) retained a traditional livery of light grey overall and buff (or yellow, or grey) funnels with wide black bands until 1901.
In 1902 until the beginning of the Russo-Japanese war, this was altered to a black hull, grey superstructure (natural wood for the bridges), and black masts and funnels, with a number of white bands depending on squadron: 1 band for the Fuji class ( Fuji and Yashima). 2 bands for the Shikishima class ( Shikishima and Hatsuse) and 3 bands for the last two (Asahi and Mikasa).
By the start of the war with Russia, the battleships had repaintend overall grey, a color that would be in service with the IJN until 1945.
Here is Shikishima in 1900 (a colorized pic, but quite accurate, I think):
And Hatsuse in 1903:
It is not clear whether the superstructure or mast color (i.e. either grey or black) applied to the lower mast and the fighting tops. Logically, those parts should be black, as per the photo of Hatsuse above. But photos of Mikasa show both variants: grey when delivered in the UK, black when in operational service in Japan.
Consider this photo at Vickers: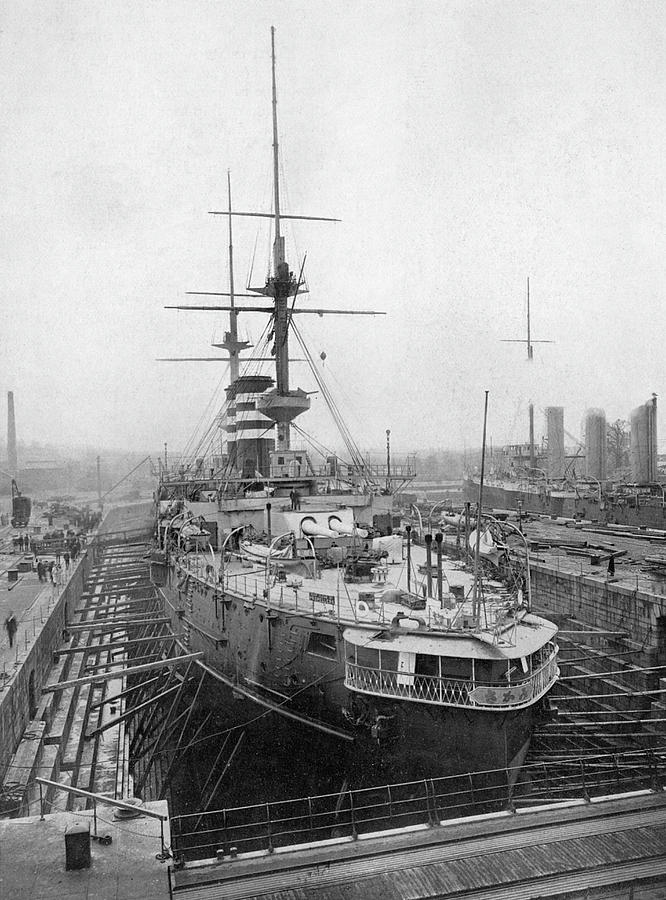 The lower masts and fighting tops appear much lighter than the hull or funnels, and the same tone than the superstructure, i.e. light grey. And even so do the upper masts, for that matter!
By the time Mikasa joined the fleet in japan, she had her masts repainted black.