I don't have this particular view of USS WYOMING. But, I can provide some interesting side stories about them. I came across a series of aerial color transparencies of ships in Hampton Roads at NARA. They had no dates, but digging on ships taken in the photos and help from others who know that area, put them as being take in Mid-June 1942. One photo showed USS WYOMING (AG-17) in the middle of a bunch of USN Transports receiving ammo alongside. The bow on image of WYOMING was at a fair distance and didn't show much of her pattern, but did show that she had unpainted wood decks.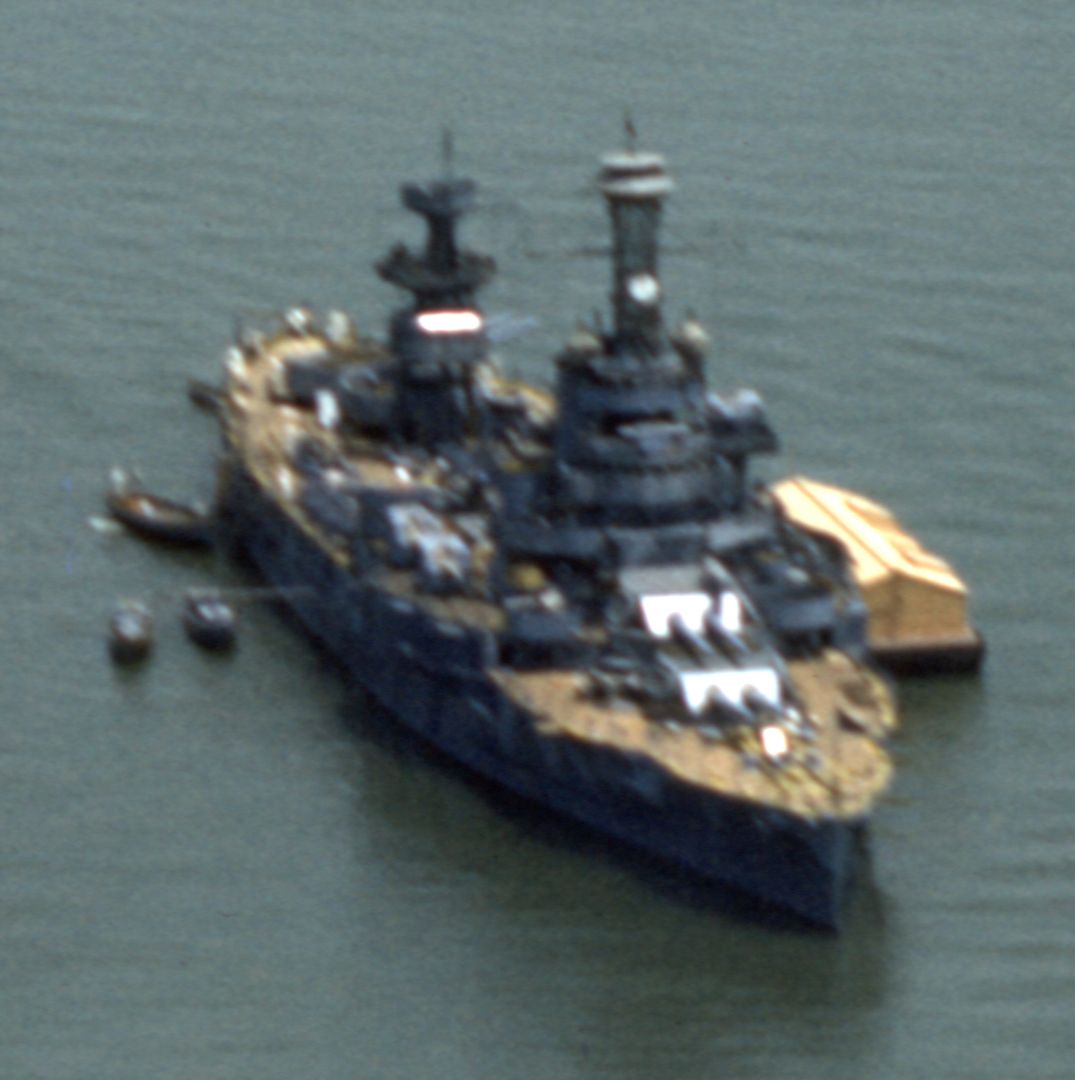 Of the three Navsource views dated 6 June 1942, one is miss dated as 6 June 1943 in the Navsource caption, two are Norfolk Navy Yard photos taken post alterations made during a yard period from a surface ship. The aerial views may or may not have been taken at the same time from the same aircraft that took the color images of multiple ships. None of the color transparencies I went through were of WYOMING this close up.
But, the NorNAS took BuShips "required" aerial photos of ships in Hampton Roads after work being done at NorNY. Those photos were turned over to BuAer who sent them on to NorNY or in turn sent prints to BuShips. The third June 1942 image ...
http://www.navsource.org/archives/01/013231.jpg
... an overhead aerial view, came from an ONI collection distributed for ship recognition purposes. The same image likely was also provided to BuShips. But, ONI would have gotten copies of the best views and sometimes they don't ALL show up in BuShips folders. I don't know of an ONI collection of images at NARA.
Because the caption says for one of the other photos (taken from a surface ship) ...
Photograph # 19-N-30947 from the Bureau of Ships Collection in the U.S. National Archives.
19-N numbered images at NARA are BuShips photos. If prints still exist, they would be in the 19-LCM collection. If the prints don't exist at NARA, the negatives "should" be available in cold storage. Also, there are microfilm rolls with copies of all 19-N negatives in the 19-Z collection (up to a point after WWII). The 19-Z collection of microfilm rolls of images (pretty poor quality) ends up being a sequence ordered index of the BuShips photos. The sequence of images taken from the surface ship, will likely be in number range near 19-N-30947 (in about Roll #35-36). It is questionable if the surface ship (boat) that took those images went all the way around the ship. Whether the aerial view you posted is among them, I don't know. The BuAer taken images were turned in separately and could be numbered 100's or more after the above sequence.
I have not gone through the USS WYOMING (AG-17) folders in 19-LCM, so I don't know what prints they have. That would be a good place to search. NARA II, College Park, MD, 5th floor.