Camouflage pattern/colors of Soviet BB "

Arkhangelsk

" (

ex-

HMS Royal Sovereign)
Am trying to paint a faithful representation of
Arkhangelsk
as she was in early 1945, less than a year in Soviet service from her handover the previous year. Bit of an oddball here. It's best explained in the photos I've uploaded.
There was a source in Russian saying that her new Russian crew repainted the ship while still in Great Britain before departing to Murmansk. However, photos show that the camouflage
Arkhangelsk
has after reaching Murmansk, is the same as HMS
Royal Sovereign
's camouflage scheme from 1942. The only difference seems to be that they gave the gun barrels a dark halve and a light halve.
I can find references to a "three tone" light grey/medium/dark grey color scheme painted by the Soviets in 1944, and another which referred to a "bone yellow" color. There is an old model on Model Ships Gallery showing the ship in (image below) 1942/1943 camouflage with an eclectic palette of tan and olive. However the modeller doesn't remember a source, and believes it could be that they just hypothesised the colors or painted as they fancied.
I've trawled Russian forums as well and nobody really knows. I want to be absolutely sure of what colors and scheme
Arkhangelsk
had, for a model diorama I'm working on. Does anyone have any books on the matter and can shed light on this mystery?
Also, fun fact:
Arkhangelsk
isn't a very well known ship. Most sources that you read about it (think like the short blurbs of a ships history that accompany model kit instructions) will gloss over the finer points and retell an epic tale of
Arkhangelsk
being crucial to the Soviet navy and escorting and overseeing the safe passage of many Murmansk convoys. But that's where the fairytale ends. Apparently, the only convoy she ever accompanied was when just after she left service as
Royal Sovereign
and made her maiden voyage up North. From thereon in
Arkhangelsk
was a port queen, a fleet in being. There was never another escort duty. Not even fire support/shore bombardment against the Germans. In 1945 she took to the ocean for some sea trials but that's about it. She was returned to Great Britain in poor condition - main turrets were jammed on their barbettes, indicating
Arkhangelsk
hadn't had her guns exercised in years.
Attachments:
File comment: HMS Royal Sovereign in her first wartime camouflage, 1940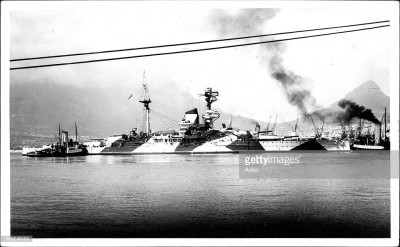 gettyimages-488249191-1024x1024.jpg [ 259.92 KiB | Viewed 2299 times ]
File comment: HMS Royal Sovereign in her new camouflage, 1942/43
sov.png [ 128.04 KiB | Viewed 2299 times ]
File comment: This is the same ship, wearing the same camouflage but flying the Soviet flag, 1944. Notice the camouflage looks quite weathered. We assume this is still the 1942 paintjob.
ARK1.jpg [ 271.49 KiB | Viewed 2299 times ]
File comment: This photo is purportedly of Russian sailors repainting the Arkhangelsk during handover, still in Great Britain before departing to Barents Sea.
ARK2.jpg [ 50.36 KiB | Viewed 2299 times ]
File comment: Arkhangelsk, date unknown, presumably 1944 shortly after handover (looks like Kola scenery in the background). Notice the two tone color scheme on the forward gun barrels, which the sailors were painting in the previous photo. Her paint looks fresh.
ARK10.jpg [ 47.39 KiB | Viewed 2299 times ]
File comment: This photo shows no Soviet or British ensign, but shows the exact same camouflage in previous photo when she was officially Arkhangelsk and stationed in Kola. Note, the forward gun barrels do not have that two tone color scheme anymore. We assume this photo therefore is of Royal Sovereign, perhaps around handover, doing sea trials off Great Britain with its new Soviet crew
ARK4.jpg [ 65.36 KiB | Viewed 2299 times ]