Carnot had the most delightful derrière!
Attachment:
Attachment:
Attachment:
Attachment:
After some wondering --I can confirm that Carnot DID have a wooden main deck- there was a question mark on this--as some of her contemporary vessels had steel decks...
Attachment:
An unusual shot UP the bridge
Attachment:
(Images from the Madrid naval museum on-line collection)
The 'Festival Dreamworks' kit of
CARNOT
is from Japan and is a very short-run resin kit from a 'garage' manufacturer.
The kit at first sight appears to be quite good... however as there seem to be no 'proper' plans in existence--unlike many other French pre-dreads-- I can only assume the kit is based on photo interpretation.
the same photo interpretation that I have carried out to establish all the errors with the kit...
Maybe I have more and better quality photos..? -Certainly I have been trawling e-bay France and e-bay UK and purchasing some delicious postcards, which once scanned yield a huge amount of information!
The kit has all the hatches cast on --mainly in the right place-- but faaar to prominent!
as well as having a very pointy angular stern--contrary to all the photos above...!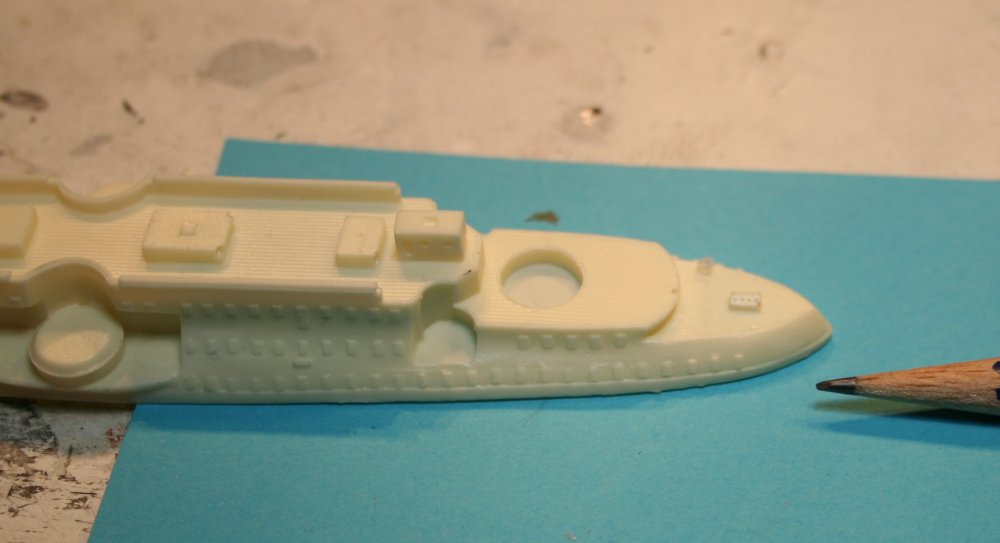 the aft superstructure is to wide--and I extensively re-shaped the stern and sides of the ship
The cast on hatches had to go--in real life these were flush when closed; and as I wanted to show the ship with the hatches open--as virtually every photo of Carnot and her contemporary ships had; whether anchored or underway- I needed to think of something clever...
At the same time the wavy(!) armour belt was removed, the central gun platform was raised and reshaped, the cast on barbettes cut away and the whole side of the ship was faired and the curves created and softened.
Although there are some cross-section drawings available-- they do not - in my eyes- tally that well with what my eyes tell me when I examine photos...
If it looks right--it stands a sporting chance of being right(ish!)
The open hatches presenet a bit of an issue when one wants to use the kit as a springboard starting point; If starting entirely from scratch-in this instance definitley NOT the quicker option- one could build the hull in layers with each hatch as an open box section onto a central spine... could look excellent-but needs to be perefct-otherwise it will look nothing short of awful!!... -- ergo I decided to cheat!
Having sanded and faired the hull
I decided to use small squares of decal sheet applied to represent the black 'voids'- the hatch lids top and bottom will be made of paper--similar to what I did on my Massena build--
http://www.modelwarships.com/reviews/sh ... eview.html
only this time I think it will be sharper- I hope
I shall post a pic or three soon of my latest progress shortly!!
cheers
Jim Baumann

_________________
....I buy them at three times the speed I build 'em.... will I live long enough to empty my stash...?
http://www.modelshipgallery.com/gallery ... index.html
IPMS UK SIG (special interest group)
www.finewaterline.com