Quote:
I don't remember where I first read this, but it seems the small gap between the midships superstructure and the catapult pedestal was plated up on Atago and Maya but not Takao. Dan can you confirm?

Aoshima's Takao kits ('42 and '44), their Atago '42, the Fujimi Takao and Atago all have the gap. Aoshima's Takao 1944 has a solid bulkhead going across, I believe it uses the same hull mold as their Maya. Are they right?
You probably read it in this thread, as I had posted something about it a while back. Some Japanese websites have picked up on two photos of Atago (one in late 1941, the other then or sometime in early 1942) that show Atago with this gap closed off. Neither photo was taken from close-up. These sites surmise that the gap was plated up. Unfortunately, there is nothing in the official literature to confirm or deny such a change, nor are there any other photos clear enough to absolutely confirm it.
So, it is possible. But, it is also possible that the openings were just covered up with canvas on a temporary basis. Also, the Fukui AA fit drawings of June 30, 1944 indicate that the aperture is still there for Atago as well as Takao, whereas the one for Maya shows no aperture. Given that Maya was heavily reconstructed in this area, I feel it likely that her (Maya) plating was solid back to the the catapult sponson.
(Note about the first Atago photo - she is not camouflaged. The discoloration was caused by water drops on the original photo.)
Attachments: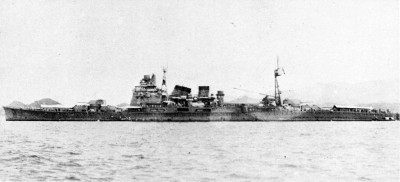 Atago, December, 1941.jpg [ 178.23 KiB | Viewed 1534 times ]
Atago AA fit, June 30, 1944 from Fukui.jpg [ 199.91 KiB | Viewed 1534 times ]
Takao, postwar tow to sinking #2.jpg [ 182.27 KiB | Viewed 1534 times ]
Takao AA fit, June 30, 1944 from Fukui.jpg [ 183.04 KiB | Viewed 1534 times ]
Maya AA fit, summer, 19944, from Fukui.jpg [ 185.85 KiB | Viewed 1534 times ]