maxim wrote:
Can someone identify this 5500 t cruiser?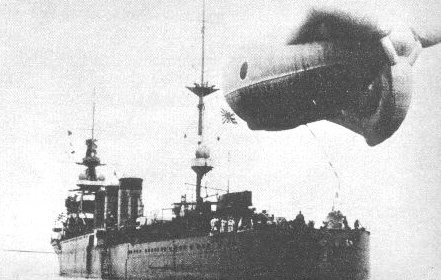 http://www.mtu-net.ru/airships/Japan_1.html
Nagara class? But which ship?
Why do you suspect Nagara-class, and not Kuma-class?
The Bridge on this one is too obscured to get much detail on whether it is a Nagara-class or Kuma-class, from what I can tell.
Although the Kumas had a shorter bridge... That could be something.
But both classes had the single main-mast at one time or another.
If we are thinking Nagara, then it cannot be the Abukuma, or the Natori, because the main-deck ran on the Starboard side toward the Stern.
OOPS!
Stern!
I can make out a 'Na' or "I" Hirigana (な or い) on the stern, and I see two other characters, meaning three syllables. With Three syllables, that narrows us down to the Nagara, or Isuzu, because we have ruled out the Natori due to the deck configuration..
I want to say the last character is a 'Ra' (ら) and not a 'Zu' (ず). But given the 'Na' and 'I' characters are slightly similar, we need to look at the other two characters. The last could be either 'Ra' or 'Zu'. Which means that we can have either 'Ga' (が) or 'Su' (す)for the second character. It does not look like the Second and Third Characters are identical (nearly so, with the exclusion of the ten-ten on the 'Zu').
I am going to say this is the Nagara based upon the barely visible Hirigana on the tail (specious, at best, but that is tenuously better than nothing).
MB