Finding photos of any USN ships in the immediate period before the USA entered WWII showing King Board mods, is difficult. The USN tried to restrict photos of their ships starting in that period from being released for public publication. Not many have survived.
As for the radar in question being the "FA" model, I'm not sure, but would guess it is. The replacement radar was the FC and the first Mods (Mod 1 or 3) of this radar "appears" to have used the same "square"antenna that was roughly 6x6-ft square. Mod 0 or 2 FC radar used the oblong antenna roughly 12x3-ft. Only ten FA sets were built, the first set was installed on USS WICHITA in June 1941, having a short range of detection (about 3-5 miles for surface ships) and were replaced with the improved "FC" radar. The first FC radar was installed on USS PHILADELPHIA in October 1941. This short period and poor reliability of the FA radar likely means it was replaced pretty rapidly. The shape of the antenna reflector on BOISE and BROOKLYN would indicate a fairly "fat" radar beam with poor angular direction, whereas the antenna for the FC radar would give a narrower fan beam providing better angular direction.
I can't speak to exact locations or even the numbers of the 50-cal MGs in the pre 20-mm gun era on this class.
Even the installation of the quad 1.1-in mounts on this class was limited prior to the Attack on Pearl Harbor. I believe only BROOKLYN, PHILADELPHIA, St LOUIS and HELENA had them installed or were in the process of having them installed from the records I have seen. Once the war with Japan started, armament upgrades accelerated so that by 1 July 1942 all but one of the class had their quad 1.1-in mounts and about twelve 20-mm guns.
Here are a couple views of the bridge area for BROOKLYN class cruisers based in the Atlantic early in WWII.
The image below and close-crop of the bridge is USS BROOKLYN (CL-40) dated 8 December 1941 (never quite trust dates on 80-G captions without additional info)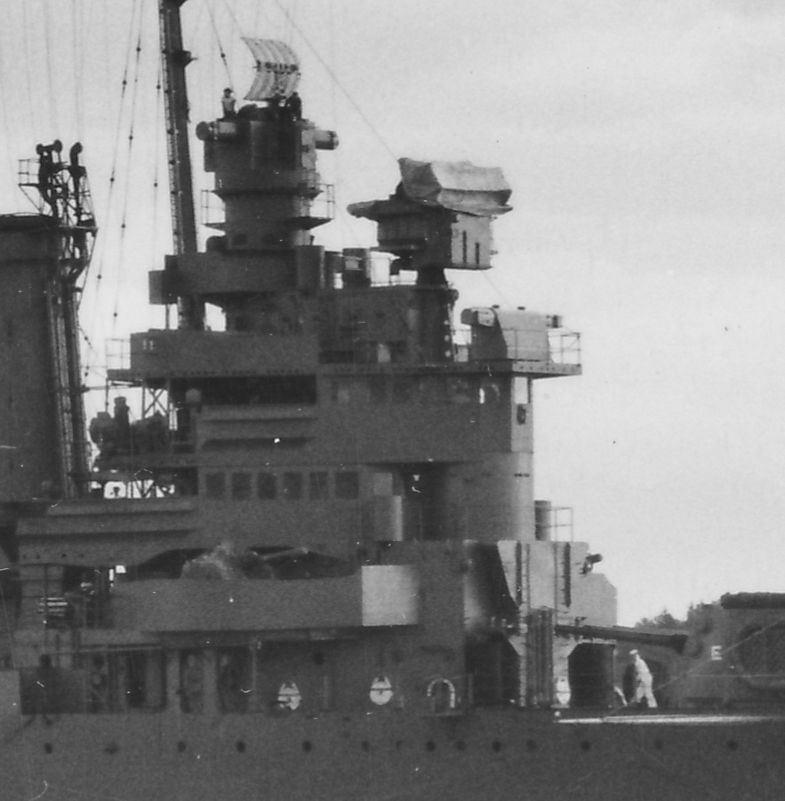 This close-crop image of USS PHILADELPHIA (CL-41) bridge is dated sometime in January 1942. She has the FC radar installed.