Tim,
Knowing the answers to Hank's (BB62vet) questions would help us to answer your questions. Also, why you selected USS TWINNING (DD-540) and 1953.
USS TWINNING (DD-540) has an interesting history among the FLETCHER's in the Post-WWII era. She was one of five FLETCHER's selected on the West Coast to be Naval Reserve Training (NRT) units on the West Coast in 1946. Between 1946 and 1950, these five units were half "mothballed" and used as deck-side trainers and occasionally took cruises. Only a few of the weapons were functional. When the Korean War started these five were among the first units to be activated during the KW Mobilization and brought up to full commission. During her NRT years, she was still in her final WWII configuration, with five twin 40-mm mounts. After returning to full commission, she went through several refits/overhauls before 1953 timeframe that you mention as your target period to model her as. She went on to serve in the USN into 1971, returning to NRT service in 1964.
From about December 1950 to 7 June 1951 she was overhauled at Todd Shipbuilders and MINSY. These two yard periods resulted in her getting upgraded to the standard "5-Gun" configuration; five 5-in guns, two quad 40-mm and one twin 40-mm mounts, one five torpedo tube mount, two hedgehog ASW projectors forward of her bridge. At this point she still had her WWII radar suite on a pole foremast, except that her Mk 4 fire control radar was replaced and upgraded to the Mk 25 radar.
Then from 16 June to 15 September 1952 she was overhauled at SFNSY, where she received a tripod foremast, but retained her WWII SC-2 radar, also her sonar was upgraded at this time. Also, she had the Unit Commanders Cabin installed aft of the bridge (about one in four FLETCHER's received this mod). This also may have been when her six twin 20-mm gun mounts were removed.
This would be her configuration during most of 1953. However, since you say "after her refit in 1953", she didn't have a refit/overhaul in 1953. But she did have a "Restricted Availability" (short yard period) starting in December 1953. This work installed a new radar that was NOT available during her 1952 overhaul.
From 7 December 1953 to 4 January 1954, at the USN Repair Facility, San Diego, CA, she had her SC-2 radar replaced/upgraded to the SPS-6C radar.
This is where I'm unsure of what photos you need/want. I don't have images of her with a tripod foremast with a SC-2 radar, only after the SPS-6C radar was installed. However, replacing the SPS-6C that appears in 1954 photos is relatively easy to do. Here are the two images I have of USS TWINNING (DD-540) in 1954 after her "1953" radar upgrade. If I know what you need (the Commander's Cabin is tricky) I likely can get you images from a TWINNING image dating after 1954 or from another FLETCHER that will fill-in that information. I will tell you something that is unique, during her 1954-5 cruise with the 7th Fleet, she was modified with an interim Mk 32 ASW torpedo launch system (known as PMGL) at Sasebo, Japan on her fantail. I have photos of that installation dating in May 1955.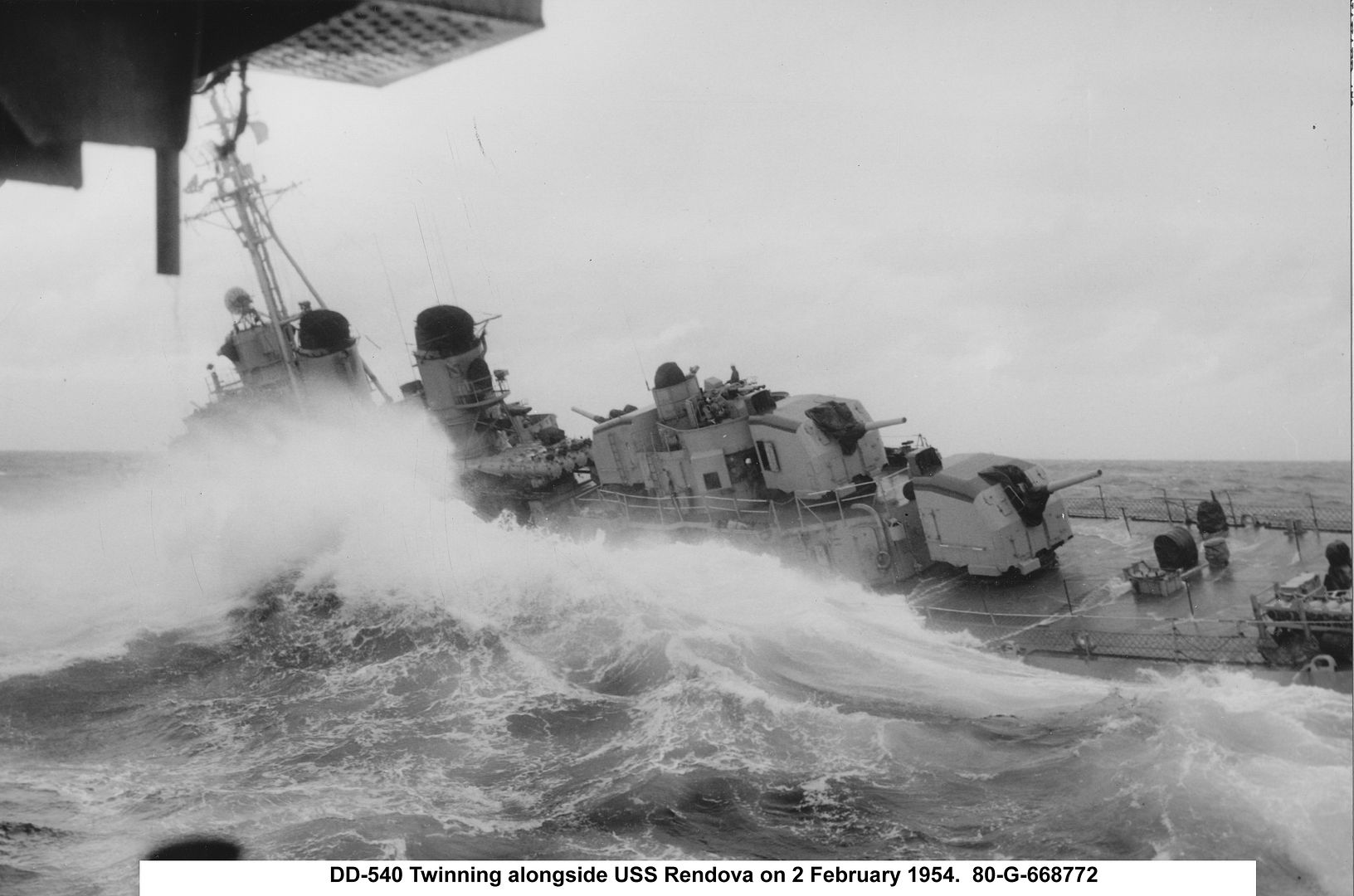 Here is an additional image dating from May 1955. Other than the mods done on her fantail for the PMGL on the fantail, this is how she appeared in 1954 and with a SC-2 radar in place of the SPS-6C radar, in 1953. You can see where the Commanders Cabin was located aft of the bridge under the tripod mast.
PS; Should have checked Navsource sooner. They have a few good images of USS TWINNING (DD-540) from the 1951-53 period. ...
http://www.navsource.org/archives/05/540.htm
...
Specifically, for her 1951 refit at MINSY ...
http://www.navsource.org/archives/05/pix1/0554014.jpg
... and ...
http://www.navsource.org/archives/05/pix1/0554015.jpg
... these provide good close-up views of her major upgrades.
Then for her appearance in 1953 prior to upgrading to SPS-6C, while she had the SC-2 radar on the tripod foremast ...
http://www.navsource.org/archives/05/pix1/0554025.jpg
... and ...
http://www.navsource.org/archives/05/pix1/0554035.jpg
...