First off I'm going to provide a little background on the conversion of the GEARING class units to DDR's.
DD-742, 743, 805, 806, 807, 808, and 829 were built at BIW and converted at USN Yards. Of these seven units, all were converted at BosNY except for DD-805 which was converted at NorNY, due to workload and the need to get Norfolk Navy Yard up to speed on the conversion pioneered by Boston. From DD-830 on for BIW-built units, BIW was tasked with the bulk of the conversion work. BosNY did the final Fitting-Out and most of the aft quad 40-mm upgrades.
Consolidated-Built units were converted by NorNY. None of these units made it to the war zone before the war ended. USS HAWKINS (DD-873) came close, she was sailing three days out from Pearl Harbor when the war ended.
So basically, for all of the BIW-built units, the basic structural items of those units should be the same. As for the DDR conversions, the conversions were a work in progress and changes occurred during the first few units modified.
The photos below are a mix of the two units that you are interested in as they were completed and during their first post-WWII overhaul period. I have tried to find views of the areas you are concerned about.
USS FRANK KNOX (DD-742)
USS FRANK KNOX as seen on 23 March 1945, some changes likely were made between this photo and her departure for the Pacific. One change I did spot, is that in the 5 June 1945 images I posted, USS FRANK KNOX has had a DBM antenna for her RCM suite added to the foremast, which does not appear in the 24 March 1945 photo
Views of USS FRANK KNOX after her Post-WWII overhaul. It is easy to tell what changes were made from the circles. But, in general the only major changes was the removal of the aft torpedo tubes and install of the quad 40-mm mount.
USS CHEVALIER (DD-805)
USS CHEVALIER was converted at NorNY and as such there may be some differences, I have not tried to ID them. The next three images were taken at Hampton Roads by the local Norfolk Navy Yard/aerial recon photographers. In general they did a much better job than the Boston Navy Yard photographers.
A close crop of the above image.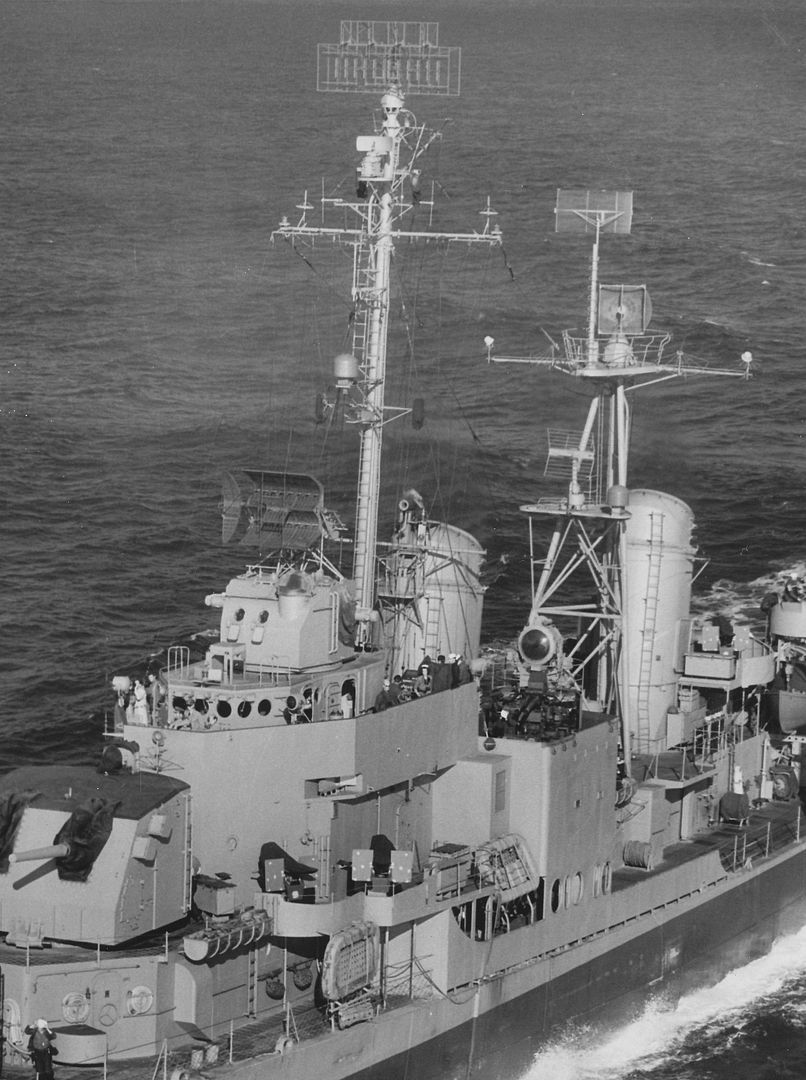 A broadside view.