The first photo is of the Swanson at PSNY in June 1945 getting her Anti-Kamikaze upgrade. I'm not use to seeing in yard photos at PSNY very often. I think the Maryland is in the background.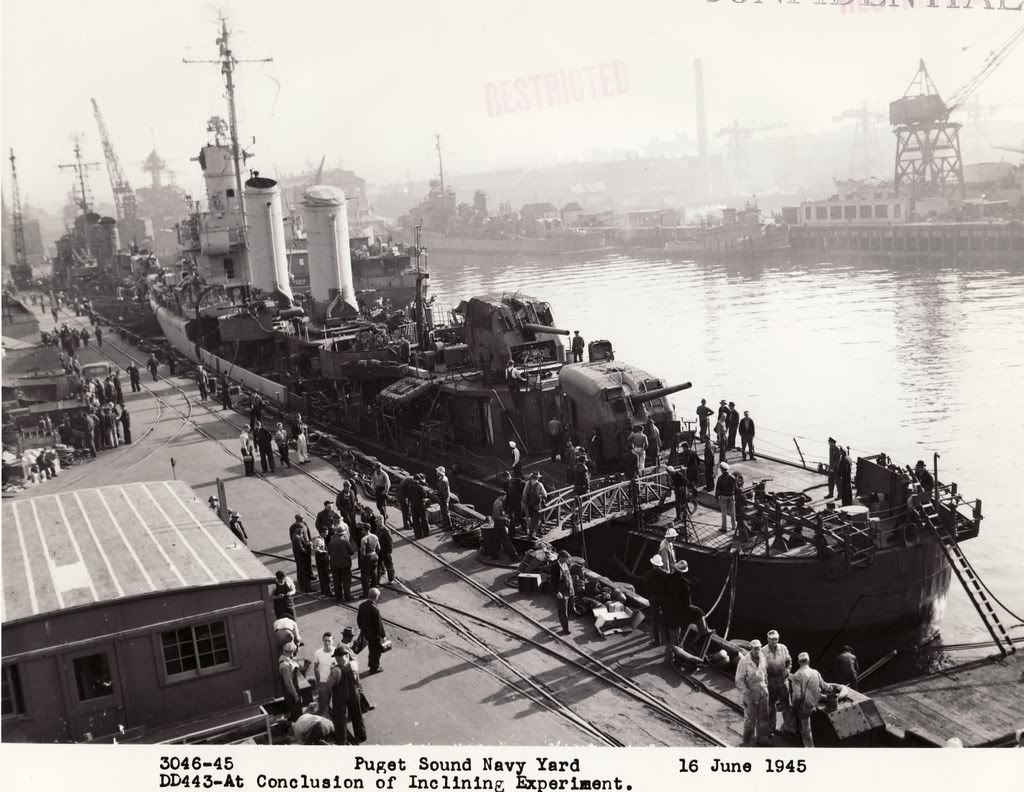 The second photo is of the Bristol's bridge in Jan 1942 at the NYNY ...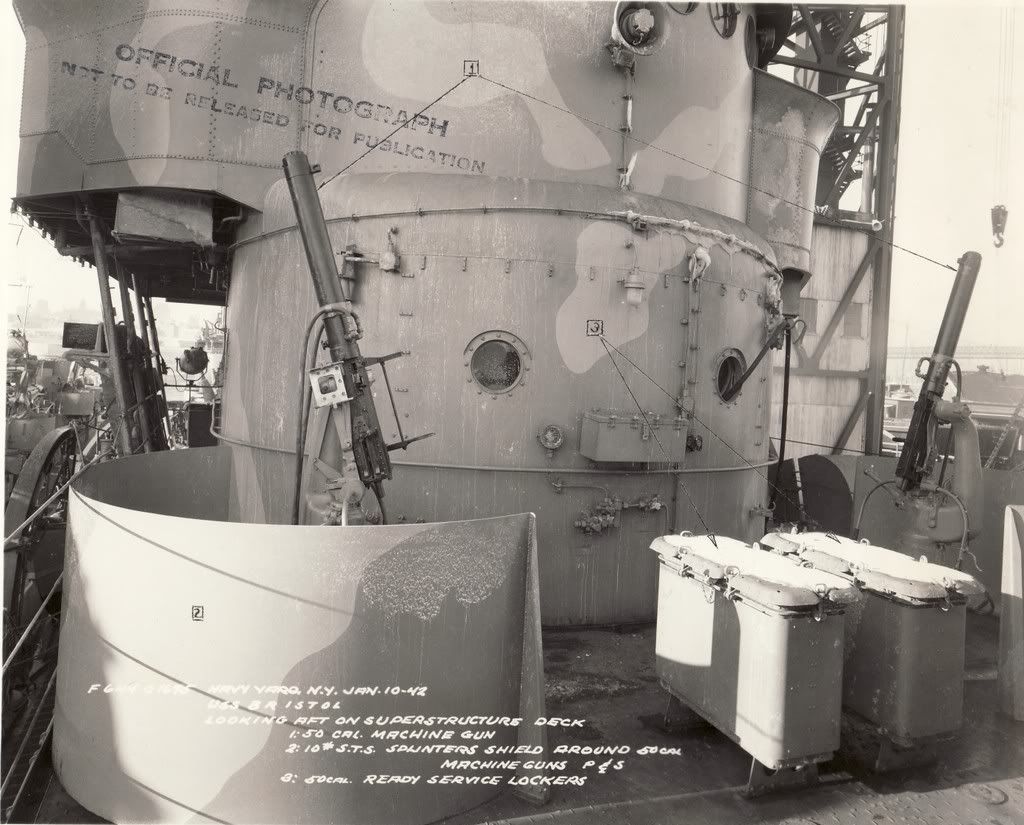 The third photo is of the Ellyson also at NYNY in Feb 1942 ... notice the difference in the bridge fronts (both ships were built at Federal) and that the Ellyson has 20mm and the Bristol has 50cal MG's.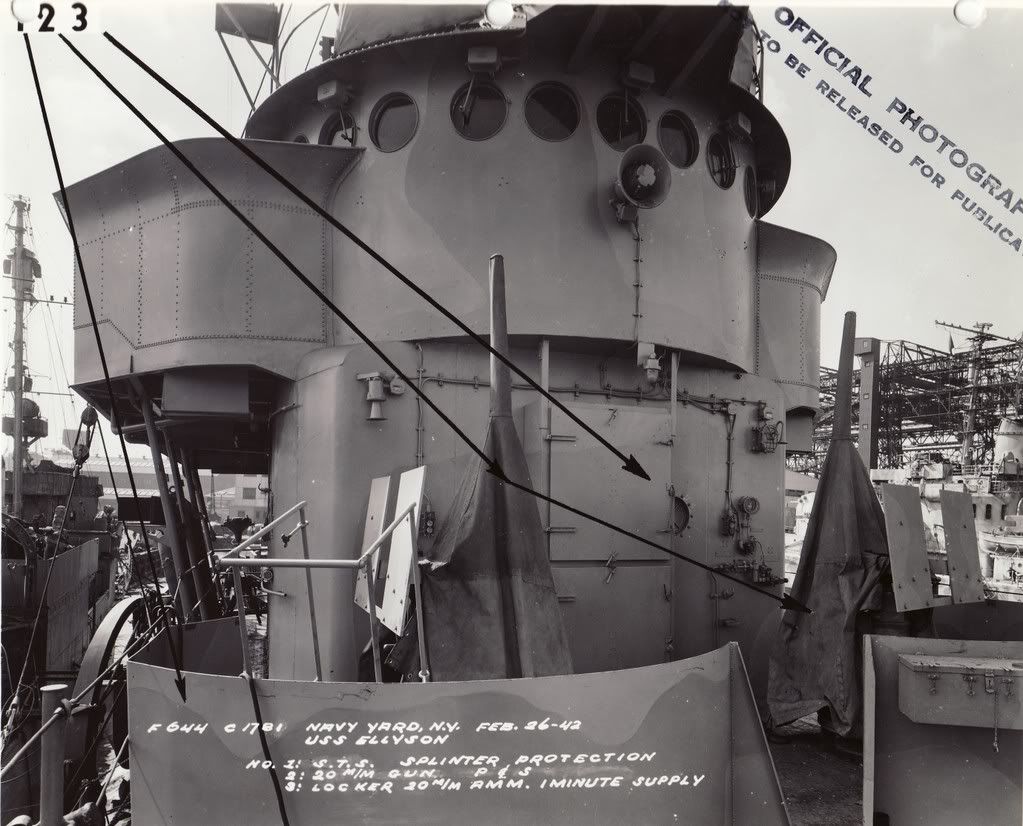 I forgot to mention that the Bristol's AA armament at this time was in-line with the earlier ships in this class ... only 50cal MG's. She got the pair of twin 40mm guns about a year later. I don't think that she ever did get a Quad 1.1" ... maybe some or all of the 50cal MG's were replaced by 20mm before the Jan 43 upgrade ... but I have found no photos.
The Ellyson got a Quad 1.1" at the same time of this photo. I was really surprised that the Bridge front was modified at this time ... I guess for the benefit of giving the 20mm guns more room?
When I went to the National Archives I was only going to pursue Fletcher class photos/data on my first trip there. Charles Haberline at NHC suggested that I go through the BurShips photos files first for me to get the most "Bang for the Buck/Hour of Looking-n-Scanning". This file has mostly delivery and yard photos of mods (unfortunately NOT a complete history of ALL work done to a given ship) Since these files are by Hull Numbers and come in boxes, I got some overlap with the Benson/Gleaves class. The very first photo I pulled out was the Swanson ... one I had not seen and I was over joyed that it was a PSNY photo. That is since PSNY photos are harder to come by out here in the wild. I did stop by the Bristol and Ellyson because I had suspected that they were the Break point between the as completed for service (as opposed to as delivered) w/o and with the Quad 1.1" install because of other photos I had seen at USNI. It appears to be the case. I picked the close-up of the 50cal MG's because of the detail and the general install scheme in that area. Then when I saw the Ellyson with a shot of the same area and noticed the bridge difference, I was really surprised. Both ships came from Federal one right after the other. Also, the photos are only one month apart and the big difference in AA Armament was amazing. I have not gone to looking to see if this bridge front change was a design change for the class at that time and the Ellyson was a first to be changed (during construction or afterwards?). I have a couple more onboard shots of these two ships showing the midship AA guns (6-50cal MG for Bristol and the "standard double tub design to be used for two twin 40mm guns when available, but temp installed with a Quad 1.1" and a 20mm single) and will be sending all five of the Gleaves/Bristol class photos I have to Navsource.org when I get the time.
While at NARA this last week, I found these photos of the Mayo (DD-422) dated 30 April 1943 as she was being refueled by the brand new USS Independence (CVL-22). What is of interest is the fact that she has a quad 1.1" gun mounted where the former #53 mount was located. No one has ever mentioned that any of the early Benson/Gleaves class destroyers carried the quad 1.1" gun. A couple of years ago DickJ spotted the quad 1.1" on the Plunkett in an August 1942 photo that has been published several times, but unlike the Mayo her installation lacked any splinter shields. It would be interesting to find out if any others of the early Benson/Gleaves class were so modified?
Photos 1 and 2 below are NARA 80-G-54434, with two just a closer crop of the area where the quad 1.1" is located.
Photo 3 is NARA 80-G-54441, a view of the Mayo's starboard quarter from the Independence.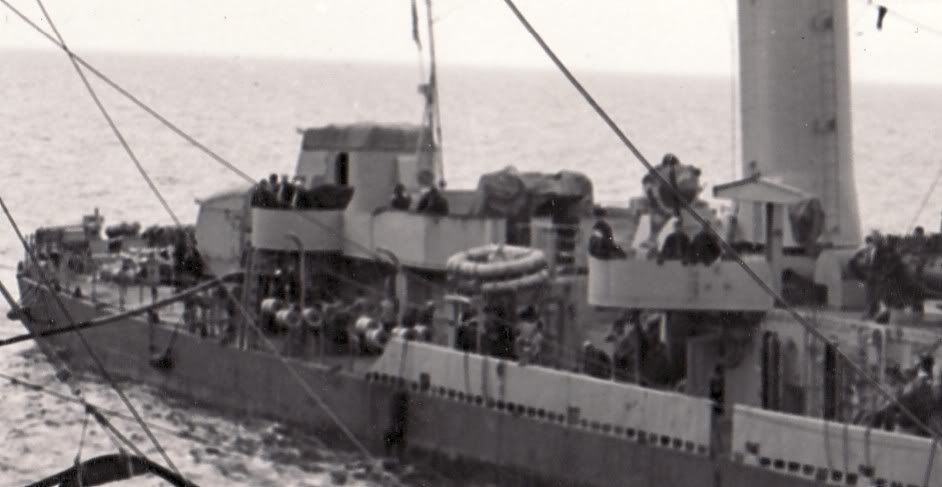 You know out of the photos of NOW two early Benson/Gleaves (DD421-444) and about two dozen post DD453 units with the quad 1.1" I have seen photos of ... about 9 out of ten had the gun covered with canvas and in many photos were hard to see the gun because it had a "boxy" appearance. Many times 40mm guns were covered with canvas, but not as often as the 1.1" in photos anyway, and the 40mm mounts had much longer barrels that are easier to notice.
As for the class with the MOST variations in configuration ... I'll have to think about that. It will depend on now you want to define what counts as a variation? Basic armament, stack/machinery, bridge configurations is one thing. The Benson/Gleaves class do have a large number of variations in that category ... some we may not even know about ... yet. Smile They had the pre-war 5-5", 10TT and a few MG's, early-war with so many options ... 4 and 5 5", 5 and 10TT, 0.50 cal MG's or 20mm ... holy cow, with quad 1.1" (at least four different configurations counting the two stack differences), with two twin 40mm (several layout variations and with 5 or 10 TT with two types of stacks and bridges), and the Anti-Kamikaze upgrade with either four twin 40mm or two quad 40mm and two twin 40mm. Don't forget the DMS conversions. But, the Fletcher's also had a large number of armament variations ... in some cases with two different bridge structures ... quad 1.1", one twin 40mm (three configuration versions at least, one with a catapult), two twin 40mm (two configurations of that, one in two different bridges), three twin 40mm (two different configurations, again one with two different bridges), four twin 40mm (three ships?), five twin 40mm (two bridges), SIX twin 40mm (one ship?), and the Anti-Kamikaze two quad 40mm and three twin 40mm (again two bridges). That is just in WWII and I didn't factor in the variations in numbers of 20mm carried, if we go post WWII, there are more. If all the quirks in the construction styles between yards count, then the Fletcher's would likely come out on top with 175 units built by 12 yards, compared to the 96 Benson/Gleaves built at, I think, 12 yards also. That is an interesting question.