Hi!
Having owned the 1/350 Monochrome Suzutsuki kit, I finally decided to build it. It is a rather involved build, as I would like to do it in the Ten-Ichi-Go time frame, and from what I see in the Model Art Special number 37, which showcases several Akitsuki-class destroyers, Suzutsuki in 1945, having been torpedoed and rebuilt, has a totally different bow than the others. In any case, that's a different story and I may post my build in the relevant section after I become certain I can finish it

but I have a different question at this time for you guys with deeper IJN knowledge than me:
When setting sail for operation Ten-Ichi-Go, the Yamato is always depicted with an emblem on her funnel. Monochrome (Trumpeter) depicts the Suzutsuki with the same emblem:
Attachment:
IMG_1883.JPG [ 148.63 KiB | Viewed 4549 times ]
Model Art 37 shows different markings for the build of their 1945 Suzutsuki.
Attachment: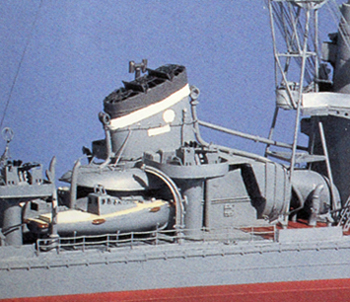 IMG_1885.JPG [ 149.29 KiB | Viewed 4549 times ]
Hasegawa shows no emblem on their Ten-Ichi-Go Yahagi.
Am I correct in thinking that only the Yamato had the emblem and that Model Art is more correct than Monochrome/Trumpeter?
Any help will be most appreciated!
Anthony