Hi all,
I post here with some trepidation, considering how skilled forum members are. This thread is certainly going to be the antithesis of the 'masterclass' builds you see on here, and it might give you a laugh...
I have never built a 1/700 ship kit, and never built a full-resin kit. I do however have a fascination with the ironclad and dreadnought era, say 1860s-1918, and especially the drama of the Russo-Japanese war, or in the view of certain historians 'World War 0'.
So I have purchased a Combrig 1st class Cruiser Askold kit, a choice driven mainly by the low cost of the kit and the availability of a dedicated etch sheet from White Ensign models (currently winging its way to me from sunny California- the last time I ordered something from them they were still in the UK...)
I intend this build to be as good a job as is achievable for a rank beginner, and I open this thread for two reasons- firstly, and most selfishly, I am going to need some help and advice as I go along

, and secondly, I have really stuggled to find build logs of small-scale ships written by average modellers- so I thought it might be good to show what a committed amateur can achieve 'out of the box'.
It's not all bad news though. I have been a fairly committed modeller of 1/72 aircraft since I was a teenager, and I have experience of rigging 1/72 biplanes and basic scratch building or 'kit bashing' as it seems to be called. I can paint with an airbrush, and possess an extensive set of modelling tools, which in this scale will surely prove to be as wieldy as using a sledgehammer to repair a glass chandelier. Whilst I'm wearing my glasses I can see what I'm doing, and if I haven't had a glass of whiskey in the study, my hands are pretty steady too...
So, here's what we are dealing with...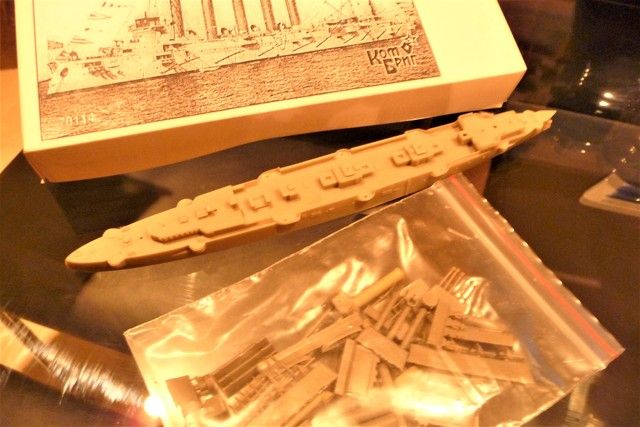 Nothing much to happen yet as I am waiting on the etch set.
I hope you all pop by occasionally to offer advice, criticism and encouragement. Think of it as modelling charity- giving something back to someone less fortunate that yourself...
Will