Hi everyone,
I've been very busy lately, which has seriously set back work on many models, but in my spare time, I've been working on this conversion of the Atlantis kit of the USS Forrest Sherman. An old friend served aboard the USS Hull DD-945 in the late 1970s during a period of time when the ship tested the Mark 71 8"/55 Major Caliber Lightweight Gun. My friend collects various car and ship models, but not surprisingly, he doesn't have a model of his former ship, so I decided to build one for him. I intended to present it to him on his birthday, but it won't be ready in time. However, I hope it will be a very pleasant surprise gift when I get it finished.
Atlantis Toy and Hobby has recently emerged as a major producer of nostalgia kits, reissuing long out-of-production kits from kit manufacturers like Aurora, Monogram, Renwal, and Revell. This Atlantis kit is a re-issue of Revell's Forrest Sherman in 1/320th scale.
My objective in building this model was NOT to make it accurate to a 'T.' My intent is to build up this old kit into a good representation of what the USS Hull looked like during the time when my friend served on her. To that end, I haven't searched high and low for drawings of the Hull. All of my attempts at searches have met with no success, anyway. (Drawings of the ship seem to be as scarce as hen's teeth.) Instead, I've had to rely on analysis of photos of the Hull and her sister ships, which I've gleaned from various sources.
Attachment:
File comment: Here's a photo of the Hull while testing the 8 inch gun, courtesy of Navsource.org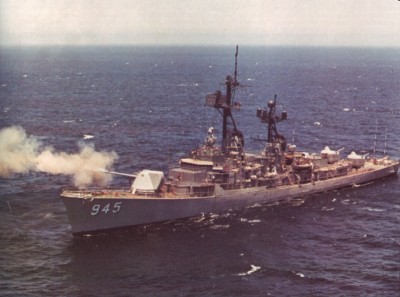 DD-945 28 1975.jpg [ 104.48 KiB | Viewed 787 times ]
Obviously, the kit shows its age with its detailing and casting. In particular, the main deck is populated with various crude approximations of winches and hoses. The masts and associated details are very thick. I've opted to leave most of these details as is, unless they get in the way of necessary modifications to the kit.
Since I know very little about destroyers and the Forrest Sherman class, I assumed this would be a very simple conversion, amounting to not much more than assembling the kit and applying the '945' hull numbers. Boy, was I wrong!
For this installment, I'll leave you with some photos of the initial construction of the kit, which are typical for whatever ship you model.
Attachment:
File comment: The interesting thing about this kit is that once you assemble the hull, rather than assemble and attach the superstructure to the main deck, in this case, you apply the outer bulkheads to the frame of the kit.
20210323_121148 (2).jpg [ 280.26 KiB | Viewed 787 times ]
Attachment:
File comment: This is typical of initial construction of the kit.

20210323_121251 (2).jpg [ 292.91 KiB | Viewed 785 times ]
Thank you to everyone for stopping by and checking in! As I said above, I never intended this to by a model immune to the critique of rivet counters, but I certainly appreciate any feedback you have!
John