Hello all, im JT, new guy here. Im 21, I dont have much experience in making ships (Ive done cars and planes, but nothing usually more than OOB), so this will be interesting. I dont have much experience in scratchbuilding, p/e's, and even finishing models (hehe, I never seem to finish!), but Im going to attempt them all with these builds.
I first became interested in the Yorktown class carriers a bit over 5 years ago, when I was building WW2 planes. My favorite plane was/is the B-25. I bought many versions of the plane kits, Minicraft, Accurate Mini's, Iterali, and Revell. I found the Revell Doolittle Raid kit online and picked it up, it included both a 1/72 B-25 and 1/480 Carrier with little B-25s on it, how cool! I instantly became absorbed in the history of the Doolittle Raid (which furthered my love of the B-25), as well as the history of the CV-8 Hornet. I finished the model, which I felt was my best job yet, but I also happened to have little brothers (4 and 6), who touched everything that held a remote interest to others. Naturally, Planes went missing, parts broken, and not just the Doolittle kit itself, everything. I put some of the models on a high shelf, where they have since collected dust. Now that they're older, im trying to get back into the hobby.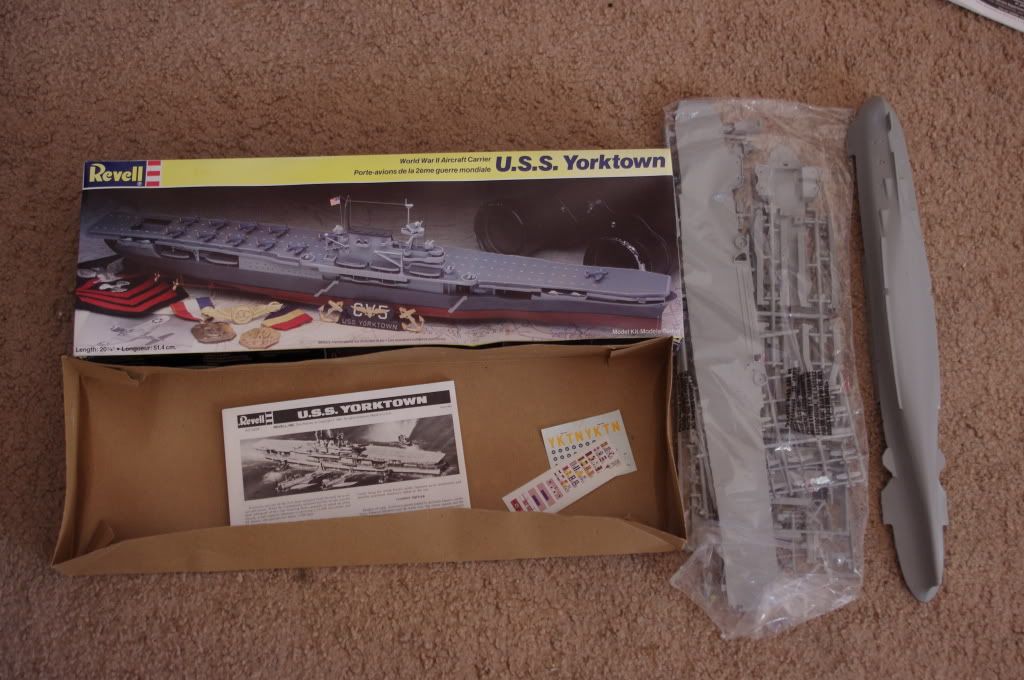 So far Ive purchase 2 Revell Doolittle Raid kits, and a 1987 Revell Yorktown (same scale at the Hornets). My plan is to convert one of the Hornets into the CV-6 Enterprise, so I could build all 3 ships. Ive done a bit of research (though nowhere near done) of the ships, and im going to try to build the ships as they appeared at Midway, the only time they were together. I do have some questions about the ships though
In this picture, Ive circled in red something coming out of the Island. I havent been able to find any pictures showing this, and dont know why its on there.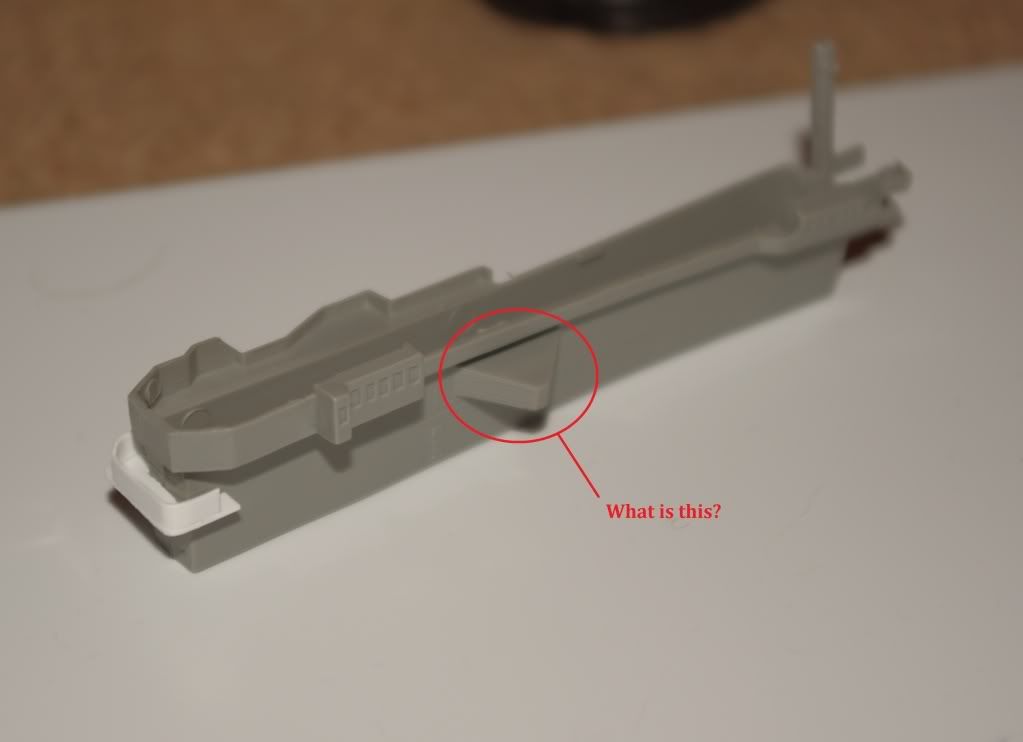 And then the side of the hull confuses me. The yellow line is drawn along the point where the kits opening hanger doors are, which could/should be level with the closed off hanger doors that we're molded into the hull, where the white line is. Should I cut the wall of the hanger off of the hull, and correct/level it with the rest of the hanger?
Does the terrible looking zero seem at a similar scale as the SBDs included in the kit?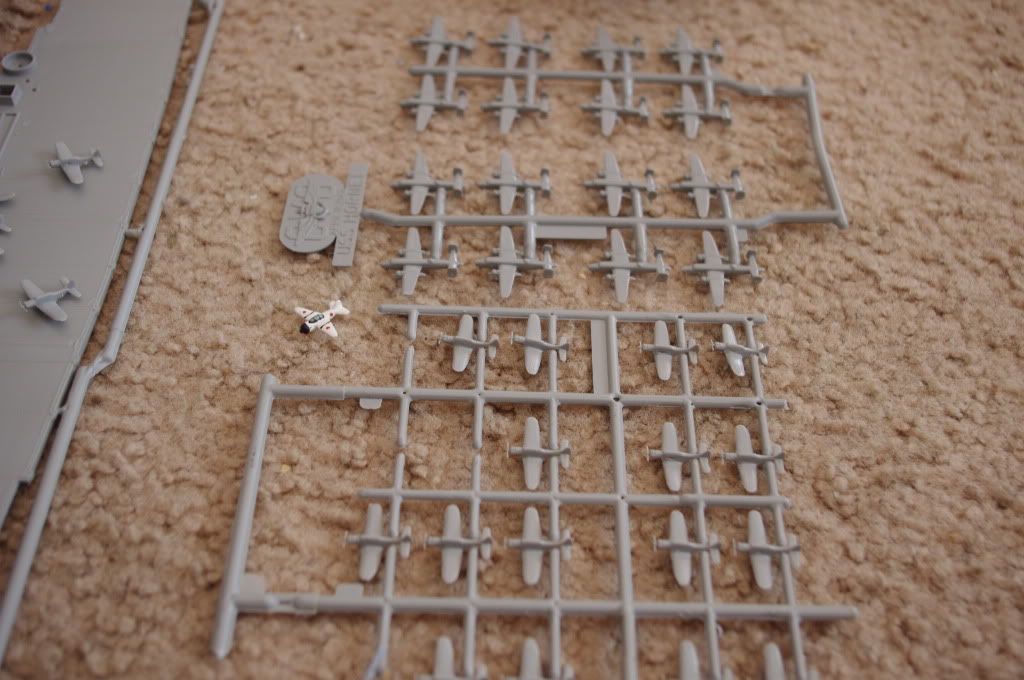 The 3 sisters as of now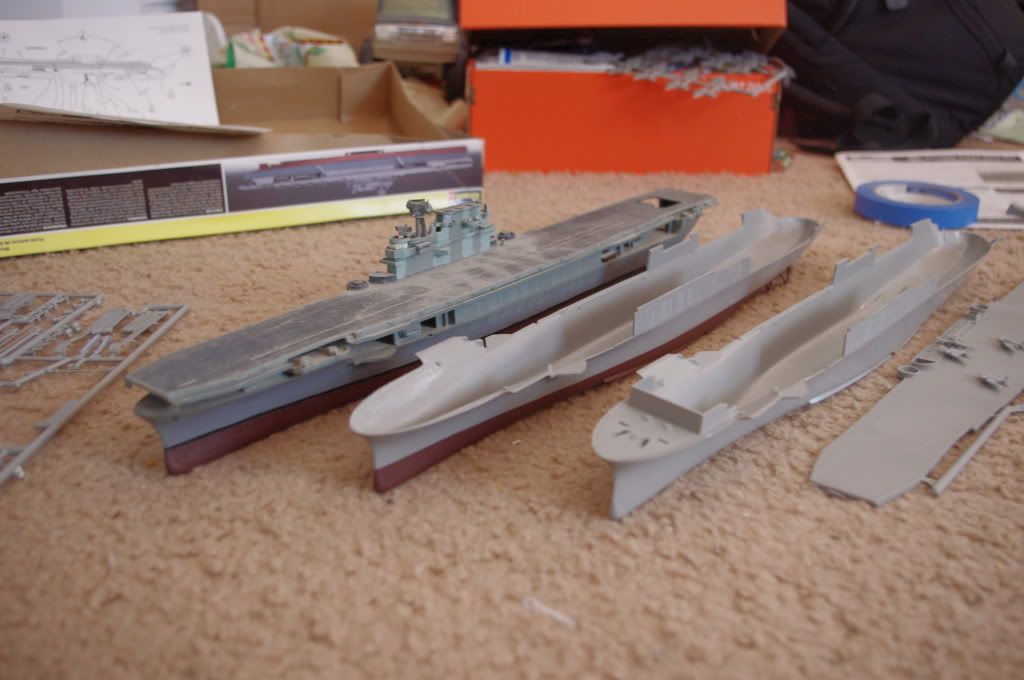 Thanks for looking!