The camouflage scheme for
Rodney
is a very interesting mix of four colors.
Now, there was some trouble deciding which shades to use as well as their specific positions on the ship.
Trumpeter provides two conflicting versions of the scheme.
The first, which is from the callout included in the box, is, aside from its light grey, a very dark, blue-centric version.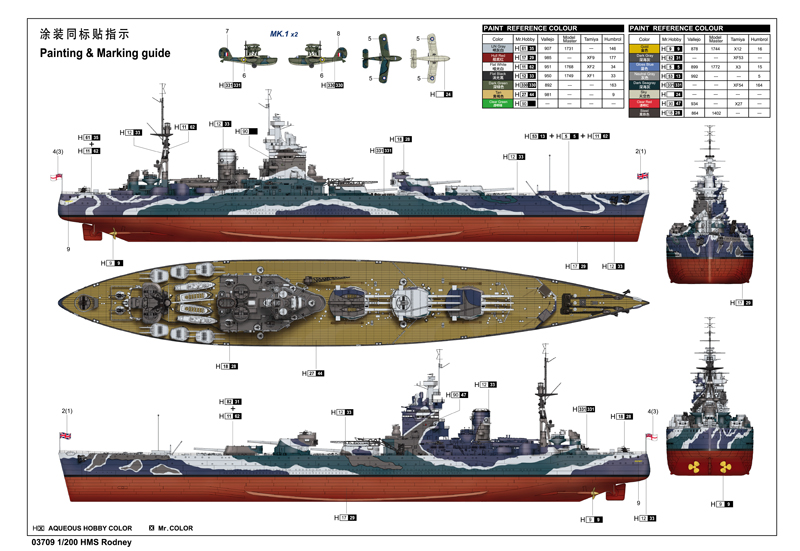 The second, which is beautifully done portrait on the box, shows much lighter coloration with a very prominent green.

Well? Which is it? Probably neither...
There has been a lively discussion on this very subject (now decimated by the Photobucket Great Purge) on this very forum earlier this year:
http://www.shipmodels.info/mws_forum/viewtopic.php?f=2&t=164577
SovereignHobbies wrote:
Since we have the paint range, we're maintaining the reference page these days:
https://www.sovereignhobbies.co.uk/pages/british-royal-navy-colour-schemes
HMS Rodney
1942
Admiralty Disruptive Pattern Camouflage, using the following colours:
MS.1 Dark Blue-Black (RN 04);
MS.2 Dark Grey (RN 05);
B5 Blue (RN 07);
507C Admiralty Light Grey (RN 03);
Boot topping - Black (C03);
Underwater hull - Antifouling Red (RN19)
Thus speaks the voice of Sovereign Hobbies. Hmm, well this puts us in a situation without green. RN 04 is just what it sounds like, a kind of midnight blue. Maybe this is what odd tealish color on Trumpeter's callout is supposed to indicate.
Kostas Katseas made a very neat little build of Tamiya's
Nelson
in camouflage that seems to corroborate this color palette:
http://www.modelshipgallery.com/gallery/bb/hms/Nelson-700-kk/index.htm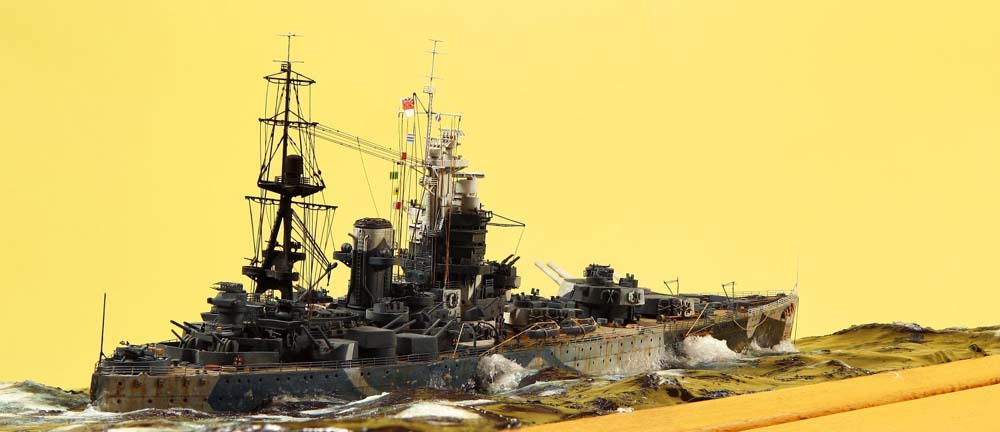 It looks pretty cool.
Christ Flodberg also seems to have gone with a mostly green-free scheme for his
Howe
:
http://www.modelshipgallery.com/gallery/bb/hms/Howe-350-cf/index.htm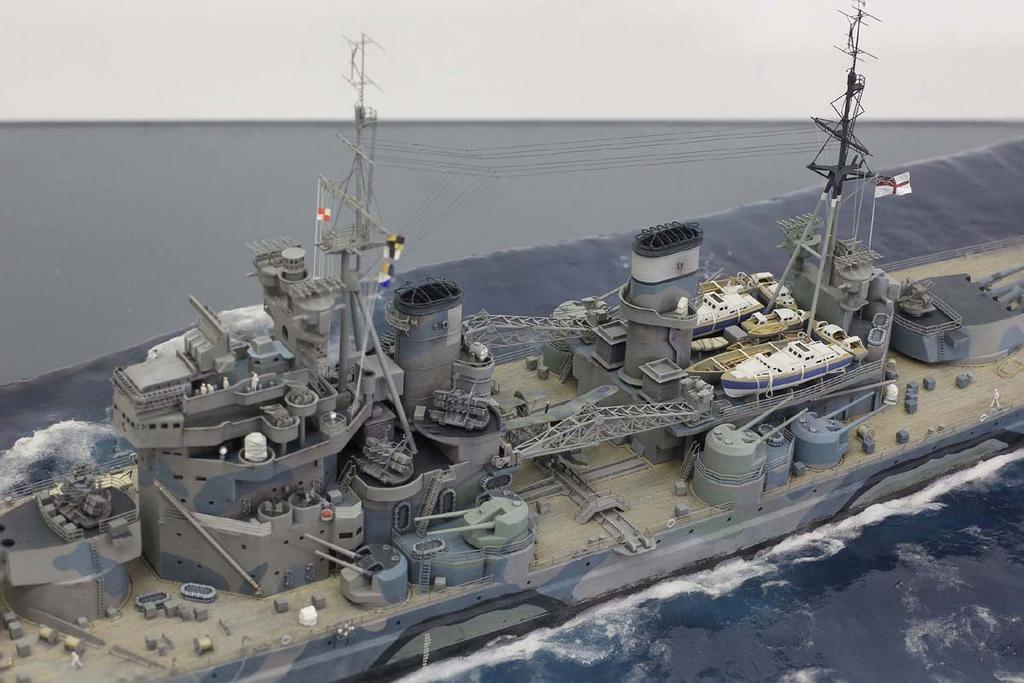 Looks very nice doesn't it?
But wait a minute! On our old CASF thread there used to be two very convincing looking illustrations! Which I saved, a long time ago.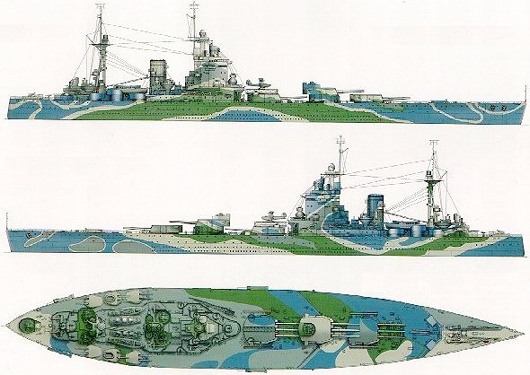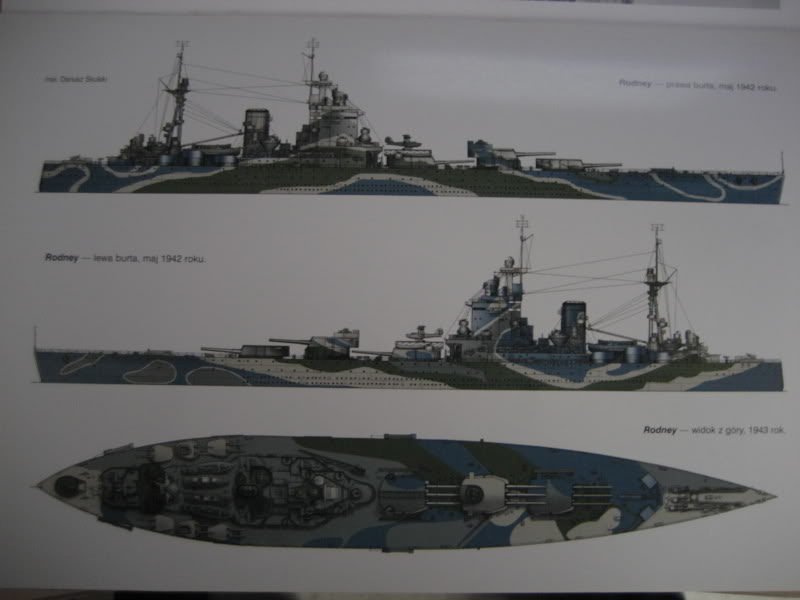 They have green!! What's up with that? And their green is inverted with the dark grey seen on the Trumpeter box art?
Huh. No decent color photograph exists of the prototype in camouflage to my knowledge. Looks like its time for modeler's discretion!
So I mixed up three sets of color.
Option 1: Halfway between Chris Flodberg's and Kostas Katseas interpretations. Essentially in concord with the suggestions from Sovereign Hobbies.
Option 2: A slightly lighter version of the Trumpeter callout. A nice dark teal in lieu of the blue-black or dark green.
Option 3: The green option from the Polish book.
So, tie breaker. We probably can guess that Option 1 is most likely correct but we have to live with my handiwork so off to the wife we go!
And after some deliberation......we like green I guess. A quick inventory of paints on hand and some time looking at spattered paint in the sun meant that my collection of Pollyscale GN Empire Green was selected for purpose. I have a great deal of it on hand, it looks nice, it's dark, and it has some yellow/brown tones.
I have also decided to invert the green and the dark grey on the box-art. The two line drawings I had on my hard-drive contradict the painting and are in agreement with each other. It just seems more credible I guess.
Well. Off we go!