Nothing is more frustrating and hard to research in my efforts on the FLETCHER class, than what sonar they had. However, based on what I have found, I can state some things.
During the operational life of FLETCHER's, two locations were used to install sonars, the transducer was located at either Frame 25 or at about frame 52. This was mostly due to WHERE the underwater systems (not just the echo-ranging gear) had been initially installed and where the space had been allocated for the associated equipment. It would have been too expensive to install the sonar in an all new location. The WWII sonars, the first fixed dome and the late war retractable dome types, were located at Frame 25. The retractable dome types centerline location required an ALL new seachest that broken into the original keel. The SUMNER's and GEARING' got a new sonar installed at Frame 52 (where on the FLETCHER's the Depth Finder system was located). When the USN recommissioned FLETCHER's back to Fleet Service during the KW, they got an upgraded version of sonar that had evolved on the SUMNER's and GEARING's in commission post WWII, re-classified as SQS-10, but installed at Frame 25. On the units that were not decommissioned and returned to mothballs, the newer SQS-4 family of sonars, were installed at Frame 52. On some FLETCHER's in an effort to reduce some interference, the SQS-4 sonars were moved to Frame 25. But, this was a very expensive mod, and most units modified were the specialized DDE conversions, planned to be in service longer than the "Fleet Destroyer" versions.
The SQS-4 Sonar Family were FOUR units with different frequency ranges. Initially they were all called SQS-4 with a Mod number. When the systems were upgraded with RDT, they became SQS-29 through 32. A VERY FEW systems, were give an additional upgrade, calling them SQS-39 through 42 (I have only identified less than a hand full of units that ended up with the third iteration during the late 1960's).
SQS-4 Mod 1 ---> SQS-29 ---> SQS-39
SQS-4 Mod 2 ---> SQS-30 ---> SQS-40
SQS-4 Mod 3 ---> SQS-31 ---> SQS-41
SQS-4 Mod 4 ---> SQS-32 ---> SQS-42
On top this, there were 100-in long and 185-in long domes of several types, known by their "CW" numbers. I don't know why two sizes of domes were installed, I thought that maybe the frequency of the units determined that. But, I don't have enough evidence and what I do have doesn't show an apparent pattern. Also several different dome types were used. I'm afraid that we are seeing different types for each of these sizes of domes. For 100-in domes, I have come across CW351, CW351A, and CW553. For the 185-in domes, I have come across CW405, CW438, and CW554. CW553 and CW554 were the newest domes. I have not found any "engineering" drawings specific to domes, that would give their size parameters. It is unlikely that the USN would change the installation footprint, length and width, where the dome mates to the Foundation "ring". However, the depth could change for some reason.
Some examples by looking at BGP's for Tom's, "FLIGER747", and his project USS WATTS, Willie's project for ex-USS McGOWAN (JORGE JUAN), and the museum destroyer USS CASSIN YOUNG.
For USS WATTS (DD-567), she was an NRT unit starting in 1958, retaining the old SQS-10 sonar and didn't get the SQS-4 sonar until the Berlin Wall mobilization when she was quickly updated in 1961 with one of the SQS-29/30/31/32 sonars with a 185-in dome at Frame 25.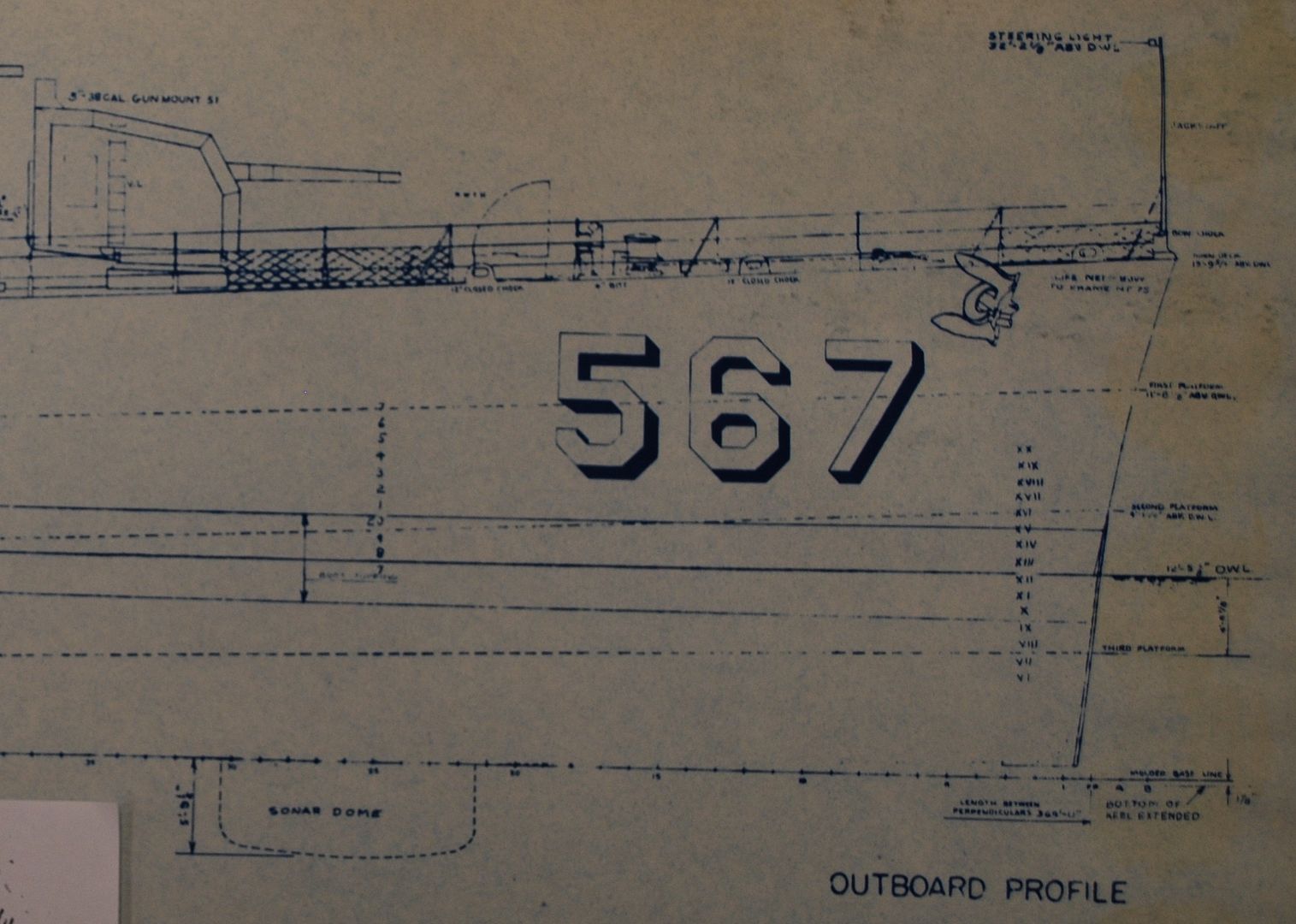 For USS McGOWAN (DD-678), she was active with the USN until 1960 and was only upgraded with the SQS-4 sonar family in 1959, when she had the upgraded SQS-32 installed with a 100-in dome, at Frame 52.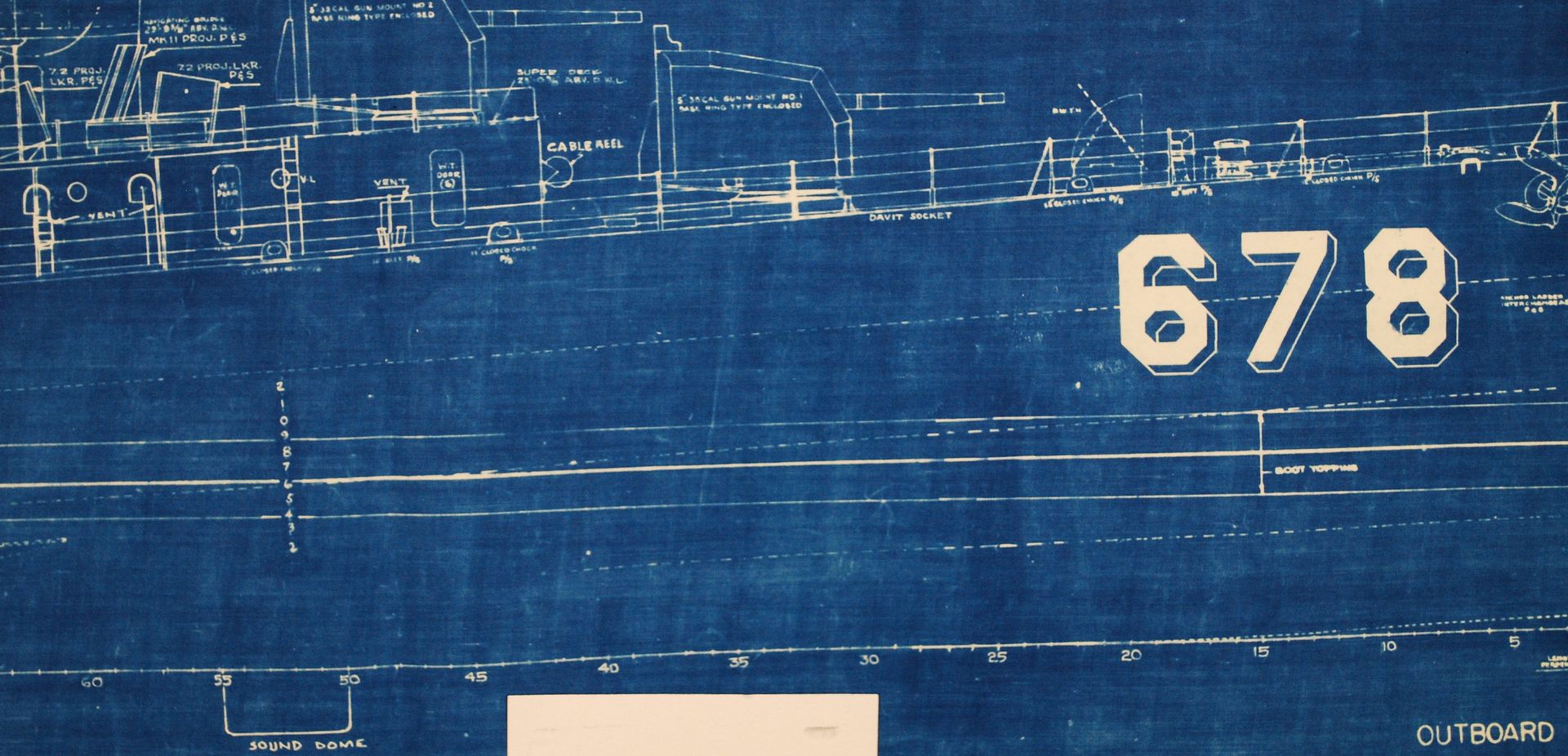 For USS CASSIN YOUNG (DD-793), she was also active until 1960, and was upgraded to the SQS-4 Mod-? in 1957, with a 185-in dome, at Frame 52. There is no info that she was upgraded to a SQS-29/30/31/32 sonar version of the SQS-4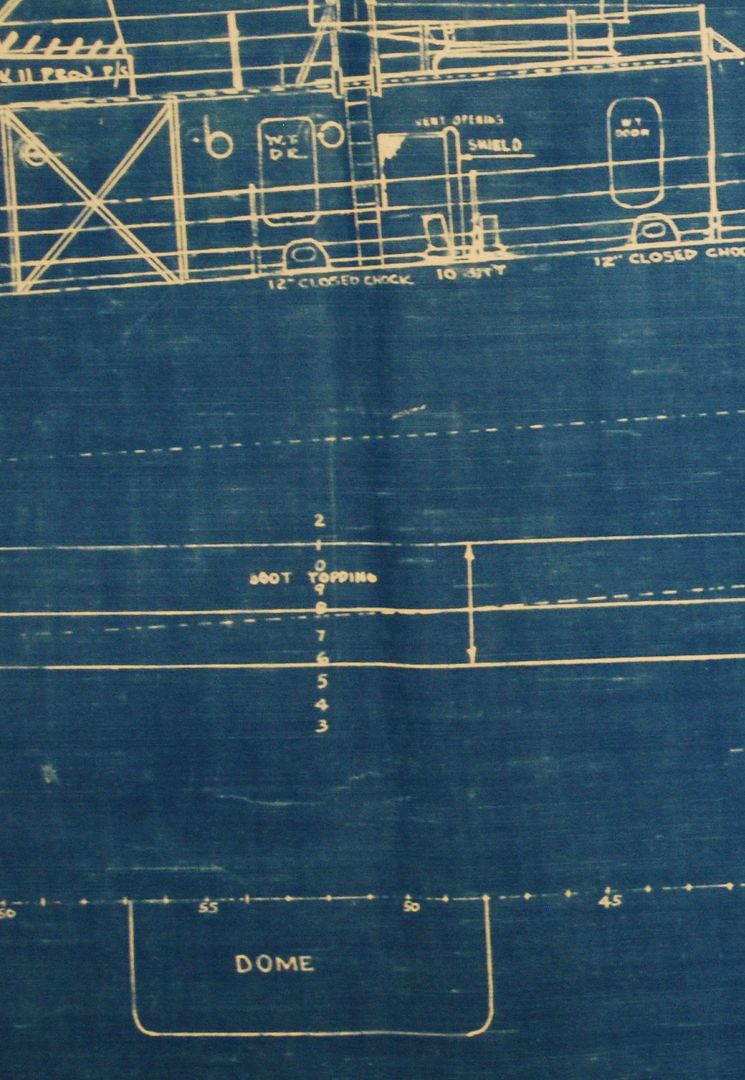 Hank's USS STODDARD is more inline with USS CASSIN YOUNG, except that she was in service until 1969. Her SQS-4 Mod 3, upgraded to a SQS-31 in 1959. Were the domes on CASSIN YOUNG and STODDARD the same "CW" type, I don't know for sure.
As you can see, these BGP images aren't in most cases very informative in details about the system installed or the dome parameters. As a reference, frame spacing is 21-in.