I screwed up my first planking attempt on the launch. Forgot to put "ribs" over the frames! got about half way on both sides when it occurred to me,
"Wait a minute! How do I get this thing off the frames when it is done?!!" Looked at the builds I had been viewing to get some pointers on how to proceed and noticed the "shims" bent over the frames and held down with rubber bands. Photos of the frames of the cutter I am starting show what I mean as opposed to the previously posted photos of the launch frames WITHOUT the ribs. I go into brain freeze sometimes and simply space out on some things

I know I haven't painted the whole boat, but, I bought enamel paints at the hobby store the other day not realizing thry were not the acrylic version of the same color (see previous sentence!), and wanted to see what it looked like. It will be fine. Took me almost an hour to file the knees for the seat braces. Let me know what you think. It looked bad right off the frames, and, I was a little disappointed I had not done a better job. However, I persevered and it doesn't look half bad at all. Once ALL the ribs were in place and the floor in it really looked much better and I was much happier.
Attachments:
IMG_5572.JPG [ 109.62 KiB | Viewed 1212 times ]
IMG_5573.JPG [ 114.2 KiB | Viewed 1212 times ]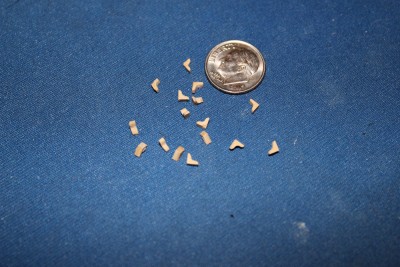 IMG_5575.JPG [ 189.31 KiB | Viewed 1212 times ]
IMG_5576.JPG [ 162.71 KiB | Viewed 1212 times ]
IMG_5580.JPG [ 72.84 KiB | Viewed 1212 times ]
IMG_5581.JPG [ 104.37 KiB | Viewed 1212 times ]
IMG_5578.JPG [ 92.08 KiB | Viewed 1212 times ]