My first topic. I apologize for my terrible English

I got an unfinished BB-39 USS Arizona from a friend. Because some parts were missing, I decided to use this kit for conversion to the BB-38 USS Pennsylvania.
I chose the period of her service 1944-45, when she participated in the Battle of the Strait of Surigao. Although she did not fire at the enemy at the time, it is the last participation of American second-line battleships with an equivalent enemy.
The topic on this forum, which is dedicated to this ship, helped me a lot in getting the drawings and photos. I thank everyone who contributed their part.
And now to the project itself. Pennsylvania didn't different much from Arizona after the rebuilding in the early 30's. Nevertheless, there are quite visible differences on the fuselage. The first, which is visible, are the missing reinforcements on the armor belt at the point of attachment to the hull plating. Pennsy has only a few rows of rivets. This difference can already be seen in the photographs from the first years of their service. During the redesign, casemates for medium-caliber guns on main deck were removed and these were placed a deck higher. The covering of these casemates took place differently. While in Arizona it was simply covered by a steel strip that protruded above the hull plating, at Pennsy was incorporated into the hull. According to the photo, was strip probably welded.
It can be seen very well here: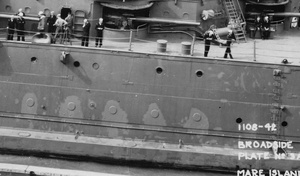 After removing the hull from all the superstructures, I started fixing bugs. I fill all the windows first. Unfortunately, most of them are in the wrong place. Later, they will be partially covered by octagonal covers, which the ship received in 1943. Next, I cut a walkway around the casemates on the upper deck.
Then I continued to remove the cover strip of the former casemates on the main deck. This meant two hours of careful grinding to achieve the desired result.
And here is the result.

Original design ( Arizona)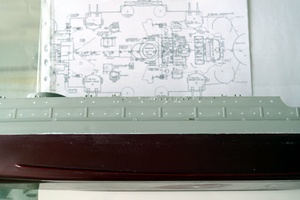 New design (Pennsylvania)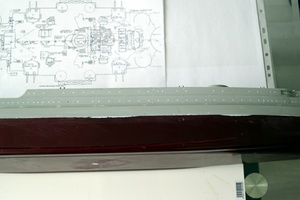 It will now be necessary to clean up the overlaps left after reinforcement.