bgire wrote:
Thank you: you answered yourself to your question about the two ruined wooden structures.
And YES, it's a VERY interesting photo. Look at the picture above (thank you for this, I didn't know it) and focus to Amagi's sister ship Katsuragi on the top.
What first appeared to me to be a temporary wooden wharf on the vertical (bombing) picture is in fact a wide area protected by large (sisal) canvas, a traditional way in WW2 Japan to protect sensitive hardware from intelligence photographs. You may remember both Yamato and Musashi were built in a dock covered by such material.
Katsuragi obviously is moored to a kind of fitting-out pier where sensitive equipment is being installed and must be covered from spy planes.

This has disappeared on modern pictures and I think this was a temporary pier built on a group of pilars.

I guess it had been the same for Amagi: the wooden structures are but the remains of this sisal tent. In Amagi's case the pier below was a solid one which survived until now.
Funny: when I discovered the 1946 picture I took these as a first attempt to build a structure to allow access for scrapping purpose: I was wrong, for sure.
Hello Bruno!
I've read that the camouflage nets were not to cover anything below it, but they actually served to camouflage the carriers by disguising their shape. The nets were put so the carriers would look like they are part of the island. Hence the fake 'roads' that go over the nets (strips of cloth attached on top of the nets?) and continue on the flight decks, and the fake houses and trees on the flight decks. On the seaward side of the carriers, small boats were anchored towards which nets were spanned, to break up the shapes of the carriers also on that side. Look at this great photo of Katsuragi:
The lower 'road' looks to me like an actual walkway (wood maybe?), but the center one looks softer to me. Also the one at the stern of Amagi in the picture you discussed looks to be hanging down to much to be anything else than cloth.
Note also the fake houses and even trees on the flight deck of Katsuragi! I'm thinking that this would also be a fantastic diorama in itself!!!
Also Amagi had these nets. Here you can see them spanning from the starboard side to small boats and to the shore: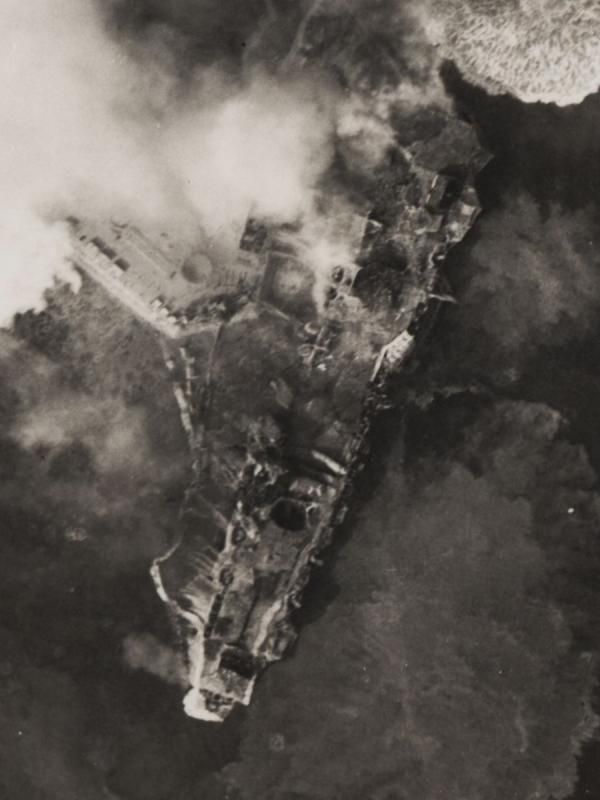 After the first raid, the small boats are still visible: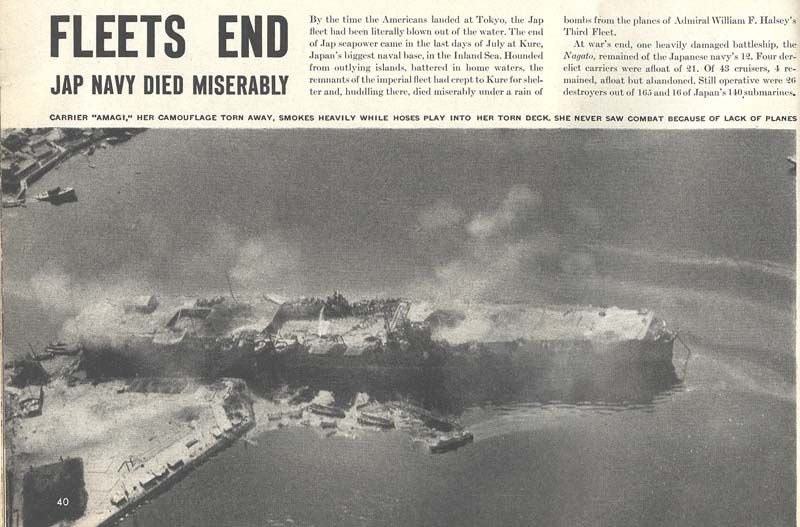 But in 1946, I don't see them in any photo anymore.
bgire wrote:
I'm working too with the dedicated Fujimi PE sheet but I need special parts to depict the aft elevator well ruins. I'm designing it from the same area aboard Katsuragi, as well as the lattice structure under aft flight deck, which I find too crude on the plastic kit.
The Lionroar set contains very nice supports gussets for the AA platforms, but also not the lattice structure under the aft flight deck. And with this project, I agree that it is really worthwhile to invest some time in it, because it will be very visible on the capsized ship!

For this, the elevator wells and hangar walls, I'l have to help myself with generic perforated gussets and beams in PE, brass sheet and plastic sheet. Probably I'll already be working on them by Juli, otherwise I would beg for you to sell me a copy of your PE!

bgire wrote:
As for the two shafts I'll use modified ones from Trumpeter's Baltimore heavy cruiser, as I think Amagi's size and powerplant are nearer that of this cruiser than Lexington.

That is probably better indeed. But since the Lex kit is the only other ship kit in my stash (I'm one of the very large modelers with almost no stash at all), I was hoping to get close by reducing the ones from Lexington's in size, but I will have to see how that goes. Anything can be built from scratch if necessary…

bgire wrote:
I'd concern too about the flight deck camo.
A capture from the 1946 color film shows what could be very slight remains of the camouflage scheme:
I'm still puzzled and I've to make my opinion as whether painting a very faint and degraded camo or just painting rusted steel.
Very good call on that photo! I didn't notice that before, but I think you are right!
That makes me very happy, as I would like to do her with very faded camouflage, covered under dust and dirt, and a bit of rust.
Kasagi was very rusted steel: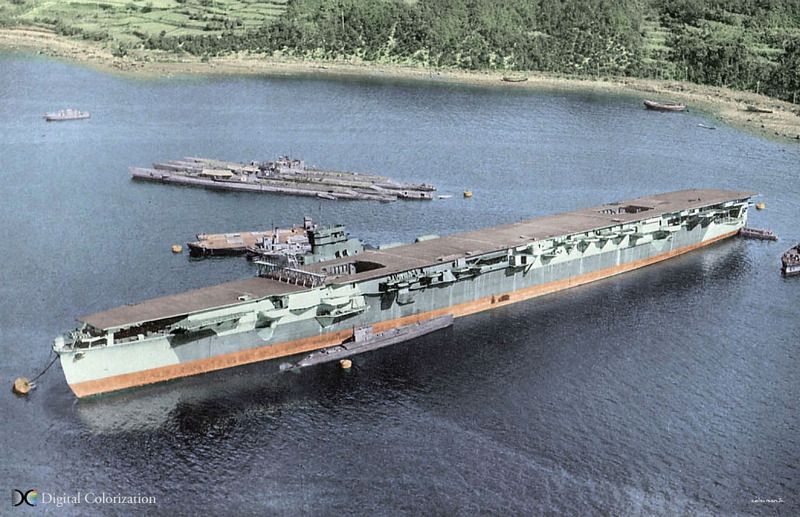 But she was never finished!

Katsuragi, which might be a better parallel, shows her faded camo clearly after the war, including the red-white stripes at the stern:
I am thinking all the camo patterns for the Unryu class we see in books or on box-art are maybe based on this one photo?
But Amagi certainly did have camouflage on her flight deck in march '45, as is clearly visible on the front part of her flight deck in this photo: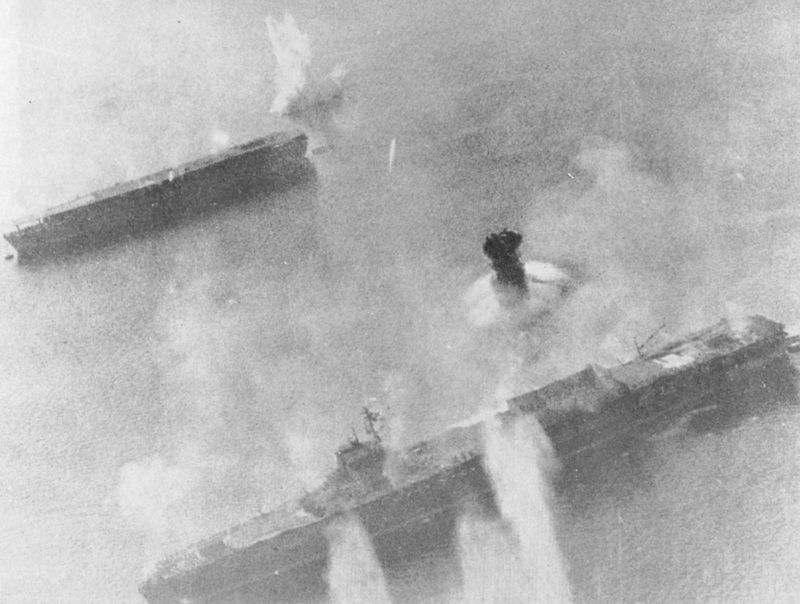 So I would like to do her with the camo showing, but very faint. It is very hard to se any of it in the 1946 photo's… I don't see the red-white deck markings at all…
To be continued for sure!
Cheers!
Marijn