I'm using Trumpeter's 1944 San Francisco to convert into the New Orleans as she looked after her final refit in 1945. With all the "Frisco's" hitting the scene I chose to model the matriarch of the class because despite earning 16 Battle Stars and having 150 ft of her bow blown off by an enemy torpedo, she seems to be somewhat overshadowed by her more famous sister.
Visually the two ships look very similar...but after studying my references there are many details distinguishing the two.
The reference material I'm useing will be a set of "G" series plans from the Floating Drydock, Steve Wiper's New orleans class cruisers book and the CA-32 NavSource webpage...also, if I fold the plans to the section I need, I can scan them with my printer and reduce the sections from 1/192 to 1/350.
...any and all help from others will be greatly appreciated!!!
I started with the Hull/deck modifications...first the hull went under the saw by removeing the molded on prop guards...then stern 40mm tubs needed to go as the kit tubs are wrong for New Orleans...then the stern 20mm shields needed to be removed as well.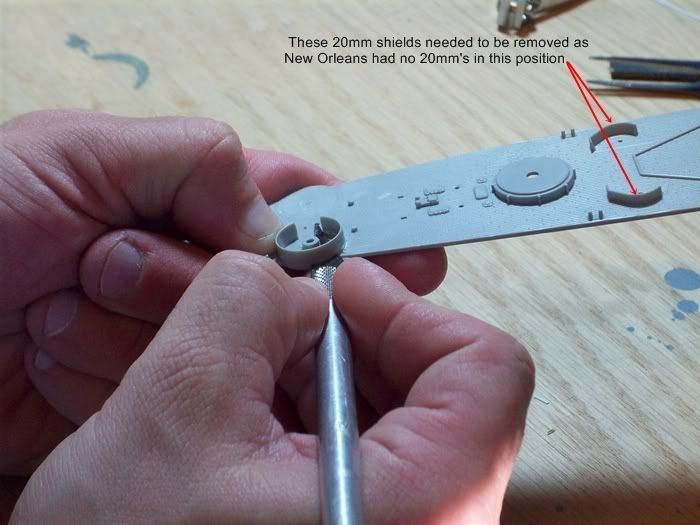 Next came removing some of the molded on deck details like the bow 20mm shields...anchor chain...hatches (to be replaced with PE)...bitts...and the Hawsepipe openings were hollowed out.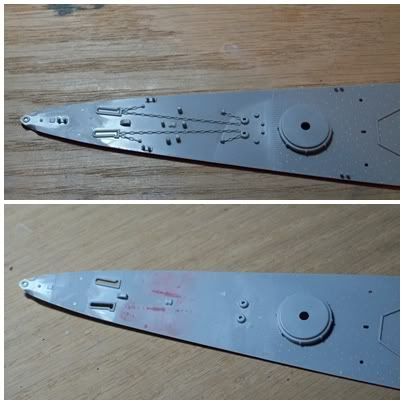 Removing the molded on bitts which were a litle to small
Dave