SumGui wrote:
On the PC(R), I'd go with the SeaRAM in the CIWS position, and the fantail (FlexTail) one of three items:
1 - platform for local UAVs (such as Fire Scout) or even a light attack helo (AH-6) which can lillipad back and forth from the ESB when needed.
2 - USVs with hadling equipment
3 - Bolt-on weapons, such as additional ASMs when needed.
...So, naturally in this vision the LCS as a UAV/UUV role seems redundant.

I agree with the exception of the rotor aircraft. I do not believe a PC type vessel would have any room for aviation fuel. Carrying enough fuel for itself and its boats is hard enough much less for something as hungry (and hungry for a
different
kind of fuel) as rotory aircraft. Rotary aviation facilities (even simply landing) add so much more burden to a boat/craft/ship that I do not think it's worth it for a PC type ship. I would suggest that anything in the area of the PC(R) that a Cobra would be needed for could be attacked by the 76mm gun. Rotary aircraft are far better left aboard either the AFSB or LCS/FF. If that support is needed, then they could be launched from the AFSB or LCS/FF and report on station pretty quickly.
Small fixed wing UAVs such as ScanEagle and Puma, on the other hand, are very valuable and would be greatly used aboard the PC(R) for over the horizon (OTH) situational awareness, monitoring debarked personnel, scouting out ships that will need to be boarded and vetted, etc.
Puma
Attachment:
Attachment:
The great thing about Puma is that it is very transportable. Puma-in-a-box!
Attachment:
Attachment:
ScanEagle
Attachment:
Attachment:
SumGui wrote:
As the PC(R)s will probably operate in groups, they can either be diverse in what this fitting is or concentrate on one appropriate for the area and mission. I think the possibility of being able to change the FlexTail at the ESB is pretty high.
I disagree on a number of points.
-During peace-time (the vast, vast majority of the time) they would likely be independent steamers doing their independent jobs. They would be snatched up by the theater commanders and sent to replace DDGs in "presence" operations. By operating in groups, you take those 2-3 ships that can cover 2-3 different areas and make them cover only 1 area. Plus, a number of these rolling around together would pose an extremely dangerous group operating in pretty sensitive areas. It's like if a group of 3 PRC Houbi-class PGs started operating around our ships in the ECS and SCS. I would strongly suggest operating in groups would be a no-go.
-I am working on arranging the modular areas, or "FlexTail" as you put it, to be very simple. The amidships would be a plate that the Mk141 launchers would be affixed to, and the stern where the boat ramp is would be a slot where the ramp could be removed and replaced with something else (ASW/MCM). In place of the Mk141 launcher plate (ASuW fit) would be a small deck house with a small sonar operation suite and perhaps a pair of Mk32 SVTT with Mk46/54 torpedoes (ASW fit). I am still working on the additional stern features for ASW and MCM. While an ESB may have other FlexDecks stored on board, I believe swapping them would be a real chore if not impossible especially the ASuW deck. First the launcher deck would have to be put into position, and then the missiles racked up. Re-arming the ASCMs while underway would be nearly impossible. Harpoons are reloaded individually by crane.
Attachment:
Attachment:
I believe the Flex components would have to be craned in a similar fashion which would require a LOT of stability between the two ships. Both vessels would have to be dead in the water, and none of that is a quick turn-around in even the best environments. I would suggest that flex swaps at sea would not be feasible.
I am however writing a CONOP for this group of ships. Like I have touched on in other threads, this grouping of ships and capabilities I call a Regional Influence Squadron. They would be based somewhere, perhaps Guam, and then pick up and move where we already have an established port and operate out of there for perhaps 6-9 months. If roving operations are called for, the AFSB could move with a few PC(R)s with it in one area and the LCS/FF with a few PC(R)s in another influencing the f*uck out of the region.
SumGui wrote:
On to the Mk VI: (Built near me...) In a well deck (USS Nassau):
Not all well decks are created the same. This creates a problem that will have to be addressed. An LHA can clearly fit one length width and height.
SumGui wrote:
Estimated well deck capacities: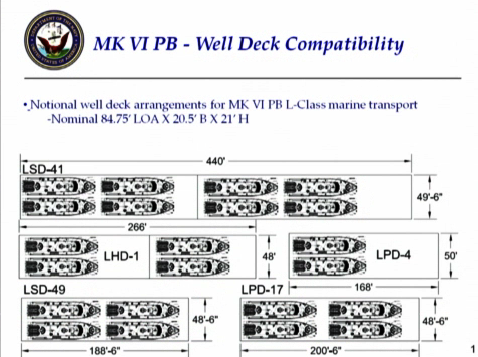 Source:
http://cimsec.org/an-influence-squadron ... making/858
I know of one ship that was supposed to embark a Mk6 force, and there were severe problems. I do not know all of the conditions, but I do know it was a pretty big deal, almost a deal breaker. Proofing LSDs and LPD-17s is yet to be seen.
SumGui wrote:
As far as ASB, I was more envisioning the T-ESB (formally MLP, formally AFSB, formally....). Manned helo aviation support comes from there, as well as heavy UAV...For a bit, I was thinking an LSD slated for decom would be a good fit, however it seems the Whidbey's are slated to go on for some time.
I agree. While I have not been aboard any of the ESBs as of now, I don't like the idea of using them as an operating base unless they are armed up a LOT better, ie an LSD self defense system. Otherwise I would pull one of the Whidbey Island LSDs and reconfigure it to specifically support the Mk6, RCBs, RABs, and tender facilities for PC(R)s. The Marine berthing would be reallocated to the embarked CRF crews with excess berthing converted into mission planning spaces. This may be a one-off ship with the specialized spaces and facilities, but overall maintenance would still fall right in line with the rest of the Whidbey Island-class.
Back to the UAVs, like you suggested, the AFSB (and I include LCS/FF) would be the launching point for the larger UAVs. My choice is the Shadow. The Shadow would provide long range OTH surveillance and situational awareness without the high cost of helos that could then be beamed out to the PC(R)s. It's also reasonable to recover. It could be recovered in a method similar to how the Pioneers were recovered on the battleships, just with less risk of damaging the craft.
Attachment:
RQ7B Shadow200_krblog.jpg [ 24.64 KiB | Viewed 3151 times ]
Attachment: