navydavesof wrote:
One good idea is to go with the FFG-ed Bertholf Cutter. It's American, and we're already building them. Sure it's limited to 28knots, but rarely is it every necessary to, especially with how the Perry FFs have been used for the last 15 years, exceed 38knots.
The NSC could be a basis, and is more likely to be built as it is a US design, but I feel it needs to be lengthened 40 or 50' to accommodate weapons and systems. This would make the hull very close to the Perry class in length.
The Patrol Frigate 4921 concept lost the fantail boat handling for Harpoon and SVTT. I would place the SVTT amidships, just ahead of the hangar so the torpedo magazine serves either the helos or the SVTT, and I'd place NSM amidships as well. Some of the 'new length' would be here. Also, consideration should be given to adding a second Gas Turbine, making two complete units for engineering DC purposes (and to acknowledge the fact the everything seem to be taking more and more power to run). Yes, lengthening and adding a second turbine would increase speed, but that is not my primary driver for adding them.
I'd add a CIWS position elevated forward of the bridge (similar to DDG 51s) and 32 or 48 cells of Mk 41 ahead of it, with a larger gun (probably Mk 45 mod 4) replacing the 57mm. This is where the lion's share of the extra length would be.
The helo hangars would need to be slightly enlarged to operate two SH-60 size platforms, even though she should normally only operate one. Smaller caliber guns (30-35mm) on the forward edges of the hangar roof.
Why the second hangar, more cells, and retention of boat handling capability? Each one allows differing load-outs as the mission requires - another SH-60 if needed, or UAVs+the SH-60, boat operations still easily sustainable in a blockade/inspection situation, and the VLS cells can be loaded any of a number of ways - more ESSM (I'd normally have 8 cells - 32 ESSM - dedicated), our new Anti-ship missile will be VLS, she may need VLASROC for convoy escort, or weapons to contribute to the task group if that applies, etc.
Each one of these is an expansion of an existing capability, so should not significantly drive cost (the engineering behind the lengthening would do that...as well as the military systems). You simply don't load and man the extra capabilities when they are not needed.
This still adds VLS (ESSM), SVTT, SLQ-32 (or newer equivalent), and close in guns (30-35mm) to the NSC crew - so we'd have to expect a 150+ complement. HH-65 for SH-60 and 57mm for Mk 45 should be almost a wash on crew numbers.
good read:
http://www.usni.org/magazines/proceedin ... ol-frigate
Comparison of Legend class, LCS-2, Perry Class and Murasame class all in 1/1250 scale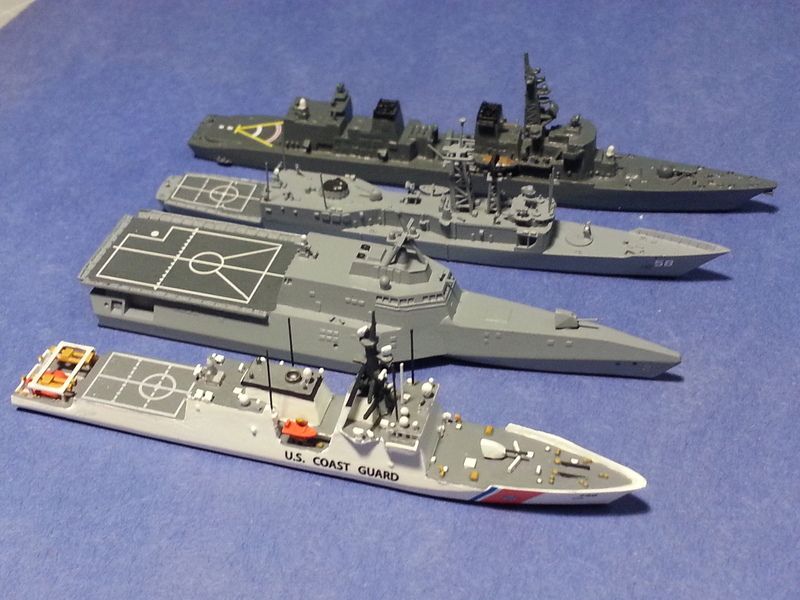 Note lengths
So, of course this post is about a Frigate, not an LCS, but since they have decided the LCS is going to be a Frigate, that's not really off-topic anymore, right?
As my old Philosophy Professor used to say - "If you are not confused, you are missing the point!"