Don,
I don't know which image you are referring to, but I will address comments made about ATLANTA class units in general about their unique hull shape and at sea wear and tear, over the last week.
I have been away from home on a short trip to NARA this last week. While traveling I can't post images unless I can copy the links from previous posts on Modelwarships. Since I got back I have been too busy to address some comments made. First off, I have to clarify my statements I wrote in haste about the images showing "wet" surfaces. I should have said they show surfaces that are or HAVE been wet and now have a salt coating. Anytime a ship is at sea for any length of time, chalking appears from salt residue and the nature of the paint used then.
1). The ATLANTA class hull shape. Unlike most USN ship designs built during WWII, they have a unique shape. There is a knuckle visible at the bow that then blends into the armor belt near the waterline isn't common on USN warships. The bow on image below shows this clearly. This combination creates a shadow effect in many photos taken of this class and appearance of a demarcation "line".
Many of the photos that are available of these units were taken as they were completed or shortly afterwards when their paint was still recently applied and little wear is seen yet. But the group of images below shows the unique knuckle and armor belt combination impact on the appearance of the "color" and "shade" of recently applied paint on various units.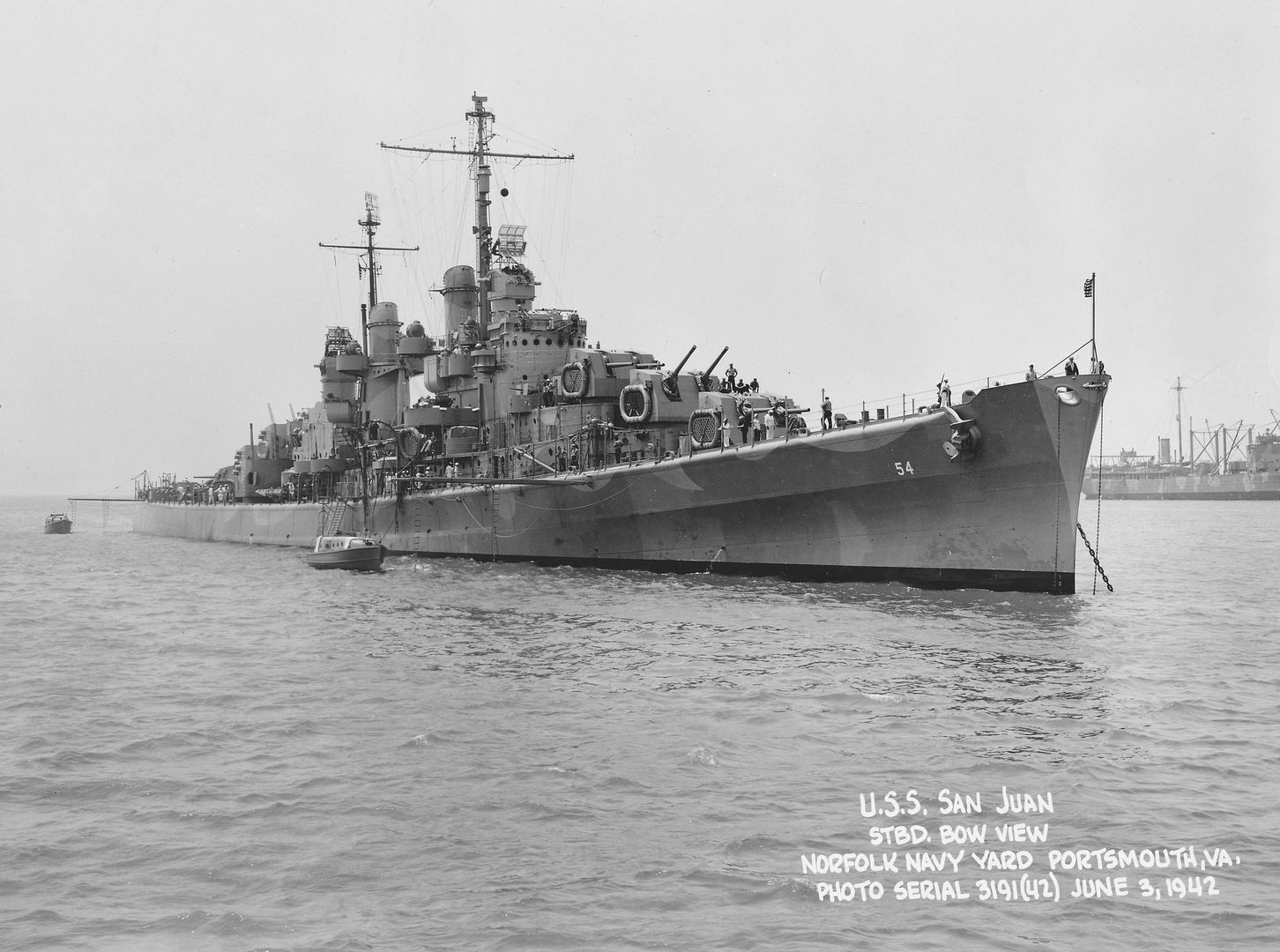 2). Wave action on the hull and wear on the paint applied. MANY photos show the wear and tear to paint applied to the hulls of ALL USN warships that have been at sea for any length of time. I previously posted images of the wear exhibited on USS OAKLAND to her Ms 21 camo scheme. But, there are other image examples. Note in these images the wet areas and dried salt coatings. Also, water run off from the main deck added additional wear in specific locations.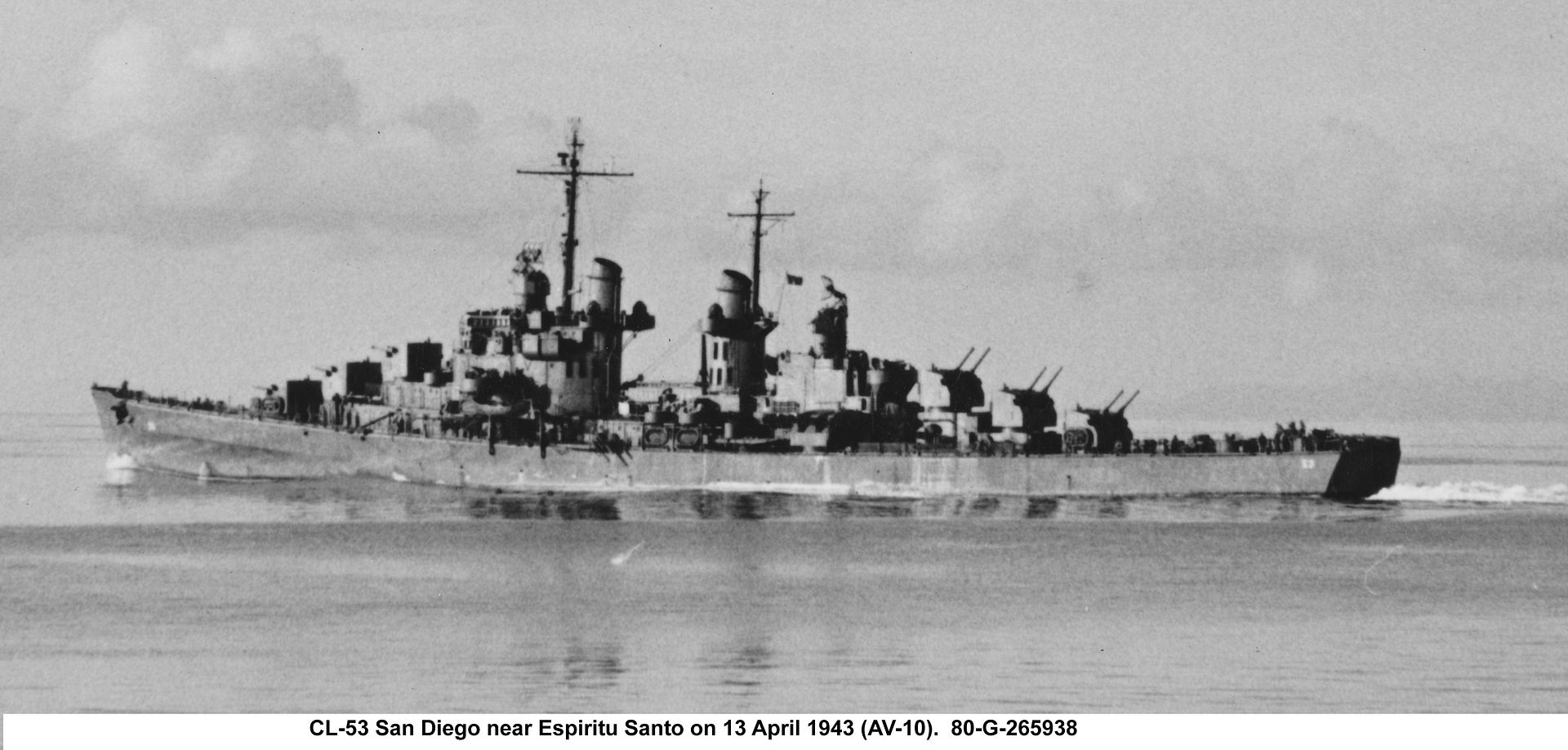 Note in this photo that the Ms 12R(mod) camo on USS SAN JUAN is almost completely washed out by the fading of the 5-N and 5-O on the hull and bright sun.

And water wear on the hull of ships wasn't limited to the ATLANTA class cruisers, here are images of a BROOKLYN class unit with plenty of freeboard.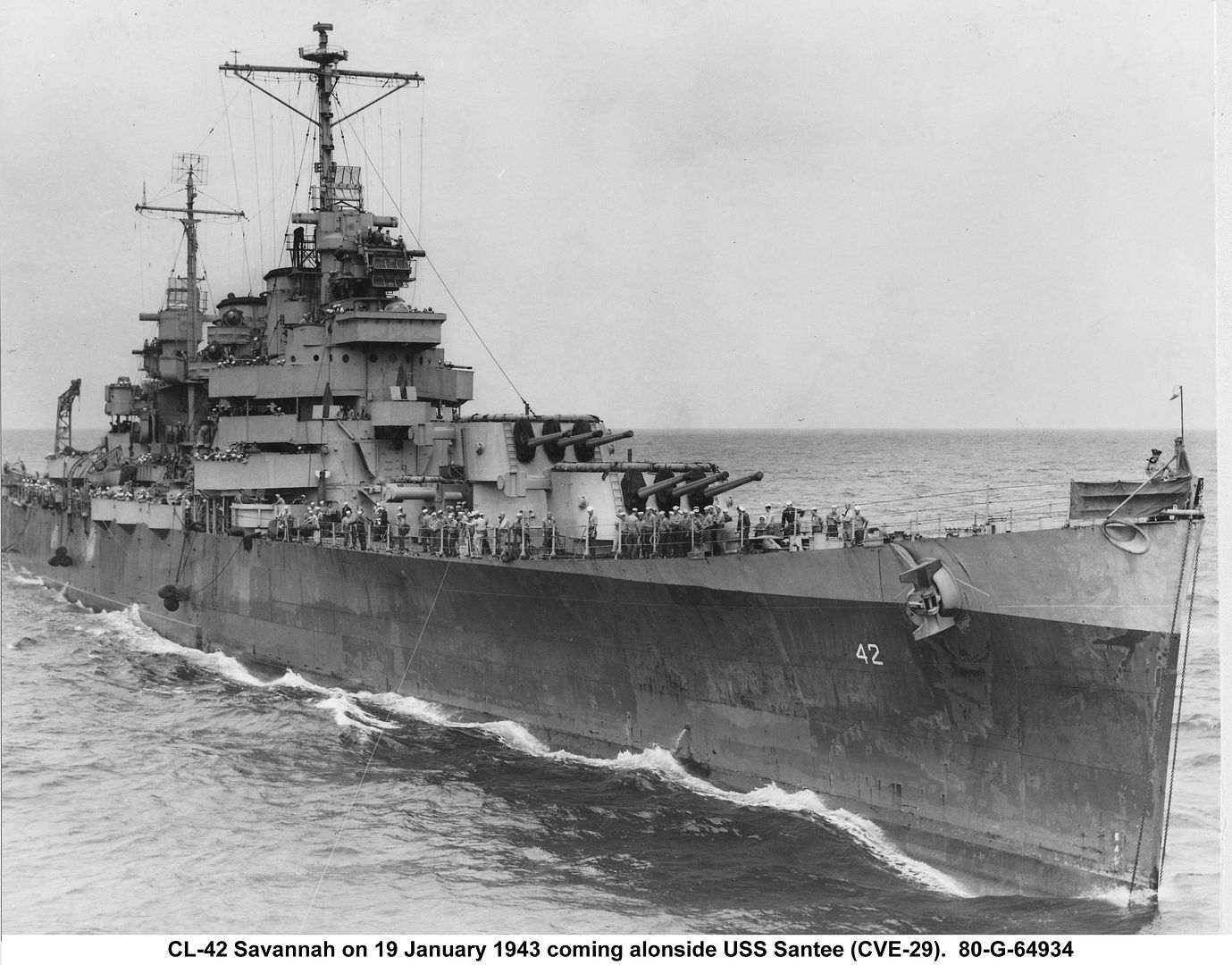 3). How ships were painted. It is rare to find photos of USN ships in the process of painting. But, there were two general methods of painting a ship. One was using spray guns, normally by yard workers or forward area repair facilities. The paint coat looks even and well covered across the whole ship. When a ship was painted by hand, normally by the crew, using the "mix" the paint by the formula using a base of white paint mixed with a tinting paste to get the desired color, there isn't always an even coat. When humans are mixing paint based on how many pints of tint paste needs to be added, sometimes just like painting your house with paint from different cans, there is variation in shade. Also, without benefit of a drydock, a common procedure was to paint the lower part of the hull from boats up so high and then or only to paint the hull above from by "going over the side".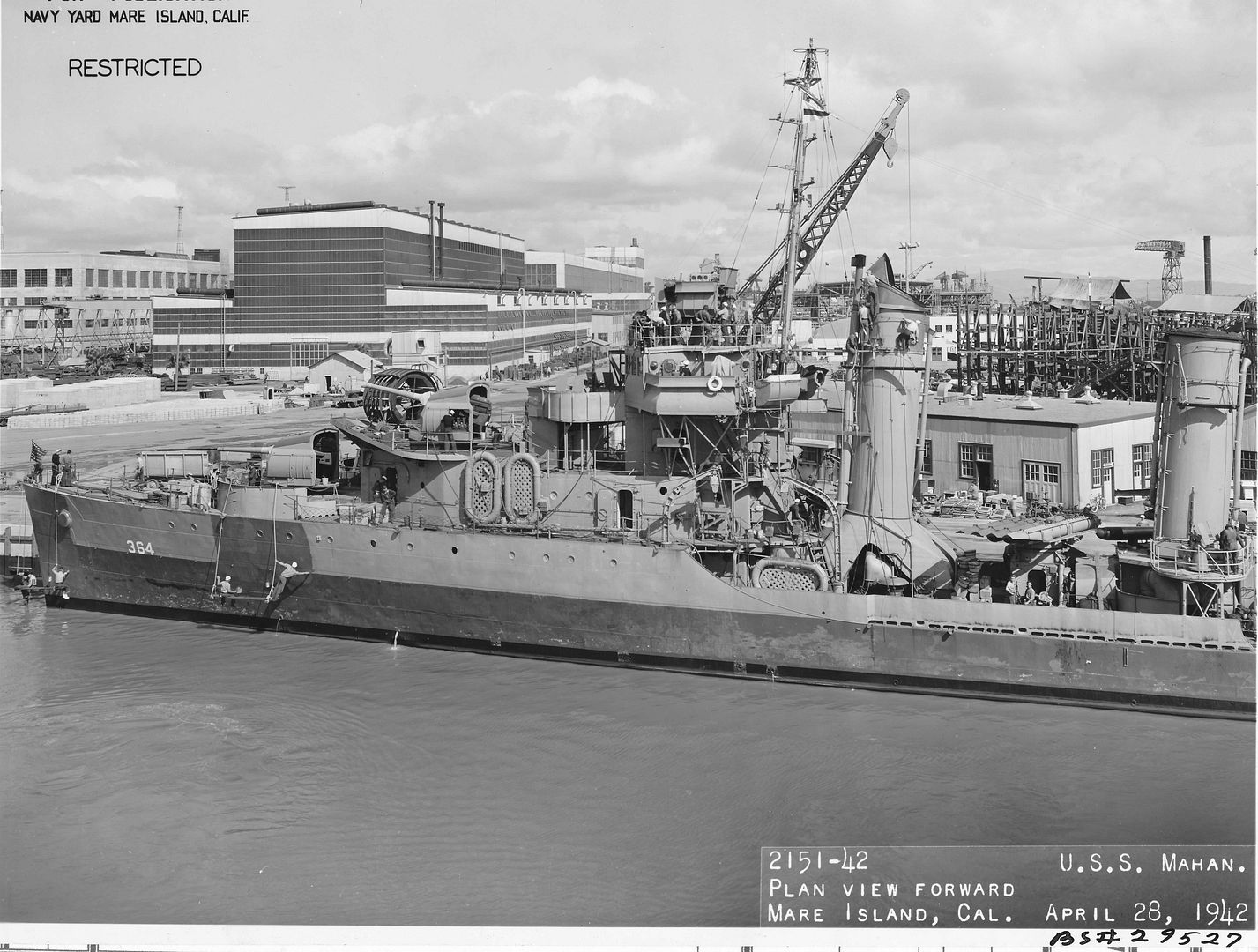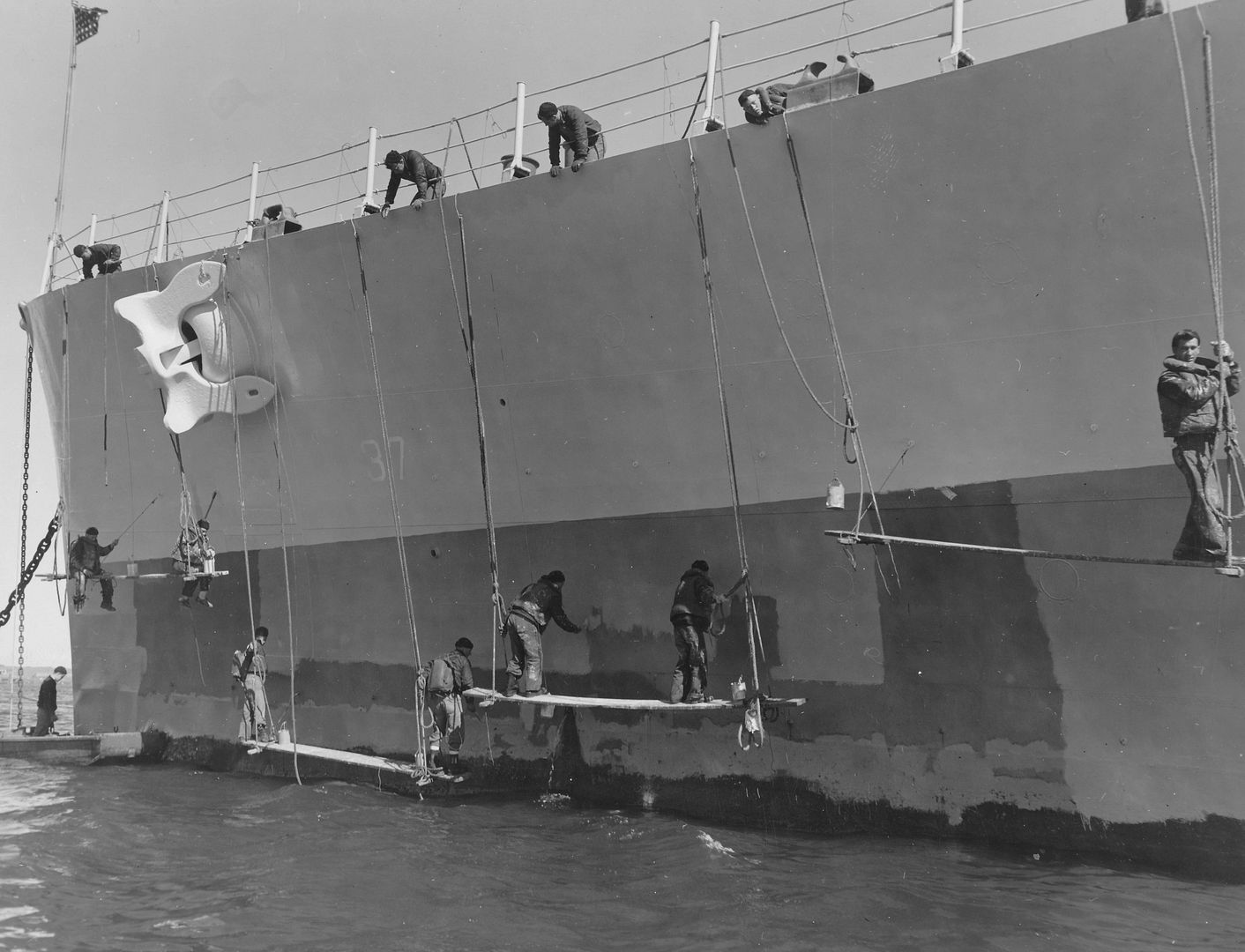 I have no idea of what is going on in most of the very small distant images presented as evidence. The images are way too small and taken at long distances to be reliable photographic evidence. The Ms 12R(mod) patterns painted on USS SAN DIEGO and USS SAN JUAN at times can not be made out at these distances. But, the images of USS JUNEAU taken on 26 October 1942 from an Avenger, was flying only about 500-ft altitude and were relatively close compared to the 4,000-5,000 yards ranges seen in the images taken from USS NORTHAMPTON.