To continue the discussion. This sequence of documents points to a reality of how long it took for directives to become real USN actions, particularly during the peacetime. In my research of USN destroyers I have constantly seen how long it could take for the actions specified in a HQ (say CNO) directive to be implemented. If the directive involved something like a change in authorized armament, the CNO would send out the directive, at some point after that BuShips would send out a directive specifying HOW this was to be done. Normally what happened after that were a series of letters requesting clarification and replied answers. One action to speed things up that I saw happening during the war, was that directives were communicated via phone to specific yards telling them that "hey this is what will be coming in writing, so start doing it now".
In this discussion, the change to USN Camouflage directed in September 1941, didn't see an actual direction for how Ms 12R(mod) was to be applied, wasn't sent out to the Atlantic Fleet at large until November 1941. If you look at enough photos of ships painted in Ms 12R(mod), you see that the instructions were interrupted differently by the various USN yards and builders (or more properly their USN managers).
Actually some yards changed what was considered to be the "desirable" Ms 12R(mod) more than once during the period of November 1941 to August 1942 when the Ms 18/21/22 schemes started to be applied.
As an example, Boston Navy Yard started a massive repainting of ships passing through their yard (BosNY was one of the main yards repairing and modifying destroyers employed in escorting North Atlantic convoys) from the original Ms 12 and a whole series of other experimental camo schemes to this "new" Ms 12R(mod). The scheme applied in December 1941 and January 1942 (at least during those months) was what I started to call the "Jigsaw" patten in my notes. Then to my surprise I found this pattern called the "Jigsaw" pattern in USN documentation! But, very few available photos show this pattern. During late 1941 into the first couple of months in 1942, it wasn't standard practice to taken photos to document camo scheme changes. Which makes this 1 January 1942 dated photo shows USS WILKES (DD-441) and USS PC-471 at Boston Navy Yard (cropped from the background of another ship being built) so interesting. Note that both are painted in the "Jigsaw" pattern.
A couple of other destroyers photographed with this pattern include these.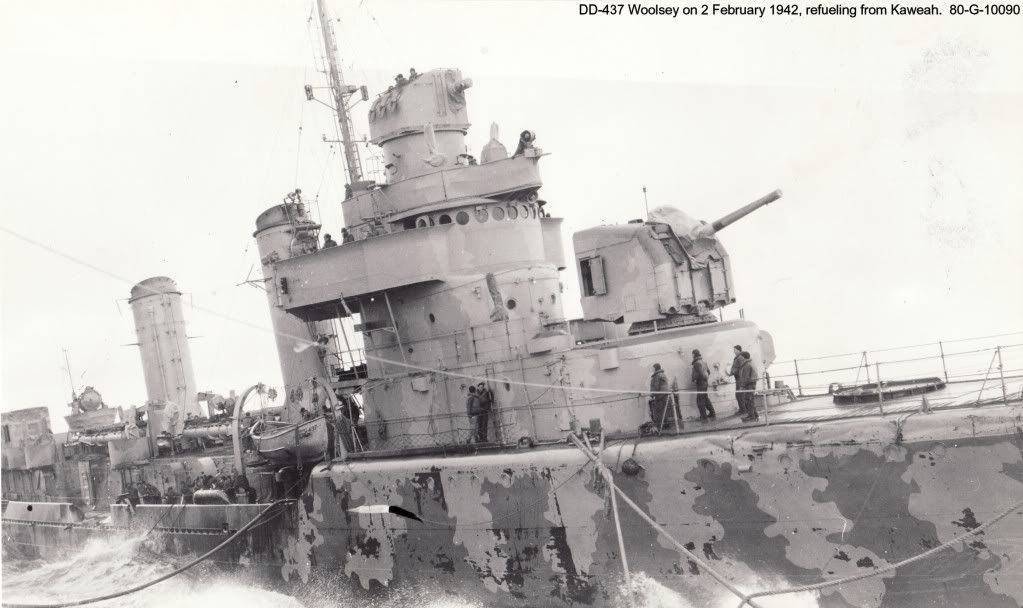 At some point it was decided that this "Jigsaw" pattern wasn't effective and the pattern that Boston Navy Yard was changed. So by at least March 1942, Boston Navy Yard changed their "standard pattern" to look like the images below of USS EDISON (DD-439) and others. The earliest photo I have seen painted at BosNY to this pattern, is of USS KEARNY (DD-432) dated 31 March 1942.
Boston Navy Yard continued to apply Ms 12R(mod) in this same "general" pattern into August 1942. Here is USS COWIE (DD-632) on 5 August 1942, and from what I can tell from photos was the LAST Ms 12R(mod) painted destroyer at BosNY. As you can see, the patterns don't match exactly, but the similarity is there.