Michael,
This isn't to try and convince you that you are wrong, it is for anyone reading this thread so they don't blindly follow your logic. I have explained why your selection of which ship is painted with #27 Haze Gray is not a scientific process. You use a subjective process based on your assumption of how 5-H Haze Gray and #27 Haze Gray look in B&W images.
First off and the key point is that you base your selection of what ships are painted in #27 Neutral Haze Gray largely on selecting B&W photos seen on-line as lo-rez images that are far removed from the original photos. You cherry picked images whose Haze Gray is slightly darker than other images and declare them to be painted in #27 Haze Gray. NO ONE can determine the specific color shade of a ship from a grayscale image, specifically between two shades ... 5-H Haze Gray and #27 Haze Gray ... that have the same range of contrast possible in B&W photos. B&W photos vary a lot based on the negative film type used, what negative size the image was taken on, what camera was used to take the image, what settings were used to take the image, what filters (if any) was used on the camera's optics, what the weather and lighting conditions existed when the photo was taken, what processing was done to develop the negatives, how the print was processed and paper was used, etc. With well over 99% of original prints/negatives we know next to nothing to all these variables. The range of WWII images of Ms 22 ships taken from 1942 to post-WWII, show a WIDE range of contrasts caused by the factors I listed above. The contrast range for 5-H Haze Gray and #27 Haze Gray overlap to a large extent.
In the past I have posted examples and asked you to decided which paint those ships were painted and you never responded.
Even color transparencies taken during WWII have their limitations. Unfortunately, a large number of the available color transparencies are today rather poor quality. Having either faded, shifted colors, or completely lost ALL color.
You point to images of USS MIAMI, USS MISSOURI, and USS ALASKA taken in March 1945. Of these two are B&W images and only one image, USS MIAMI (CL-89), is in color. This is a crop of the scan of the original transparency at NARA that I made.
The above image was taken by a USN photographer onboard USS WEST VIRGINIA (BB-48) that took several photos at the same time frame leading up to the Okinawa Operation and on D-Day, 1 April 1945. Here are a couple of other images made in the same roughly the same two week time period.
USS BULLARD (DD-660) and USS FRANKLIN (CV-13) are seen shortly after they arrived at the Ulithi anchorage just two days before TF 58 departed on 14 March 1945.
This color image of USS RICHARD P. LEARY (DD-664) was taken off Okinawa beach on 1 April 1945.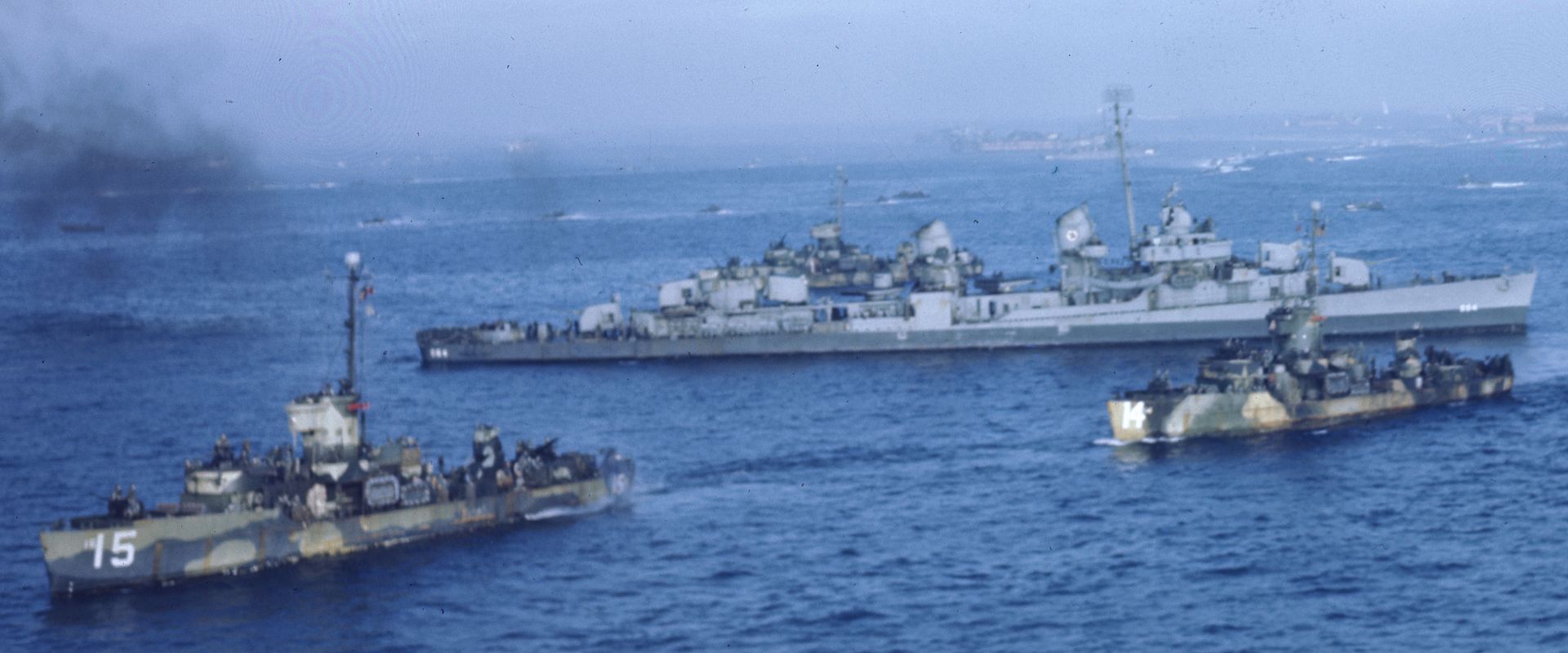 It is unusual to find color AND B&W photos taken of the same ship at the same time/day. But, here are a couple of B&W images of USS RICHARD P. LEARY on 1 April 1945, also taken by a USN photographer on USS WEST VIRGINIA.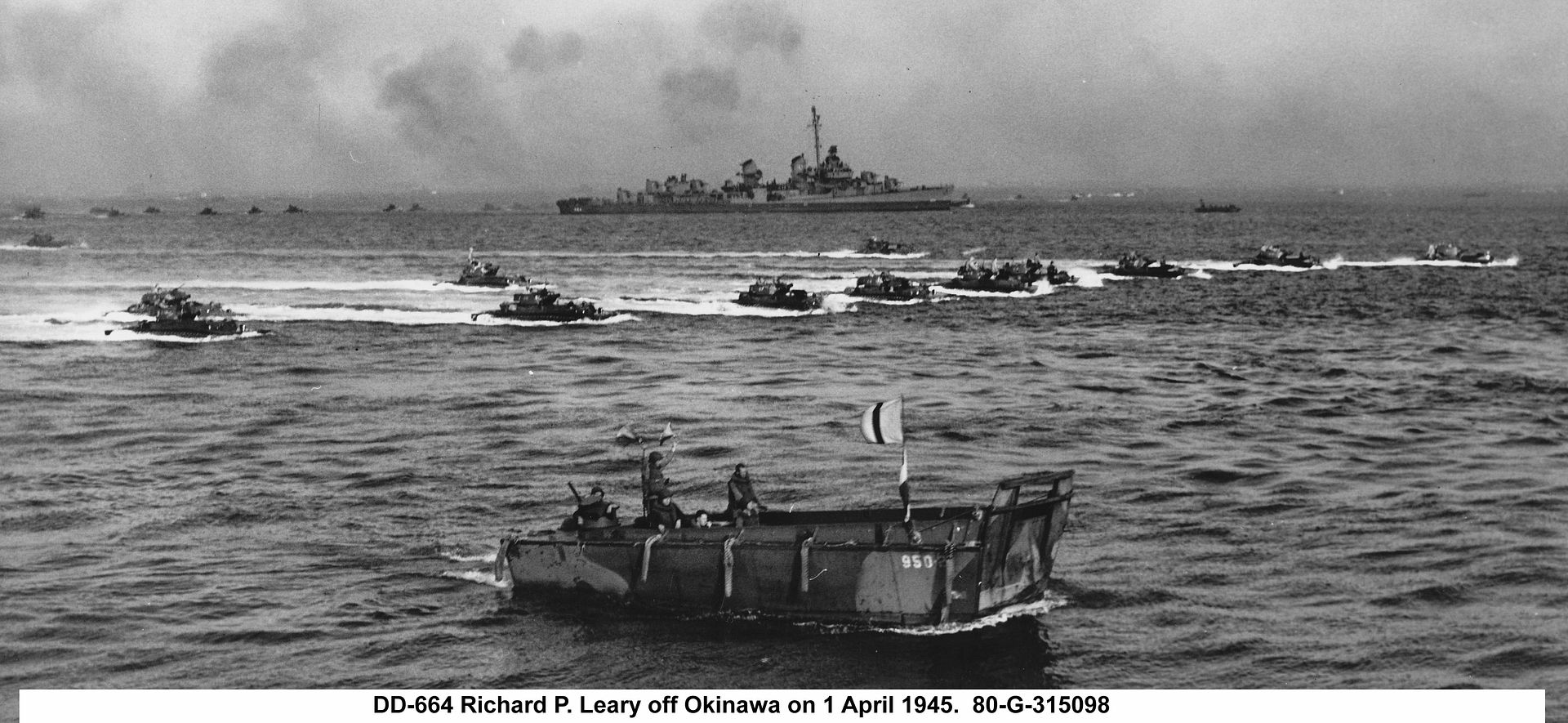 Of the three ships above, USS BULLARD (DD-660) was overhauled and repainted into MS 22 at Beth-SF private yard 19-30 January 1945, when neutral paints weren't available. USS RICHARD P. LEARY (DD-664) was dry-docked and repainted in the Philippines during March 1945 just prior to the Okinawa operations. USS MIAMI (CL-89) was repainted out of dazzle to Ms 22 at some point prior to mid-March 1945. Maybe while her typhoon damage was repaired? There was a rush to repaint USN ships out of dazzle to either Ms 21 or Ms 22 after the Iwo Jima operation.
Which of these ships are painted using Neutral Grays??
As for USS MISSOURI (BB-63), there are some B&W photos of her in March-August 1945. I'm not reposting most of these because they have been discussed before. But, the two US Army Signal Corp photos taken at the surrender are useful to compare side by side. Same camera, same photographer, same subject ... only camera settings are different. As I said above, there is no way to determine if she was painted in Neutral or the Blue-Purple paints. What is known that USS MISSOURI was painted (as was USS ALASKA) painted into Ms 22 before the neutral grays were available ... AND EXISTING SUPPLIES HAVE BEEN USED UP. It is possible that someone decided to have the ships repainted with neutrals once in the war zone, but given that NO MENTION is made that she was repainted (touched up for sure) and no period of drydocking to make this large job easier than having the crew go over the ship with paintbrushes.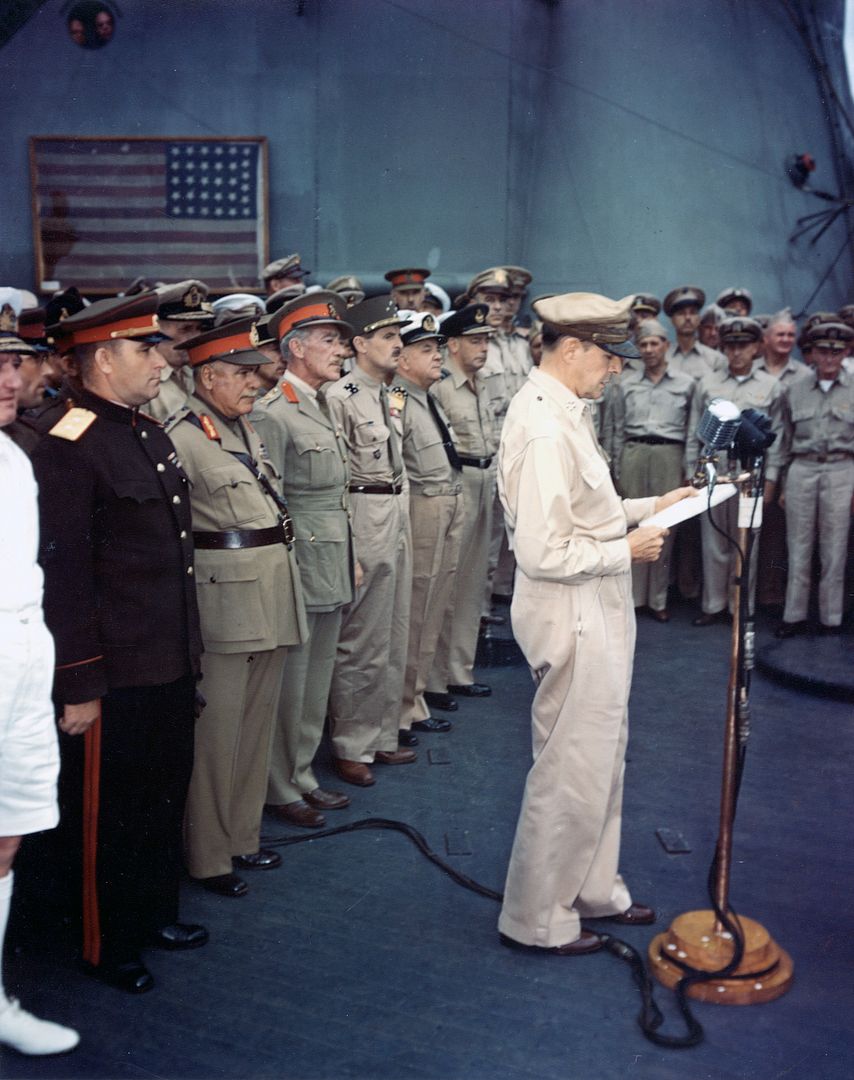 Below are a series of destroyer images for units repainted to Ms 22 camo scheme at various time frames during 1945 when the neutral paints were being introduced while "existing" supplies of the blue-purple paints were still available. I selected these images out of over 4,000 images of FLETCHER class destroyers to illustrate the wide range of contrasts seen with Haze Gray.
USS SIGSBEE (DD-502) from her at Maston Nav. private yard on 30 December 1944 (when neutral grays were NOT available) to 14 April 1945 after she was hit by kamikazes.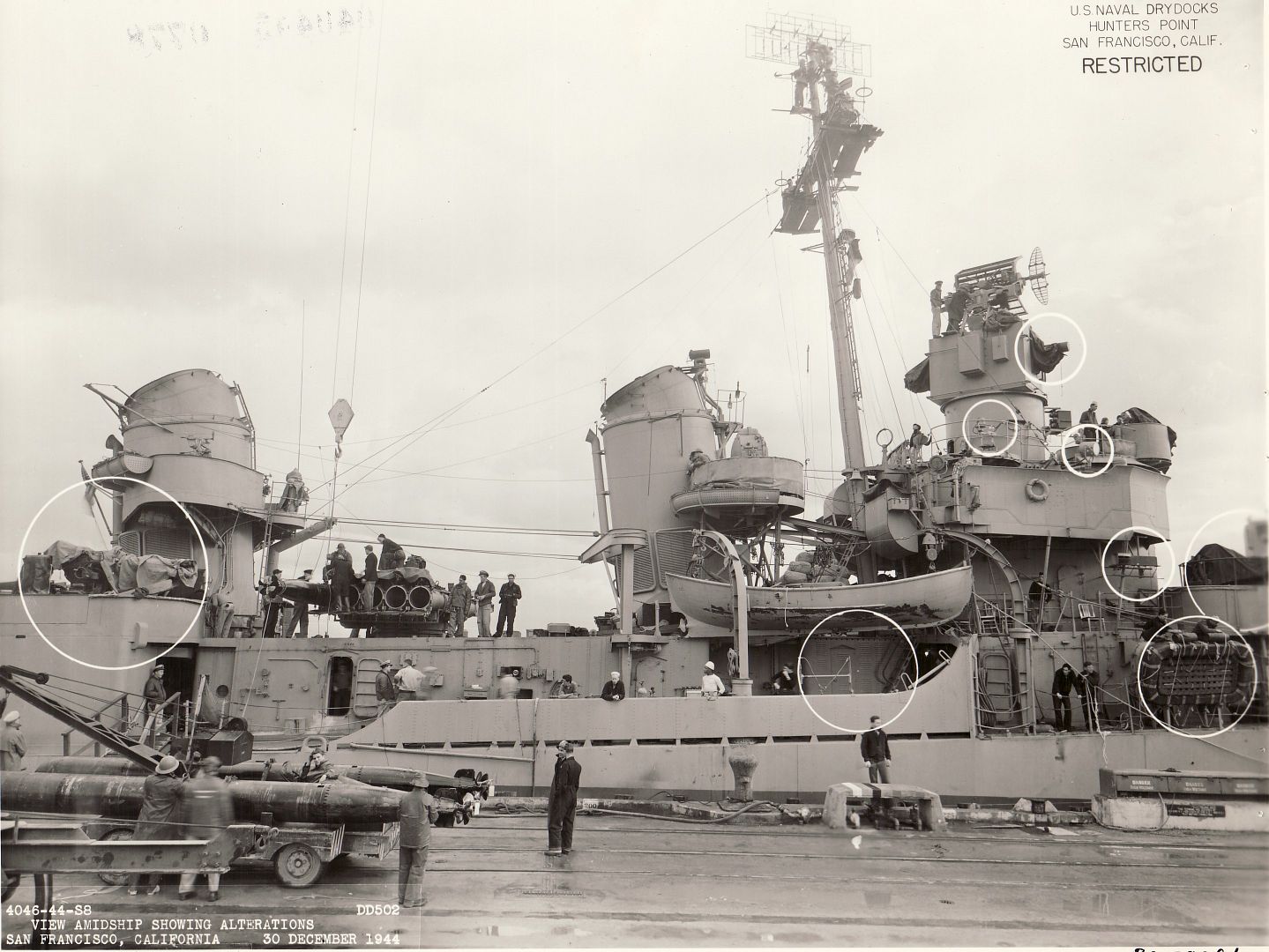 USS MORRISON (DD-560) on 1 February 1945 at HPNY at the end of her overhaul and repainting to Ms 22.
USS WADLEIGH (DD-689) on 10 April 1945 at MINY after she was overhauled/repaired and repainted to Ms 22.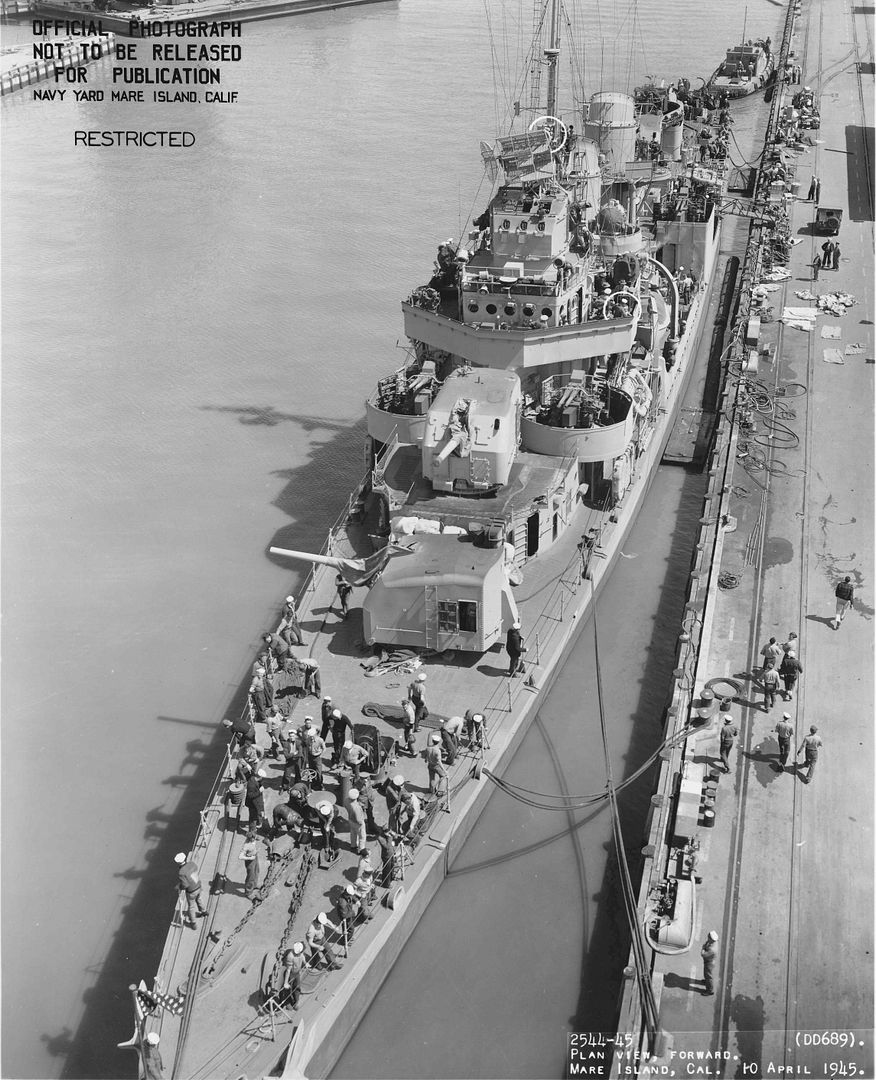 USS CAPERTON (DD-650) and USS COGSWELL (DD-651) in May 1945. These two destroyers were overhauled and repainted in Ms 22 from 16 February to 3 April 1945, at Terminal Island D.D. (became Long Beach NSY) for USS COGSWELL and from Todd-San Pedro for USS CAPERTON.
USS GATLING (DD-671) at MINY in June 1945 when she was overhauled, upgraded to the Anti-Kamikaze Mod, and repainted into Ms 22 camo.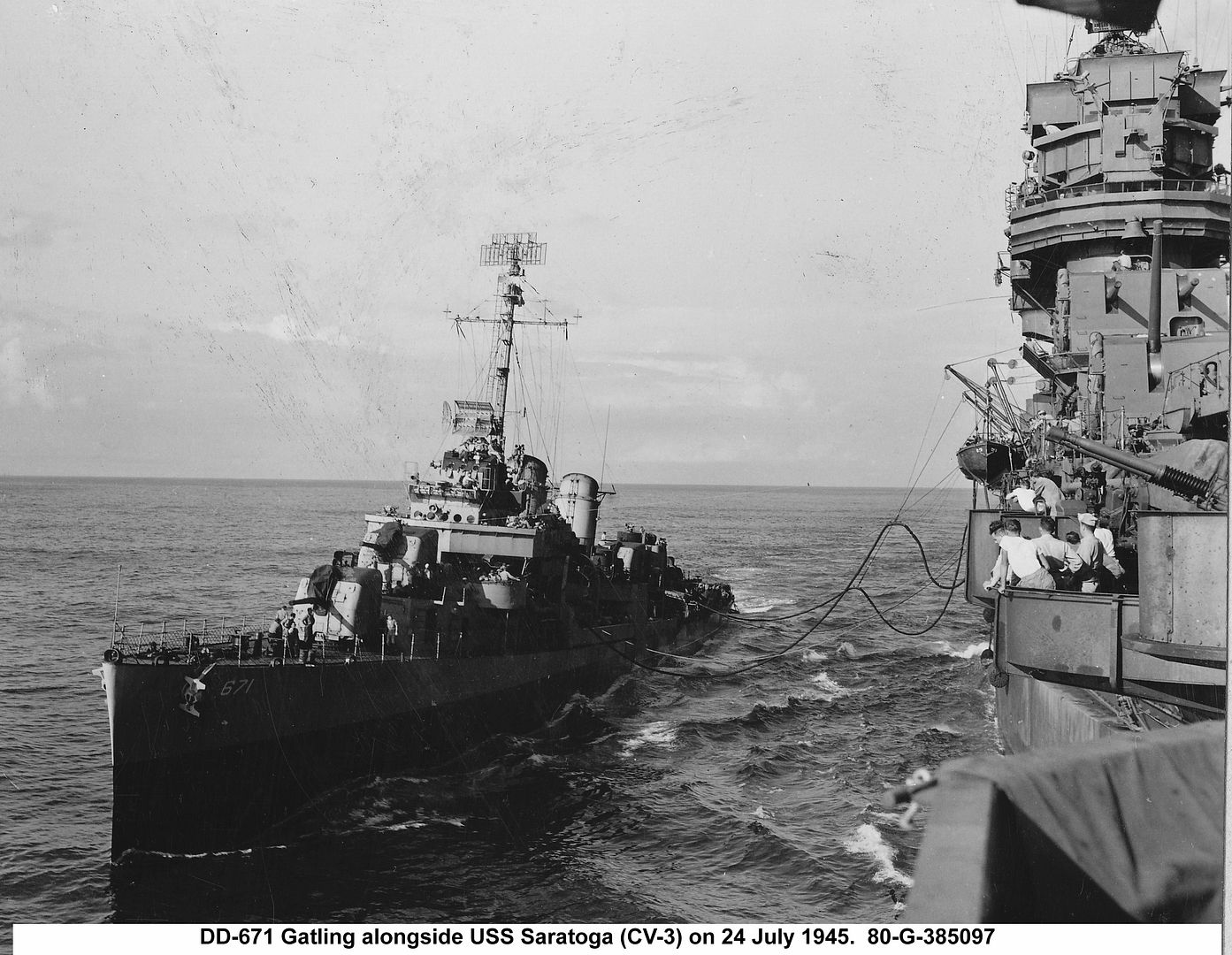 USS MILLER (DD-535) at MINY on 24 August 1945 after her overhaul and repainting into Ms 22.
USS STEPHEN POTTER (DD-538) at MINY in August 1945.
In another case of having a color image of a ship and a B&W image at "about" the same time frame, here is USS COTTEN (DD-669).
The color image is thanks to NHHC and was taken as she was escorting a troop ship convoy to the war zone shortly before the war ended, likely in late July or early August. This image, one of a series, was taken by an officer on one of the troopships with his personal 35-mm camera. The B&W image was taken on 14 June 1945 after completing her overhaul and upgrade at HPNY.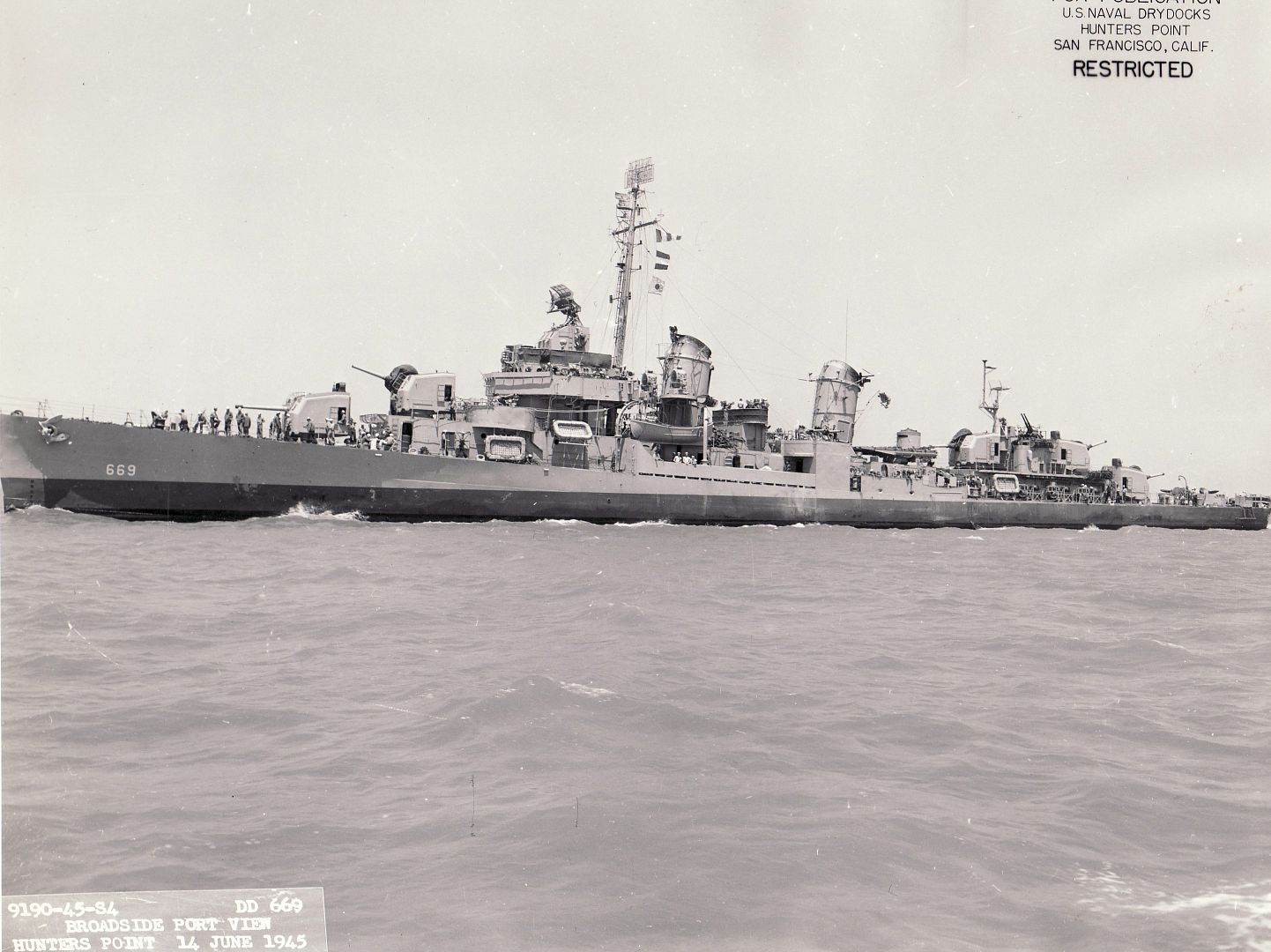 Compare these images to each other and from Mr Potter's criteria, decide which images show 5-H Haze Gray or #27 Haze Gray ... even if two photos taken on the same day show different contrasts.
Let me know, because I sure can't tell when the "transition" from Blue-Purple paints to Neutral grays happened.