Everyone: A quick note. This thread began under the 1/200 Scale Group Build 2015-2017; so all my build before this point can be found there. Mr. Quinn was kind to transfer my last stage of my model to the WiP header since the previous thread was dead..Randy 9/18....
Ok all, time for an update! Summer hit me like everyone else as well as work, but here's my progress to date. The following shots show my model mounted in the sea base. Prior to this I had to wrap up any details I needed to add on the center of the ship since I would be reach way over the water base after mounting. I added railing to the second level(O2) and finished up various other things. I also began work on the scout aircraft and all is left is some decals and final painting. The Arizona during the 12/41 time frame had only two aircraft(OS2U-3), having three(OS2U-1) in May 41 according to William Larkins' book
Battleship and Cruiser Aircraft of the United States Navy 1910-1949
. The sea base is not finished and is still a bit too fuzzy on the port side. The ship is depicted in a turn to port which will be recovering an aircraft approaching a sled. What remains is final touches on the crane/catapults, decaling & painting the aircraft, installing the main deck railing, running the antenna rigging, and installing the finished boat cranes(they would be in the way of the rigging phase)..
Attachments:
DSCN0960 - Copy.JPG [ 198.11 KiB | Viewed 1544 times ]
DSCN0961 - Copy.JPG [ 184.01 KiB | Viewed 1544 times ]
DSCN0962 - Copy.JPG [ 198.13 KiB | Viewed 1544 times ]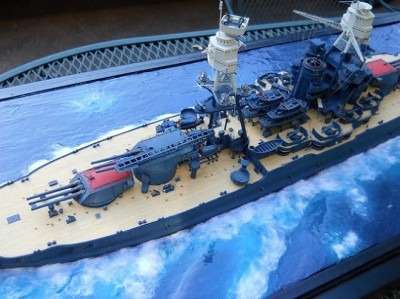 DSCN0963 - Copy.JPG [ 197.65 KiB | Viewed 1544 times ]
DSCN0964 - Copy.JPG [ 196.23 KiB | Viewed 1544 times ]
DSCN0965 - Copy.JPG [ 192.03 KiB | Viewed 1544 times ]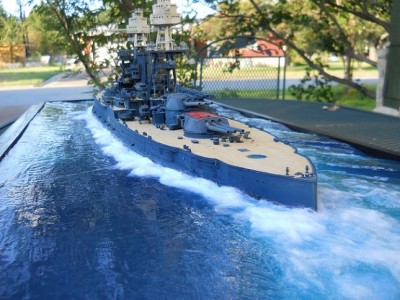 DSCN0966 - Copy.JPG [ 209.09 KiB | Viewed 1544 times ]
DSCN0967 - Copy.JPG [ 197.18 KiB | Viewed 1544 times ]
DSCN0971 - Copy.JPG [ 189.75 KiB | Viewed 1544 times ]
DSCN0972 - Copy.JPG [ 178.2 KiB | Viewed 1544 times ]