Beautiful builds, all of you. Nice to see that so many of you have reached the painting and weathering stages. Thanks to all who have provided such detailed answers to questions I've posted about your builds.
For me, a step-backward kind of week - correcting some earlier assembly and committing to a higher level of detail than initially planned.
1) Pulled apart the Regulus missile because one of the wings was mounted slightly off-line the other. Now re-glued and hopefully set for priming.
2) Final sanding on the hull. Still not satisfied with how I've addressed the mold line on the bow. Putty in the mounting holes of the prop guards, since I won't be using them in this build.
3) Stripped the Regulus launcher parts of primer. Too heavy a coating from the aerosal can, so I think I'll prime and paint with the airbrush alone. Did not like the coverage the primer gave to the PE on these parts.
4) Began work on the sail. That's turned into a story unto itself. In the course of reaching out to several sub-modelers on this forum with nice builds documented in the Gallery, Ken Hart and I have struck up a correspondence. You can recall his work here:
http://www.modelshipgallery.com/gallery/users/Ken-Hart/user-index.html
. Ken has been encouraging me to push myself on this build and so my work this week has been to set the stage for several upgrades he recommends. Given he's practically a neighbor - only 2.5 hours away in Syracuse - and knows US subs from direct experience, I am trying to do right by a fellow Upstate NY modeler. As a result: additional detailing going on the sail:
1) Replace molded grab-handles with PE from Yankee Modelworks. If that doesn't look right (there will be mounts on either side that will need to be puttied flush), then I might just drill out holes for each rung. 2) Add a faring at the top of the sail that is not part of the Waveline kit. 3) Evaluate photos to see whether the molded-in-place doors on the kit existed on the actual ship and if so, whether they were on both sides of the sail - putty and sand as appropriate. 4) Sand off molded-on grab-rails and replace with PE, and 6) Will deepen cockpit, mount a wood-deck within, and replace molded-on plexiglass windshield with transparent sprue sanded to shape.
4) Per Ken's encouragement, have already drilled out the deadlights and will reframe with plastic rod and then coat with Krystal Klear. First steps of that progress here:
Ken has also noted that the guiderails for the Regulus launcher were cut into the hull, not mounted on top of the hull, so I've begun to cut those down, using a needle chucked in a pin vise and then cleaning them out with an X-Acto blade. One raised molding left to remove (on the right side) so you can see the comparison: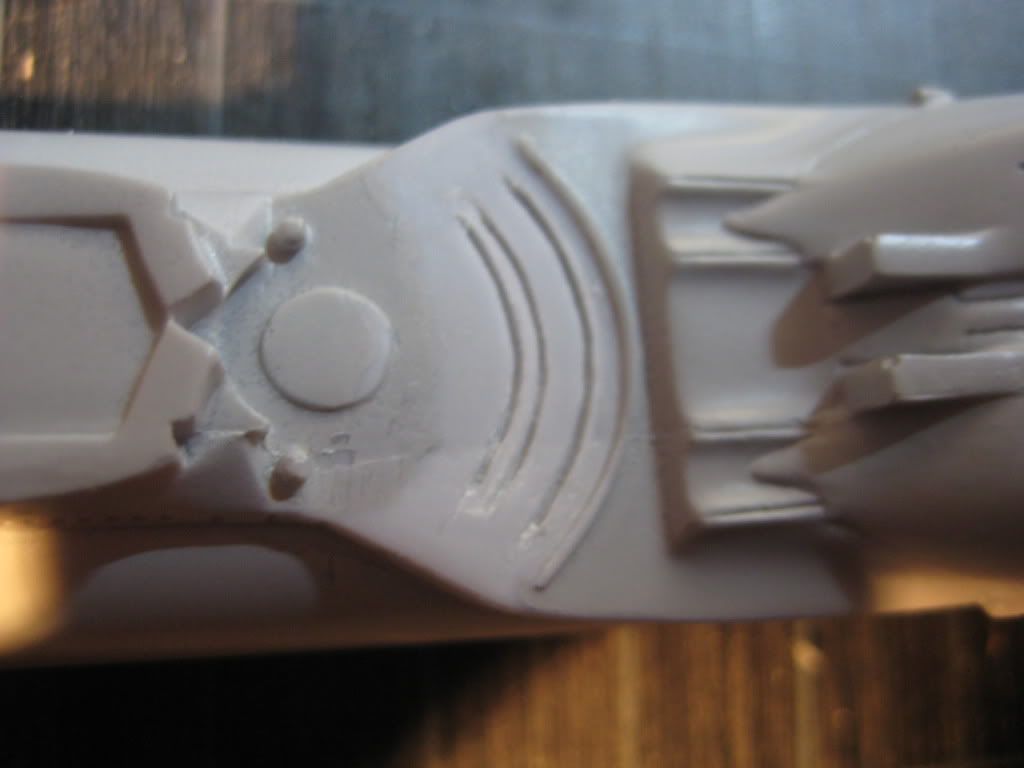 So, some progress, but nothing that offers assurances that the this build will meet the deadline!