========= edit by Cadman ============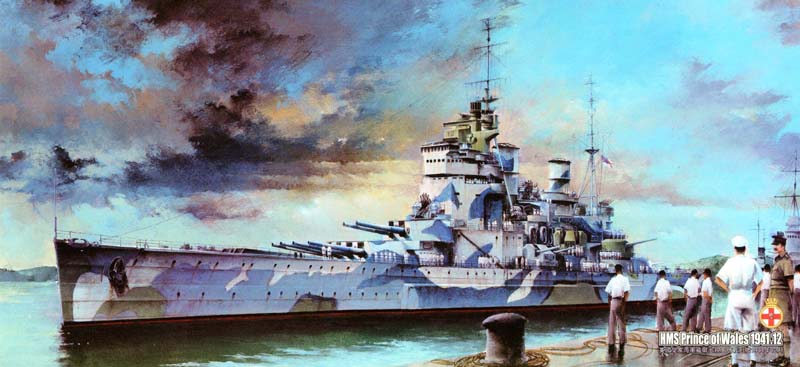 An in-box review of the
Flyhawk 1/700 HMS Prince of Wales 1941.12 by Martin J Quinn
has been posted.
================== end edit ======================
The following is an out-of-the Box Review of Flyhawk's 1/700 HMS Prince of Wales (December 1941 fit) basic kit (FH 1117)
Flyhawk continues to raise the high standards set by its previous releases, with its new 1/700 kit of HMS Prince of Wales (PoW) in her 1941 (as lost) fit. This is a review of the basic kit (FH 1117), which consists of the injection-molded plastic kit, a small decal sheet, and a detailed instruction sheet that should be studied carefully before construction commences. Flyhawk also produces a deluxe version (FH 1117S) which consists of the plastic kit, the decal sheet, three photoetch frets, brass gun barrels for the primary and secondary armaments, and brass deck ventilators.
The kit offers both waterline and full-hull options, and consists of well over 200 plastic parts (perhaps even 300—I lost count after 100) molded in medium-grey plastic—including many parts produced using slide mold technology. The small decal sheet includes roundels for the seaplane and ship's ensigns. If the builder wants to add handrails, (s)he will have to purchase Flyhawk's dedicated PE fret which comes with the deluxe kit, or use PE handrails from elsewhere.
The kit is dimensionally spot-on in overall length and beam, based on figures published in Alan Raven and John Roberts, British Battleships of World War Two (p. 284).
The hull is very nicely done, and consists of three pieces—the upper hull, lower hull, and a baseplate for those building a waterline version. The tip of the baseplate was bent, even though it is molded with a wrap-around protective sprue. It was easily straightened, however, with some manual manipulation. Flyhawk captured the slight hull knuckle at the deck-line from the breakwater on forward (though it is perhaps a bit understated), there are open fairleads in a variety of sizes and shapes, and the portholes are tiny and appear to be in-scale with eyebrows that can only be seen with a magnifying glass. The hull plate strakes and armor belt look great, and the hawsepipe lips on the hull and focsle deck are nicely done. The deck planking is very restrained.
There is a profusion of deck details molded in place and separately, including ventilators and cable reels. I compared the layout of the ventilators and cable reels with photographs of Prince of Wales on the Imperial War Museum website and they match up very well. (Please note that the layout of these items differed on each ship of this class, so you cannot use the as-fitted plans of HMS King George V in John Roberts, British Warships of the Second World War, and the line drawings of the same ship in Raven and Roberts, British Battleships of World War Two, to determine the proper location of these items on PoW.) The smaller cable reels are molded integral to the deck, while the larger reels are molded as separate items. I would have preferred that the smaller cable reels be molded separately as well, as I believe this is the only way to accurately portray these parts. But these parts are so small that it probably does not make much of a difference.
The hull bottom has nicely molded bilge keels, but lacks any other detail. Photos of PoW during her launch show very prominent plate strakes on the lower hull, but it may not have been possible to reproduce this detail accurately, due to a lack of adequate documentation. (I could find photos of only the forward third of the hull bottom—see here:
https://www.gettyimages.co.uk/detail/ne ... d530853098
). Modelers who want to add the plate strakes can do so by adding masking tape strips, should they desire to do so, while using artistic license for much of the hull. Finally, the kit includes a Walrus seaplane, with folded and extended wing options.
I have dry-fitted the deck to the hull, the hull to the waterline plate as well as the hull bottom, and the deckhouses to the deck, and the engineering and fit is superb. The only place where there is a very, very slight mismatch or uneveness is the joint between the lower and upper hulls pieces, which will require a very slight bit of sanding to correct.
This is perhaps the most complex 1/700 scale kit I have ever seen, so this kit is probably suitable for experienced modelers only. Flyhawk has once again moved the bar with its superb kit of HMS Prince of Wales.
Highly recommended for experienced modelers.
You can see photos of the deluxe version of this kit at:
https://toylandhobbymodelingmagazinepub ... ll-review/
Those who are Twitter-literate and want to view a build-log of this kit on two Japanese modelers' Twitter-feeds, can do so at: @tri_3_ whose build log begins on/about December 20, 2017, and @yukiferrets whose build log begins on/about December 28, 2017. Both continue intermittently in the weeks that follow.
Enjoy!
Mike E.