Click image for In-box review: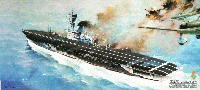 Flyhawk 1/700 HMS Hermes 1942 In-box by Martin J Quinn
Mikes comments on the kit are below:
Flyhawk has once again set a new standard with its kit of HMS Hermes (1942). The kit, which offers both waterline and full-hull options, consists of over 200 plastic parts in mid-grey plastic (many produced using slide mold technology), a single PE fret (including delicate guardrails, a crane, and funnel grills), and decals (including carrier deck stripes and air wing markings). The kit is complete as is; no aftermarket details sets will be needed. In terms of quality and completeness, it is the epitome of the modern kit manufacturer's art.
Dimensionally, at least in terms of Length Overall (LOA) and Beam WaterLine (BWL), the kit is spot on, based on the figures published in Norman Friedman's British Carrier Aviation: The Evolution of the Ships and their Aircraft (pp. 365-366).
I lack reliable plans to compare the kit to—so the following comments should be considered provisional—but I eyeballed the kit while comparing it to a large number of photos of Hermes that I found online and in my own library, and could find no major errors. Overall the kit's shape and proportions look good, the galleries and 5.5" gun platforms all appear to be in the right place and at the right level (though I could find only ambiguous photographic support for the location and configuration of the flight deck level antiaircraft gun platforms); the deck hump just forward of the round-down is there; hull plating is finely done, appears in-scale, and looks to be correct (including the angled steps in the plating fore and aft, and the gentle upsweep of the plating by the stern); portholes are finely rendered and in the right place with eyebrows that can only be seen with a magnifying lens (though at least one photo suggests that some of the portholes depicted on the kit might have been plated over by 1942); anchor stowage recesses are correctly located on the port and starboard of the hull just above the waterline, and on the transom. The 5.5" guns are two piece affairs, with a single-piece wrap-around splinter shield that is as fine as modern molding will permit. There is a choice of a plastic or PE windscreen and crane, for those who don't like working in PE. The kit also includes 8 Fairey Swordfish aircraft, each with folded and extended wing options, and PE propellers and struts.
I have dry-fitted the deck to the hull, and the hull to the waterline plate as well as the hull bottom, and the engineering and fit is superb.
It appears that Flyhawk may have used Profile Morksie's HMS Hermes monograph as one of their references. (Disclosure: I do not own this publication, and could only refer to the monograph's color plates that show profile and plan views of Hermes and which can be viewed online, including on the publisher's website at
http://profilemorskie.home.pl/FreePDF_%20HERMES.pdf
.) I do not know if, overall, it is an accurate reference in this case (the series has an uneven reputation when it comes to the accuracy of drawings and plans), although the Profile Morskie painting of Hermes provides a credible depiction of her 1942 fit that is generally consistent with the few available photos and written sources, as well as Alan Raven's "as built" drawing of Hermes in the aforementioned Friedman book (p. 82).
The Flyhawk model corresponds closely to the Profile Morskie depiction of Hermes in a number of areas where reliable documentation seems otherwise lacking—for instance, the antiaircraft fit and the configuration of the flightdeck level AA platforms. And while Norman Friedman and David Brown speak of Hermes ultimately mounting two quad 0.5-in machineguns and several 20mm Oerlikons, the Profile Morskie artwork and the kit have her mounting one quad 0.5-in machinegun, one quad pom-pom, and 6 x 20mm Oerlikons.
Likewise, Flyhawk's recommended stowage arrangement for the liferafts on the starboard side of the island seems to follow the arrangement depicted in the Profile Morskie color plates (which follows that shown in the aforementioned Alan Raven "as built" drawing), although a photo of Hermes from near the end of her career (see below) shows a different stowage arrangement for the liferafts; I would have gone with the photograph. On the other hand, the Flyhawk model does not replicate one of the errors in the Profile Morskie color profile, which is the erroneous location of the anchor recesses, which the kit correctly depicts at just above waterline level. Also, the pole mast supporting the homing beacon atop the spotting top seems to be taller than that depicted in Profile Morskie's color plates, but not as tall as the mast depicted in the aforementioned 1942 (?) photo of Hermes (below). Whenever possible, one should use photographs as references. But most of these issues are easily rectified.
At any rate, published sources and the available photos of Hermes right before she was sunk are not definitive regarding her final antiaircraft fit and configuration. I am aware of only three relatively close-up photos:
http://modelbuilderinternational.com/wp ... 2/1122.jpg
https://www.awm.gov.au/collection/302403/
http://www.hmshermes.org.uk/wp/wp-conte ... inking.jpg
If anyone knows of any more close-up photos of Hermes in her final fit, please do let the rest of us know. Likewise, it would be nice to have more definitive information about her antiaircraft fit and arrangement before her loss. But the kit provides a plausible interpretation of the available information and the ambiguous evidence.
This kit is not for beginners. It is a complex build, and there are a profusion of tiny plastic and PE parts that will need to be carefully removed if they are not to be damaged or lost. The instruction sheet is very detailed, and will require careful study prior to starting and as the assembly progresses.
While a lot of care was put into the packing of this kit (the PE fret comes in a sealed plastic wrapper with a cardboard stiffener to protect the parts, and many of the smaller plastic parts come on stackable trees to ensure they are not damaged during shipping), three major components arrived with minor damage. The bow of the thin waterline plate arrived with a compound bend in it, as it was not adequately protected during shipping, though this was easily fixed through gentle manual manipulation. Likewise, the forward tip of the carrier deck seems to have broken off in transit. Fortunately, the broken piece was still in the sealed bag, and it should be a relatively simple matter to glue it back in place. However, both of these problems could have been avoided by wrapping the bow pieces in some kind of protective medium, like Trumpeter does with its ship kits. Finally, one of the two very fine bilge keels had a couple of bends in it, which probably occurred as a result of rough handling when it was removed from the mold. Again, this was fixed with gentle manual pressure, but as I plan to build this kit as a waterline model, this is not an issue for me. I hope, however, that Flyhawk will rectify these easily corrected problems in the future.
At any rate, this is a remarkable, state-of-the-art kit that is perhaps as close to modeling perfection as one can hope for. I suspect that many who are not fans of HMS Hermes will get this kit just to build such a detailed and well-engineered 1/700 scale ship model.
Flyhawk has once again set new standards with its superb kit of HMS Hermes. Highly recommended.