The first and only FLETCHER class destroyer I saw in-person in the original WWII configuration was USS SIGSBEE (DD-502) at Philadelphia NSY in 1972 and 1973. For years, I have wanted to build a model of her as she appeared in her last configuration during WWII, which was the Anti-Kamikaze mod with quad 40-mm mounts. USS SIGSBEE was badly damaged by Kamikaze attack in April 1945, taking off her stern. She was towed back to Pearl Harbor Navy Yard and was repaired there. While being repaired, PHNY was tasked with updating her to the Anti-Kamikaze Mod. SIGSBEE was the only FLETCHER class destroyer that PHNY modified to the Anti-Kamikaze Mod. As with a lot of modification work, individual yards did some things differently even while following the official plans. Mostly bulwark construction methods. SIGSBEE when compared to other Anti-kamikaze Mod FLETCHERS has a noticeable "gap" in her main deck bulwark. SIGSBEE at Philadelphia in 1973 had most of her bulwarks around gun mounts removed as they got so rusted and "IF" the ship was ever pulled out of mothballs for use by the USN or a foreign country, her 40-mm gun mounts and bulwarks would be removed anyway. As a result, I had no idea of what most of the bulwarks on SIGSBEE looked like in 1945. For years my build desire was stalled because I couldn't find photos of USS SIGSBEE after her upgrade was completed.
In more recent years thanks to John Chiquoine and others in the DesRon 25 reunion circuit, I got access to post-WWII photos taken by crewmen and found a few images at NARA. As I studied the images, I realized that the Trumpeter "THE SULLIVANS" 1/350 scale kit with that kit's Anti-Kamikaze Mod option had accuracy issues for building a model of USS SIGSBEE in late 1945. Plus, I knew and planned on kit-bashing a Tamiya FLETCHER kit for the Round-Bridge and some other parts that had better detail than the Trumpeter kit. I decided to use the Tamiya bridge, midships deckhouse, and stacks and the hull, main deck, forward deckhouse and aft deckhouse from the Trumpeter kit. I wasn't looking forward to scratch-building or trying to modify the various parts that would complete my build of a 1945 USS SIGSBEE.
This gets me to the 3-D printed parts I'm using made by Model Monkey (Steve Larsen) and Starship Bob (Bob Morgan).
I got a set of the 3-D printed 5-in/38cal mounts to replace the Tamiya and Trumpeter kit mounts from Model Monkey. These look great and have been reviewed before.
The small deckhouse that the directors for the quad 40-mm mounts found with the Trumpeter kit just doesn't look right, so I used the 3-D printed version by Model Monkey. I'm very pleased with it, it looks very close to the deckhouses used on many FLETCHERS, being an almost exact match to the deckhouse that SIGSBEE had, and has details lacking on Trumpeter kit parts. I had to do some trimming on the Tamiya midships deckhouse and very lightly "sand" off printing artifacts from the bottom of the small director deckhouse to get a perfect fit.
The Trumpeter kit has the "MINY-style" of "D-shaped tub" for the aft twin 40-mm mount. Amazingly to me, neither Tamiya or Trumpeter have the proper aft deckhouse 40-mm "tub" as an option in their FLETCHER class 1/350 scale kits. I replaced the MINY-style "tub" with the type that USS SIGSBEE had (and that was the type installed on most of the FLETCHER's as built), I call the "Tear-Drop tub" made by Starship Bob. I'm very pleased with it. It looks like the typical aft 40-mm "tub" and deckhouse with many little details adding to its appearance. However, I do need to get use to 3-D parts being more delicate than I'm use to with most "kit plastic" parts.

The Trumpeter waist quad 40-mm "tubs" and bulwarks are not quite accurate. They have the general shape, but lack some key features. The actual bulwarks had ready-use ammo clips around the inside of the bulwark in most places, but also used what I call "bins" for higher density stowage of ready-use ammo. In the same "bulwark wall" space, the bins afforded three times as much ammo to be stowed. The SUMNER-GEARING class destroyers had the same or similar bins for their quad 40-mm "tubs". Each bulwark for the quad 40-mm mounts had either three or four of these bins installed in "bays" built into the bulwarks. See the attached images of USS YARNALL with three bins per bay and and USS with four bins per bay. Steve has designed these bins into 1/350 scale as best as can be done in my opinion. I love them. I was pleasantly surprised that after trimming off the out-of-scale- raised anti-skid and deck edge on the Tamiya midships deckhouse and the deck edge riser on the Trumpeter kit main deck, that the quad 40-mm "tubs" and clipping room below it fit exactly in place.
It looks like at least half of the 50 FLETCHER's converted to the Anti-Kamikaze Mod during the war and three units started after WWII, had the three 40-mm ready-use ammo bins bays and the rest had the four bin bays. USS SIGSBEE and USS KIDD and the first units converted had the 3-bin bays and the 4-bin bays were adopted later. It is hard for me to catalog which units had which, given that so many of the FLETCHERS being completed as the war ended, simply lack photographic coverage.
USS YARNALL (DD-541) with three ready-use ammo bins per mount bays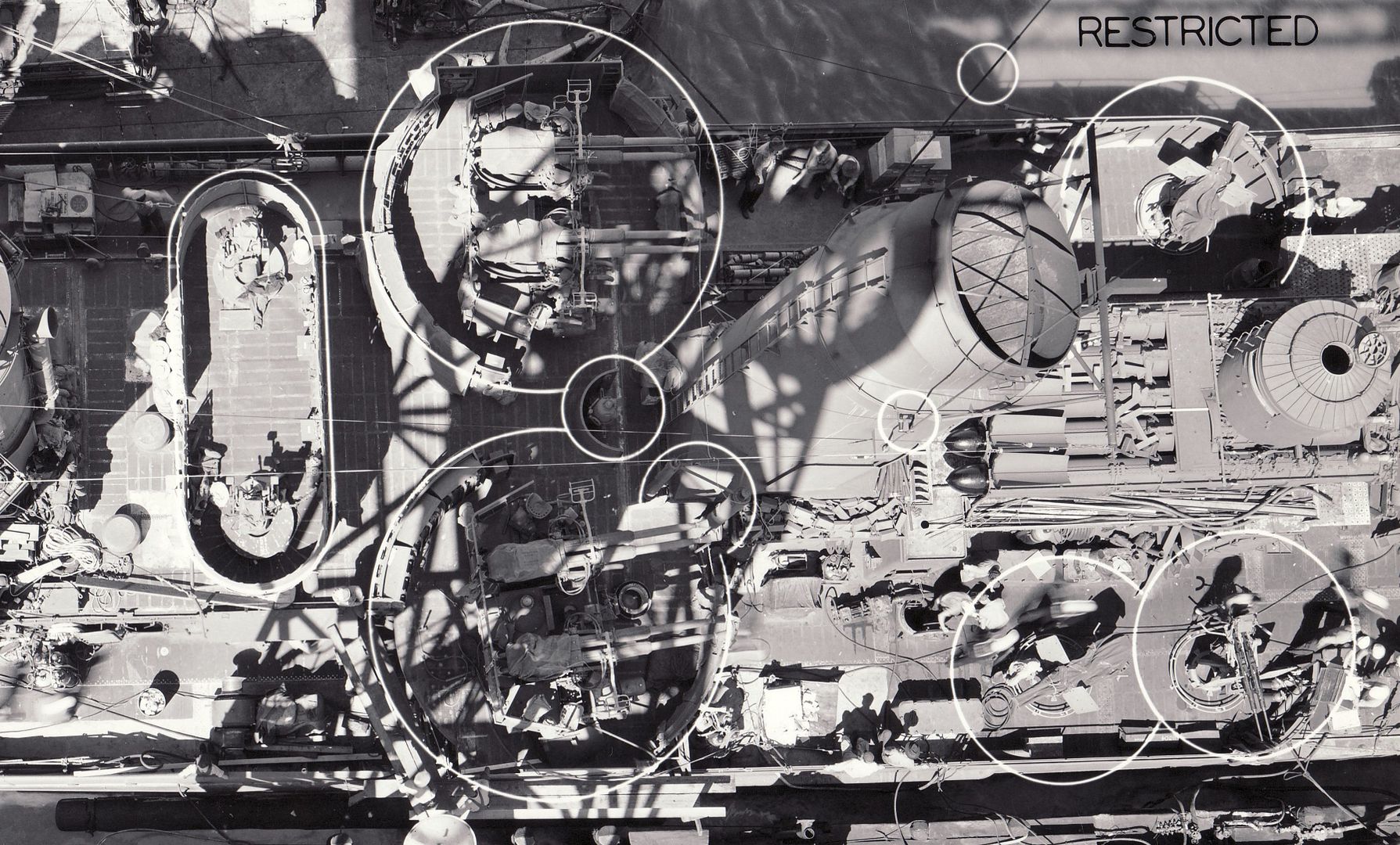 USS PICKING (DD-685) with four ready-use ammo bins per mount bays
Images of my build with the various 3-D items installed prior to painting and then after a base coat (to show me where I need to fix gaps etc.).