Matt of Kraken Hobbies sent along some samples of the new lacquer based ship paints from IPP of Korea. The range is mostly made up of USN WWII colors at this point, but does also have some WWII IJN colors, as well as modern colors. The lineup as of now is, per Matt's ability to order:

IJN: Sasebo Grey, Kure Grey, Linoleum Brown

USN: 20B, 5-O, 5-L, 5-H, 5-S, 5-N, 5-P

Modern USN: Deck Matt, Flight Deck Matt, Freeboard Superstructure Matt

JMSDF: Freeboard Superstructure Matt, Deck Matt

Per Matt, they also offer their own brand of thinner and leveling fluid, which I would recommend. More on why later.

The following paints were tested by myself and IJN expert Dan Kaplan. I'll comment on the three USN colors, Dan will chime in on this thread with his thoughts on the IJN offerings. Testing was done by spraying the paints on white styrene, unprimed, to match as close as possible the Snyder and Short paint chip cards (hereafter S&S) that both Dan and I possess.

The paints come well-thinned for brush painting right out of the bottle. They're deceptively thick, however, and will not spray through an airbrush right out of the bottle. I thinned initially with Mr. Color Self Leveling Thinner, then switched to regular hardware store variety lacquer thinner. If improperly thinned and on the thick side, the paints do a great impression of Silly String out of the airbrush. The sweet spot on these samples was right around 1:1 paint to thinner. The surprising bit was that they performed better with the hardware store thinner. The Mr. Color thinner resulted in odd spitting and/or splotching issues. For this reason I'd recommend using the proprietary thinner made for the paint, as while I didn't have any on-hand to try personally, I've never seen a paint that didn't perform better with its own thinner.

Photos below show the results, compared directly to the S&S paint chips, under daylight corrected CFL bulbs, photos processed and color corrected in Photoshop.

5-H Haze Grey (SH-10) - this paint is a spot-on match for the S&S color chips. Not much else to say about it. In the photo and to the naked eye it's a perfect match.

5-N Navy Blue (SH-08) - in the photo below there's a bit of difference in the paint sample and the S&S chip. In person the difference is negligible, and mostly due to a slight gloss finish on the paint as I applied it on the heavy side. It's not perfect, but so close that you won't notice unless you have the S&S chip right next to it. If you compensate for scale effect or apply weathering, it'll do just fine.

20B Deck Blue (SH-04) – When I first sprayed the 20B, Dan and I thought it a spot-on match for the color chip. After the paint dried fully, however, with the naked eye and in the photo below one can tell there's a bit of a difference between the paint and the S&S sample for 1942 Revised Deck Blue 20B (it's way off from the 1941 20B). In both the photo and actual observation, the paint appears to have more of a green tint, whereas the S&S sample is stronger in the blue range. It's definitely close, though, and again, with weathering and scale effect taken into consideration and not having an S&S paint chip right next to it, it should pass just fine on your model.

Airbrushed the paints go on nicely and dry dead-flat. Brush painted they dry with the slightest of sheen. Again, I do recommend using the specified thinner made for the paint, but that's my recommendation for any paints.

Overall, for the three USN samples provided, I think they'll do just fine. If you're a fan of the old Floquil USN lacquers that disappeared from the market two decades ago, these new lacquers will fit set you up nicely. Thanks again to Matt of Kraken Hobbies for the opportunity to test these out.
Attachments:
bottles.jpg [ 172.09 KiB | Viewed 4248 times ]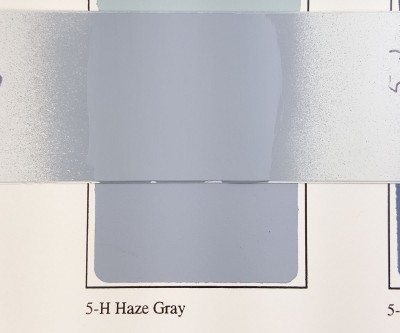 5h.jpg [ 121.02 KiB | Viewed 4248 times ]
5n.jpg [ 165.72 KiB | Viewed 4248 times ]
20B.jpg [ 144.69 KiB | Viewed 4248 times ]
_________________
We like our history sanitized and theme-parked and self-congratulatory, not bloody and angry and unflattering. - Jonathan Yardley
Last edited by Devin on Tue Mar 22, 2016 1:48 pm, edited 1 time in total.