Ian/etc,
I have been puzzled by the early IFF equipment utilized by the USN in early 1942. I known that the USN had "teething" problems with these systems and that the carriers had the systems by Midway, but that not all aircraft did. The technology was evolving and went through several sets of equipment in the process. Many of the early sets apparently saw limited service.
I found almost by complete accident, a series of documents (in RG 313) discussing the IFF equipment being built in early 1942 and the delivery of these systems to the fleet, on one of my last trips to NARA (September 2019).
There were several IFF equipment sets being built and as of 1 January 1942;
BE (Transmitter) ... 34 units ordered and 32 delivered
BF (Receiver)... 32 units ordered and 30 delivered
ABA (installed in aircraft) ... 104 units ordered and 77 delivered
BI ... 3 units ordered and 3 delivered
(The delivery notes didn't include to which ships they were assigned)
In addition production for additional units was being contracted in a big way with deliveries to start in May 1942, as follows;
ABA ... 10,500 units to be ordered
ABK ... 10,500 units to be ordered
BL ... 500 units to be ordered
As you can see, there were ONLY 3 "BI" IFF systems made and it isn't clear to me which ships received this system. A document dated 30 January 1942, mentions several interesting details. The BE/BF set(s) had TWO antennas; a "mattress/curtain" type (CG66AAD) and a "Yagi" type (CG66AAB). (These two types of antennas can be seen in the above photo) Another paragraph notes that
"One model BE/BF equipment, complete with Yagi antenna (was delivered) to USS HORNET."
From a list of equipments in each of the IFF systems on order from 1 October 1941, it is clear that BE/BF systems (transmitter and receiver) were utilized as one system and that BE (transmitter) system could use either the Curtain (CG66AAD) or Yagi (CG66AAB) type antennas, while the BF (receiver) system used the Yagi (CG66AAB) antenna. The BI system used the CG66AAM antenna. I still have no idea of what this antenna looks like
I believe that Tracy White had found a report of the IFF installation on USS HORNET in her Departure Report at Norfolk Navy Yard and that when USS HORNET went to the Pacific, she carried new IFF sets for the other carriers.
As a reference of the early IFF systems, here is a listing in a document from 1945 listing the various IFF equipments used (or had been used) by the USN ...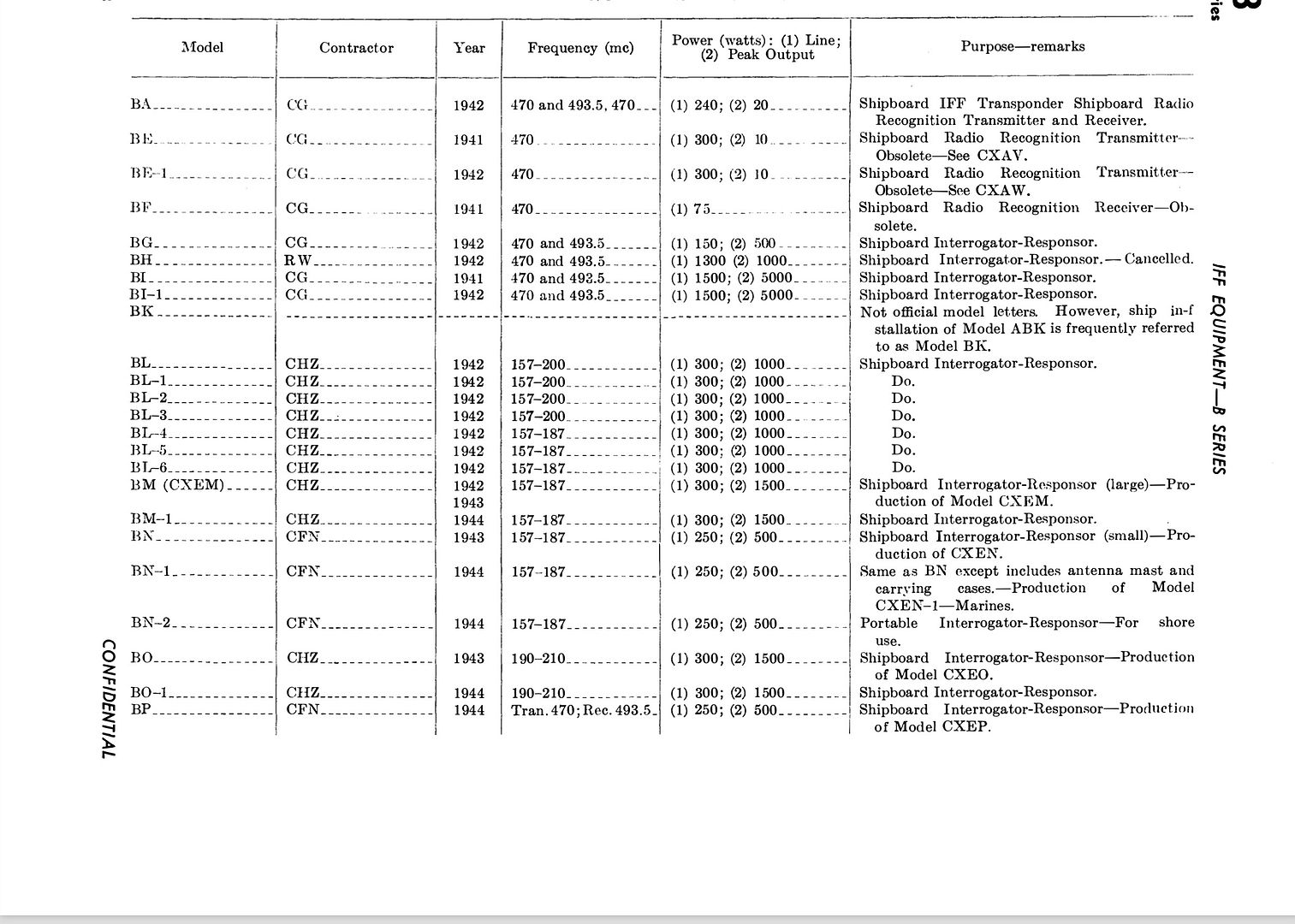 I have a document of USN antennas created in the early 1960's, these antennas are listed, but no particulars like size or description are given nor are images shown.