Rick E Davis wrote:
USS GWIN did have K-Guns installed in that photo and highly likely during the Doolittle Raid. A high priority mod for the original groups of BENSON and GLEAVES class destroyers (DD-421 through 444) was removing the Y-Gun and installing K-Guns (four to six).
That's what I thought, but was looking for confirmation, something gave me the impression they weren't there... Also, the Livermore kit when using the last four K-gun positions on the deck, has them almost exactly where they need to be I'm happy to report, the sternward pair are abreast the #3 mount and the forward pair should be just behind and partially under the after machine gun splinter shield... Makes for an awful crowded deck at that location though...... The splinter shield stanchions under that aft shield are going to take some figuring... (replace the kit davits which are too tall with PE)
Rick E Davis wrote:
In the 15 June 1942 Armament Summary Update (update reports always lagged the date work actually was completed), USS GWIN and USS MONSSEN are both listed as having FOUR DCT's (Depth Charge Throwers), plus MONSSEN is listed as having a Y-Gun (on the fantail) (may have already been removed removed and not reported) and USS MEREDITH and USS GRAYSON had six DCT's (later reduced to four).
I have an image that shows the Monssen's Y-Gun, aft the #4 5"gun which was taken just before they left so she was carrying it during the raid... The same pic shows no K-guns though... Probably the caption is wrong showing an earlier fit than April '42....
Rick E Davis wrote:
A better close crop view that I have annotated showing the K-Gun Throwers w/o depth charges were located. The K-guns by themselves don't show up very well in photos w/o the depth charges in place. Also, as an aside, it was common practice all through WWII, that when a ship would be heading back to the West Coast, valuable equipment would be stripped off (mostly by a tender) to be used as spares for other ships.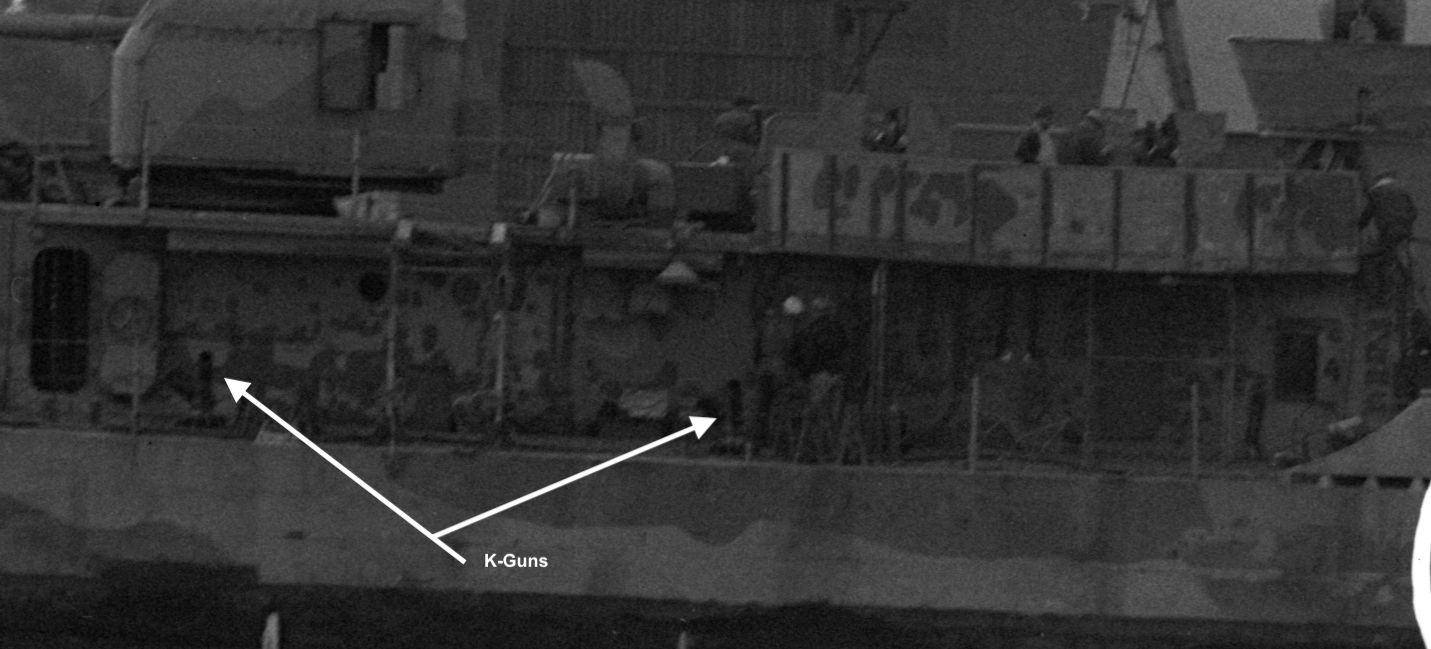 I took a look at that pic again after leaving it for a while and I can pick out the muzzles of the tubes, And yeah those can only be K-guns... That comes from the same image I have, but at a much higher resolution.... I'm gonna take that and see if I can't adjust it to pick out more details
Rick E Davis wrote:
Plus here is a view of "Likely" USS GWIN (I know it is GWIN from her drop tracks) and USS MONSSEN at Pearl Harbor anchorage alongside a tender on 12 July 1942 after they had the none 20-mm mod done. Hard to see the K-Guns, but it is clear that there are NO Y-Guns. Also, note that GWIN has longer depth charge drop tracks on her fantail than her sister and actually longer that all her DesDiv 22 sisters.
Thanks for that, I was under the impression that the Monssen lost her Y-Gun after the raid and the rest lost them before they left Norfolk, that pic confirms this for sure..... You've posted that image before but I didn't realize it's import till now.... I was aware of the longer 10 charge racks rather than the standard 7 charge racks, this image definitely shows that as well.... A little fuzzy but it confirms some details in the right time frame.....
Rick E Davis wrote:
Also, I forgot about this image, that may help you with your GWIN build, It is a stern view of GWIN dated on 30 July 1942. This view shows a partial of her portside.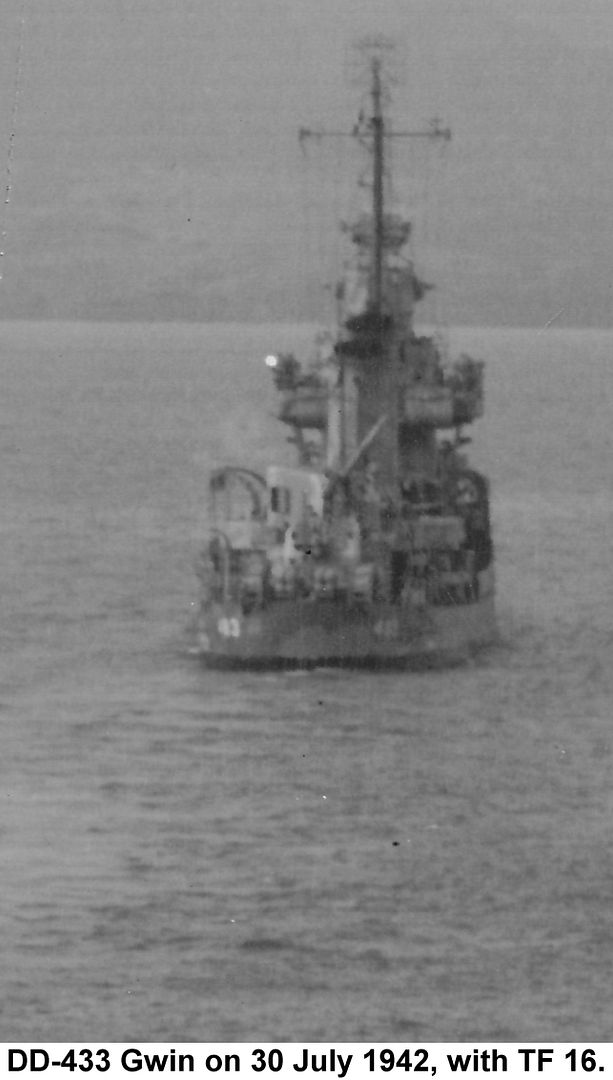 WONDERFUL! That image fills in my missing piece on the camo scheme, all the rest of the shots gives the impression she had three color layers around the stern, this shows clearly that she didn't, she had a Navy Blue stern, the Ocean Grey only wraps partially around the sides.... That's the final piece I needed to make the Hull pattern accurate!!! Easy fix, THANK YOU!!!! (of course sitting in my water base will hide most of it, her stern is a bit low in the water in that pic) But it's the missing piece Yea Team!!!!
Thank You Very Much Rick, This wouldn't be anywhere near as accurate without all your help....